An exclusive introduction to the Coeo Gladstonos Exclusive Residences by Rotos Group
08:10 - 18 September 2023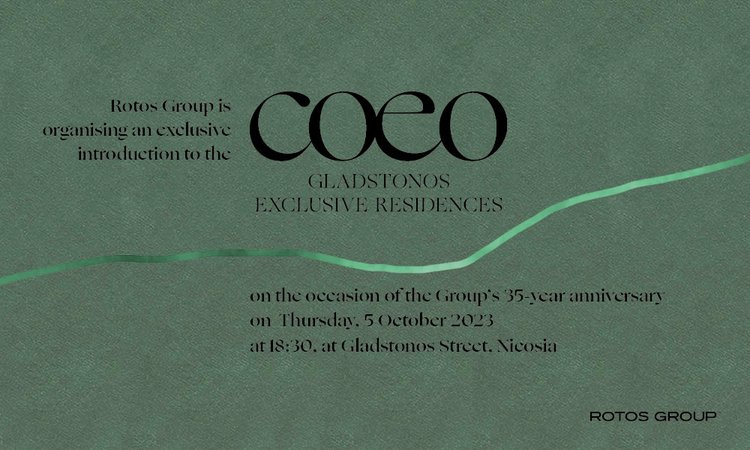 On the occasion of the 35th Anniversary of its foundation, Rotos Group will welcome special guests on site, at Gladstonos Street, Nicosia on Thursday, 5 October, 2023 with an exclusive introduction of their latest project, coeo.
In respects, a cocktail reception will follow for all attendees.
Coeo Gladstonos Exclusive Residences will be the modern version of what a neighbourhood stands for, within a residential complex of villas and luxury apartments.
The new project will become synonymous with the latest trends in luxury housing, creating the next generation of design living, which blends harmoniously into the environment, respects the historical culture of the street and acts as a 'status icon' for its residents, as it is located in the most prestigious area of Nicosia.
Rotos Group
Over the last 35 years, ROTOS GROUP has established itself as one of Cyprus' leading contractors and property developers, completing over 1000 residential units and more than 40 commercial and mixed-use developments in both the private and public sectors.
Under the leadership of Nicos C. Rotos since 1988, the construction company of the group has become one of the most reputable, reliable, and specialized firms, in providing customers with high-quality and latest technological advances within each project.
Aiming to provide contemporary architecture combined with top-quality materials and sustainable construction methods, the group achieves to satisfy customers' technical, functional, technological, and aesthetic needs.
Throughout the last decade, the group has not only kept its focus on Construction and Land Development but has also branched out in Architectural Design, Student Accommodation and Facilities Management.
Milestone projects include the award-winning Headquarters of Wargaming Plc., Unihalls Premier and Unihalls Trinity, established as the first private student residences in Cyprus, along with U Residences -the largest Student Accommodation on the island.
For more information, click here.
The event is by invitation only.
Organizer: Rotos Group
Coordinator: IMH