'We envision a future where Cyprus stands as a hub of technological innovation'
Athena Yiazou 07:19 - 29 August 2023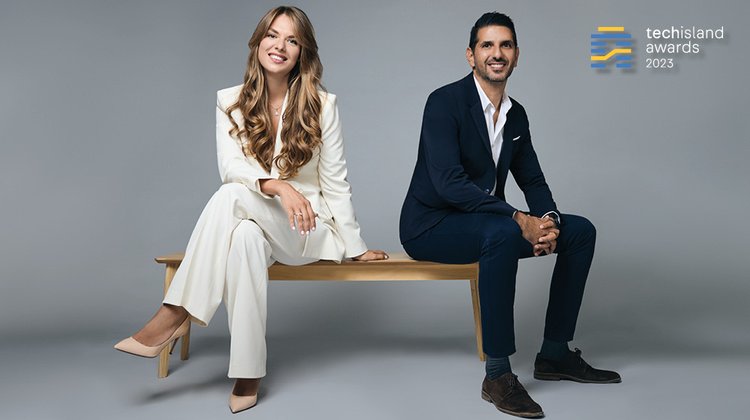 As the innovative organisation nears its second anniversary, Marios Giorgioudis, General Manager and Tanya Romanyukha, Head of Operations at TechIsland recently spoke to CBN about its past, present and exciting future, including the first TechIsland Awards coming up on 7 September.
They also talked about TechIsland's vision for the island's tech sector and shared their members' most common concerns.
The second anniversary of the establishment of TechIsland is approaching. What first promoted its creation and how has the organisation developed over these two years? (member numbers etc.)
Marios Giorgioudis: TechIsland was established as a non-profit organisation with a clear objective: to transform Cyprus into a recognised international Tech Hub. In the last two years, we have taken major steps towards that goal. We focused on optimising the operating environment of the tech industry. We managed to gather stakeholders from diverse backgrounds, to voice their concerns, foster an improved regulatory and legal framework, and provide crucial guidance and education to our members, as well as networking opportunities.
Today, TechIsland stands as the largest tech business association in Cyprus, with over 270 members. These companies collectively employ over 20,000 professionals within Cyprus and 40,000 internationally.
Tanya Romanyukha: To us, TechIsland isn't just an association—it symbolises a mission, a vision, and a path forward. We're committed to inspiring both individuals and corporations to become part of this transformative journey. Through our efforts, we envision a future where Cyprus stands as a hub of technological innovation, not only within the Mediterranean but on a global platform.
Two years on, to what degree are TechIsland's original aims being met? What do you consider to have been some of the most important achievements so far?
MG: The robust growth of the tech sector in Cyprus underlines our efforts and the industry's potential. The tech sector's contribution to the country's GDP has impressively grown from 7% in 2019 and 8.5% in 2020, to 13% in 2022. This growth has been supported by the rapid expansion of sub-sectors like Fintech, Gaming, Proptech, and HealthTech, among others.
All in all, as we assess our journey so far, our achievements stand as testaments to our dedication, collaboration, and the vision we set out with. We remain focused on our mission and optimistic about the future.
TR: Through our operations, I believe that one of our most significant achievements has been creating a unified voice for the industry, addressing shared challenges, and finding collective solutions. The establishment of professional sub-communities, such as the HR Community and the FinPro Community, has further solidified our role in fostering collaboration and shared expertise. Also, I would like to mention our Cyprus Tech Ecosystem Platform, which came to realisation with the support of ASBIS, CYTA Business, ICLUB Global and TA Ventures. This is an initiative that maps and monitors the tech and innovation landscape, highlighting the potential of the Cypriot technology sector both domestically and internationally.
We are also immensely proud of our commitment to society. At TechIsland, we believe in utilising its resources for a lasting impact. Following the devastating 2021 wildfire, our organisation mobilised its members and successfully raised €900,000 for recovery efforts. These funds aided in the reconstruction of the Regional Primary School in Arakapas, one of the areas most impacted by the wildfire. Moreover, our members' donation of €400,000 to support Project "KtiZO", led by the Ministry of Interior, to refurbish apartment buildings in government housing areas for displaced individuals. Finally, TechIsland is committed to nurturing a tech-savvy culture from a young age, recognising the paramount importance of tech education for future generations. To this end, we facilitated support to initiatives like KidIT Cyprus, an innovative program that empowers children to transition from being mere tech users to creative tech innovators. .
Likewise, what have some of the major challenges been to meet TechIsland's objectives and how is TechIsland working to overcome them?
MG: The tech sector is relatively new in Cyprus; thus, we have a long way to go in terms of infrastructure and building a conducive environment for growth. This is why one of our primary focuses has been on policy-making and creating a favorable regulatory framework and of course, an environment to live, work and innovate on the island. Our proactive efforts in 2022 led to an amended tax bill, positioning Cyprus as an attractive destination for world-class talent and companies. Ultimately, our efforts are geared towards fostering an environment that drives innovation and growth and also enhances living and working conditions for highly skilled professionals and their families.
TR: At the moment, our members are concerned over the lack of affordable housing and the limited availability of seats in private schools that offer international education. Also, there needs to be an alignment of Cyprus' banking sector with the dynamic needs of tech businesses. All these issues create challenges for tech companies looking to attract talent from abroad, which is essential to cultivating tech expertise on the island. To address these issues, we strive to bring all stakeholders together to collaborate and identify mutually beneficial solutions. Our long-term vision is based on nurturing a culture of tech and innovation that promises not only immediate benefits but also lays the foundation for a prosperous future for the coming generations.
Can you share with us some of TechIsland's upcoming activities?
TR: September alone is a hectic month for our team. Other than the first TechIsland Awards, which will take place in a few days, we have the 3rd TechIsland Summit, as part of the Reflect Festival. This year, the TechIsland Summit takes a deep dive into the resilience and sustainable growth of the tech sector, drawing insights from international strategies for talent retention. The summit unfolds over two days this year. On 19 September, we are thrilled to host a special side event featuring two distinguished speakers from Ireland: Mary Harney, who has served in roles including Tánaiste (Deputy Prime Minister), Minister of State for Environmental Protection, Minister for Enterprise, Trade & Employment and Minister for Health & Children, and Clive Ryan, the Regional Director EMEA of Global Risk Operations at Meta. This exclusive workshop, with limited seating and government participation, offers a unique chance to learn from Ireland's success in becoming a prominent global tech hub. We've handpicked speakers who represent both the public and private sectors to share Ireland's blueprint for attracting foreign tech companies and building infrastructure to foster an innovation-centric environment. The following day, the main TechIsland Summit at Molos Pier will present seven engaging panels featuring a dynamic mix of tech leaders, policymakers, and thought leaders. These discussions will examine the current state and future prospects of Cyprus' ICT sector, exploring challenges, opportunities, and actionable steps and strategies to ensure its sustainable growth and solidify Cyprus as a burgeoning tech hub.
Finally, we have a very informative TechIsland Academy seminar focusing on implementing the new tax law in personal and corporate tax form submissions with the support of TaxApp and Cyproman. We will finish the month strong with an HR Meetup, in partnership with SWAG42.
Of course, our October will be busy as well, with our IT Ladies Meetup, a new TechIsland Academy workshop on Diversity, Equity and Inclusion, and our TechIsland Connect networking event for founders and C-level executives. Also, we will have new projects that will be announced in late September, including a new professional community for marketing professionals.
What are your predictions regarding the future of the tech industry in Cyprus?
MG: The tech landscape in Cyprus is on an accelerated growth path, echoing the global trend wherein technology, especially AI, is revolutionising not just tech-specific industries but the broader work environment in general. While Cyprus is ambitiously striving to be recognised as a tech hub, there are critical areas of focus that need addressing. One example could be modernising the legal framework, which is essential to facilitate talent relocation, ensuring that we're not just attracting, but also retaining top-tier tech talent. The ICT sector has already carved a niche for itself in our economy, pushing Cyprus closer to becoming a significant name in the global tech arena.
The ICT sector already plays a big role in our economy and Cyprus has a great opportunity to become a well-known name in the global tech scene. To continue growing, we need to maintain an open dialogue between the private and the public sector.
The first TechIsland Awards are due to take place in September. Can you tell us more about the event and its significance as a tech industry milestone?
TR: The TechIsland Awards are more than just an event; they send a strong message throughout Cyprus, highlighting the incredible impact of technology far beyond its own industry. This special gathering is not just about praising the tech sector; it's a celebration of the dedicated individuals, innovative companies, and important projects that are reshaping our education, boosting our economy, and improving our society. This isn't just an acknowledgment—it's a mission to create a dynamic culture of innovation and progress that affects every part of our lives. By showcasing the wide-ranging and deep influence the sector has, we aim to bring together a diverse group of people—from tech experts to state officials—in a shared effort of collaboration. Therefore, the TechIsland Awards serve not just as a networking event, but as a source of inspiration, motivating us all to work toward a future where technology makes life better for everyone in Cyprus.
The Awards ceremony is promising to be a major event. What can we expect from the ceremony itself?
TR: The Awards ceremony will be a celebration of our robust ecosystem in the presence of his Excellency the President of the Republic of Cyprus. We are expecting leaders from some of the biggest tech companies on the island, government representatives, tech startups and SMEs. This ceremony is designed to encapsulate the spirit of diversity and inclusivity, shining a light on the achievements within the industry and the tech sector's extended impact on the local economy.
Our team is meticulously planning a spectacular show that captures the essence and vibrancy of our industry. We aim to create a memorable experience, filled with emotion and inspiration, for every attendee.
At this point it is important to acknowledge and thank our sponsors: our gold sponsor, Unlimit, our sponsor of awards, Char. Pilakoutas Group, silver sponsors bbf and payabl., bronze sponsors Asbis Enterprises PLC and Bank of Cyprus, our ecosystem partner PwC Cyprus, our event supporter TikTok, our community partner the Cyprus Chamber of Commerce and Industry, our Hospitality Partner Parklane Resort & Spa and of course our Media partner IMH.
(Photo by TASPHO)