Euromoney names Bank of Cyprus the 'Best Bank in Cyprus'
15:04 - 26 July 2023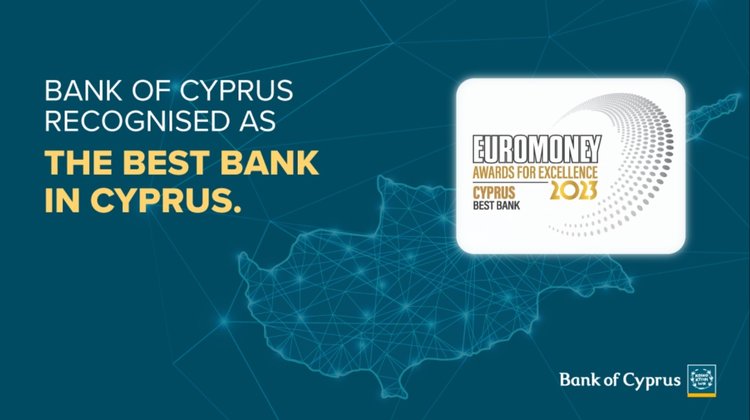 Euromoney, one of the leading international magazines focused on banking, finance and financial markets, has named Bank of Cyprus the 'Best Bank in Cyprus' in its 2023 Awards for Excellence. This is the 8th year that Bank of Cyprus has been recognised by Euromoney as the 'Best Bank in Cyprus'.
This award, for which the evaluation period ran from 1 April 2022 to 31 March 2023, is particularly important for the Bank as it recognises the milestones that were achieved in 2022 to complete the Bank's ten-year turnaround.
In its decision to award Bank of Cyprus, Euromoney cited the completion of the Bank's turnaround with the sale through Project Helix 3 of a €555 million portfolio of loans, (the vast majority of which were non-performing exposures), which was capital accretive, with a net positive impact on the Bank's capital ratios of around 50 basis points. Euromoney also highlighted that "the Bank's robust common equity tier-1 ratio of 15.4% and liquid assets of c.€12.5 billion stood alongside a net loan-to-deposit ratio of 52% at the end of 2022".
Commenting on the award, Panicos Nicolaou, CEO of Bank of Cyprus said: "We are particularly pleased to receive the award for the 8th year from the international, prestigious magazine Euromoney as it is a valuable recognition of the hard work and dedication of our Bank's staff. As the largest financial institution in Cyprus, we continue to support the local economy, constantly improving the services and products we offer to our customers, while creating value for our shareholders."
Euromoney's article on Bank of Cyprus for its 'Best Bank in Cyprus' award can be seen here.