Larnaca Mayor: Development of former refineries area to begin within a year or two
08:43 - 09 May 2023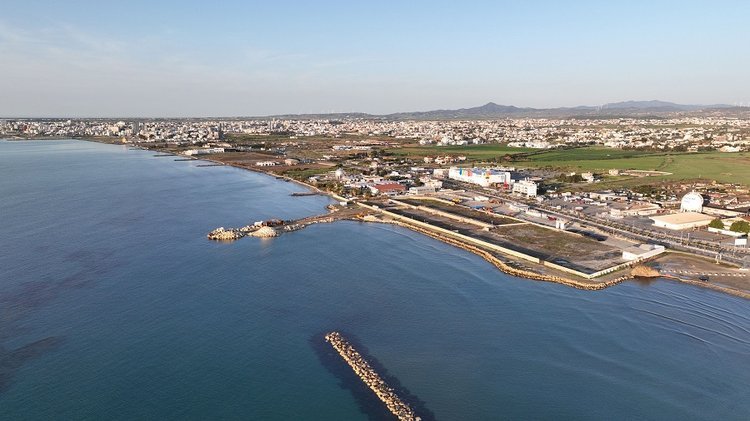 Larnaca Mayor Andreas Vyras has confirmed that Seveso II Directive status, indicating an area was contaminated by dangerous substances, no longer applies to the seafront area that housed oil and gas refineries.
Vyras continued that closing the final chapter on the refineries, with the status removed on 5 May, opened the way for new development and investment in Larnaca.
Speaking during a visit to the area by Labour Minister Yiannis Panayiotou, Vyras, however, also cautioned that there was still some way to go. While the large oil storage units are no longer standing, permits for the removal of the final two gas storage tanks are still pending. These, however, are all anticipated to be demolished by the end of the year.
Work to clear the grounds from contamination is already underway while tenders will over the coming days be sought for recovering 60m of beachfront
What Vyras described as the largest property owner in the area is also anticipated to submit an application for a Master Plan soon, he added.
"The first developments will begin in a year or two and there has been great interest in them. However, these developments have to be done properly," Vyras said, noting this included ensuring all relevant environmental factors were taken into account.
Also speaking during the visit, Nicos Soutzis, Managing Director, Synergas Ltd., which owns part of the land now ripe for development, said, "An application for removal has already been submitted and soon we will have the permit and in the next 3-4 months we will have the piece of land clear of any encumbrances. We hope that in a short period of time we will either participate in a wider planning of the entire area, or we will discuss with the Board of Directors of the company how we can develop the specific piece which is approximately 18 thousand square meters in size and by the sea."
On his part, Labour Minister Yiannis Panayiotou said that the government will be at the side of Larnaca and its people as the land that once housed oil and gas refineries is repurposed.
Visiting the town on 8 May, the minister said that the Department of Labour Inspection had reassured him the area was being properly cleared and cleaned and made safe for new development.
"This is a significant and celebratory day for Larnaca because decades-long efforts have brought about an important result," Panayiotou continued, noting that these efforts had been carried out by the people of Larnaca, the local authorities and dignitaries including mayors, municipal council and MPs.
"Today is the start of a new age of development for the town," the minister added.
(Source: InBusinessNews)