Xenatus Global: A trusted partner in the digital transformation
Sponsored Article 11:52 - 05 May 2023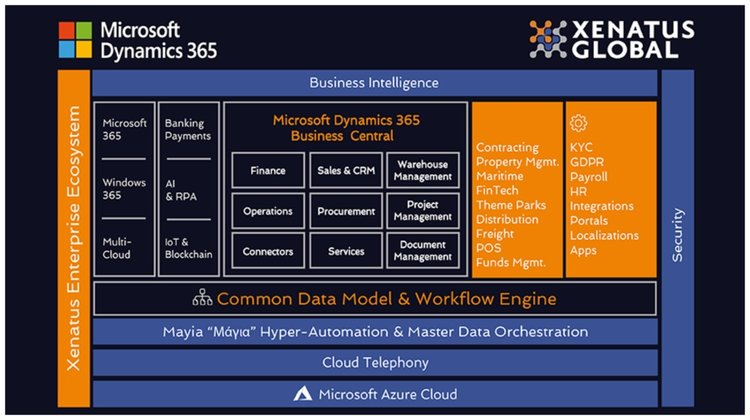 Digital transformation (DT) is more important today than ever. The new business landscape shaped by global events and ongoing challenges has highlighted the importance of business continuity.
As a multinational Microsoft Gold Partner and Microsoft Certified ISV, Xenatus Global is trusted by leading enterprises, locally and around the globe, as the technology partner of choice to ensure business continuity and operational stability.
As a leading provider in ERP, Cloud, automation and many other business solutions, Xenatus Global helps organisations transform digitally to adapt to the digital age, optimise business results, and accelerate growth. It does this through a tailored, customer-centric approach and robust technology solutions such as Microsoft Dynamics 365 Business Central, Azure and the Microsoft Power Platform.
When it comes to real business problems, the Xenatus Enterprise Ecosystem has all the answers.
Connect Your Business
Why waste time on stand-alone systems that create disconnected processes and require further costly integrations?
You can now bring people, processes and data together to manage your business from start to finish with a single solution. Unify your business from finance to operations to sales and marketing with one comprehensive and modern solution.
Automate your operations
Do you have a lot of manual operations and processes in your business?
Xenatus' powerful Hyperautomation solutions help you streamline and automate mundane and resource heavy manual tasks, while connecting disjointed systems and providing you with visibility and controls at every step.
Run your business anywhere
Need the same powerful, intuitive experience across all deployments and devices?
Deploy in the cloud, on-premise, or with a hybrid approach. Assure your data availability, compliance, and security needs with the latest technology from Microsoft, and you can confidently run your business anywhere, anytime.
Start and Grow Easily
Business Central puts flexibility at the heart of your business, allowing you to get started quickly, grow at your own pace, and adapt in real time. Plus, you can meet your unique business needs with readily available add-on applications and solutions.
You can also extend the solution with industry-specific enhancements to fit your business and scale with your future growth.
Trust the experts
Shape the future together with Xenatus Global, the trusted experts in ERP, Cloud and digital transformation by hundreds of organisations. Increase profitability and strengthen your company's operational readiness with Microsoft Dynamics 365 Business Central, the ultimate cloud-based, end-to-end enterprise resource planning (ERP) system for managing businesses.
All in all, with partners like Xenatus Global and Microsoft, you have the advantage of always being on the cutting edge of technological advancements, so you can offer your customers the best products and services in the most effective way.
Contact us to find out how we can help your business: https://www.xenatusglobal.com/contact