Evgen Belousov: Our focus is to develop proven and reliable instruments
07:26 - 21 March 2023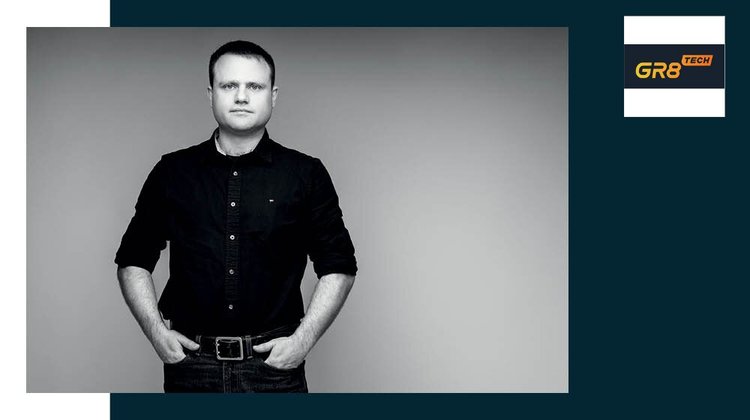 When a company rebrands, it gives its leadership the opportunity to implement needed changes and boost business growth by appealing to a wider audience. However, in the case of GR8 Tech (previously Parimatch Tech), the company's CEO Evgen Belousov explains that this latest change reflects a development to a more advanced business model and a new beginning with the strong foundations that come with the company's legacy
It's not long since Parimatch became Parimatch Tech, so why has the company changed its name to GR8 Tech? What does it mean for the company and the services it provides?
Parimatch has a long history and every change is related to a new step of business development during its lifecycle. The transformation from Parimatch to Parimatch Tech was aimed at underlining the focus on in-house software development to secure the global expansion of the Parimatch brand. It is worth noting that the establishment of GR8 Tech is more than just renaming or rebranding. It is a new company, based on an advanced business model. We have gathered 29 years of the Parimatch brand's operational history and Parimatch Tech's achievements in software development to provide our products to the betting industry market. We offer software for established betting businesses, including iGaming platform solutions, third-party integrations and operational services for long-term partnerships. For those who plan to enter the betting industry, we propose a unique Business-as-a-Service (BaaS) offer with ready-to-go software, support and consulting on launching and operating a new business. The addition to the platform and BaaS offers could be exclusive rights to the Parimatch brand, with its legacy, best practices and sponsorship assets. In accordance with those changes, companies operating globally under the Parimatch brand or on GR8 Tech's platform become our clients.
What are your priorities following the launch of GR8 Tech?
We are not newcomers to the industry because GR8 Tech is based on the Parimatch brand legacy. Of course, we are bound to Parimatch and its history, but now one of our top priorities is the establishment of GR8 Tech among the technology providers in the market. We have solid expertise, our products have proven quality checks by Parimatch brand operators worldwide, and we are ready to provide our offers to keen operators to secure their growth. As a company providing technologies, following global trends in development is a top priority, too, but we are constantly considering the balance between new features and business needs. Thanks to the Parimatch legacy, we are fully aware of all the difficulties and hidden threats to the betting industry, from fraudulent activities to local regulation policies. Our focus is to develop proven and reliable instruments that work right here, right now for our partners.
A relaunch/rebranding can be tricky. As the CEO of a well-known company that wishes to reintroduce itself to the world, what are your personal aims and goals with regard to this development?
The launch of our new brand is a huge responsibility. The GR8 Tech team has around 2,000 employees who rely on and trust in the future of our company. Anyone who has done something similar knows how it feels. The launch of GR8 Tech is a test of my expertise and leadership skills and the position of CEO is one that I have been preparing for throughout my career. My main goal is to strengthen our position in the market and ensure further growth. It is also worth noting that some of our teams still work in Ukraine. The success of the company in the global iGaming market will help us increase our support of Ukrainians in their struggle for freedom and independence against Russian aggression.
What are the dominant industry global trends that GR8 Tech needs to keep up with?
Due to the rising trend of the player-centric approach, we will continue to develop more personalisation and gamification features. Content personalisation, based on AI technologies, is critical to player retention and loyalty as players increasingly seek a bespoke and tailored gaming experience. We will continue to follow trends related to data-driven approaches to decision-making processes. To secure business growth, iGaming operators and betting industry providers depend heavily on data to build solid products and gain customer loyalty. For now, we have developed a recommendation system to personalise all available entertainment content with various extensions, prediction models and Customer Data Platforms (CDP), which combines player data generated across all components and touchpoints for further communication and product customisation and much more. Also, the dominance of mobile betting shouldn't be overlooked. Mobile versions are preferred in young and growing markets with mobile-based payments and emerging internet technologies. Thanks to our focus on quick and user-friendly mobile products, we can provide our clients with the best practices to engage and retain more players considering their local specifics.
How have you communicated the evolution to GR8 Tech to your personnel? How did you help them/train them to comprehend this change and what is expected of them now?
Our B2B rollout was in the air for the whole of 2022. The idea of sharing our expertise with the industry came into the minds of people in different departments almost simultaneously. Several times we gathered managers together for strategic sessions and friendly discussions to figure out our UTP and how we could serve the industry as a B2B solutions provider. These sessions produced the ideas of our key offers – the platform, Business-as-a Service and the Parimatch franchise. The mindset of being "fired up to win" vs challenges was always part of our DNA. Our corporate culture is based on critical values like adaptability and flexibility, so everybody accepted this evolution as a logical step in our business model. Along the way, we highlighted our key steps in online company meetings, where we discussed business goals, restructuring, the establishment of new departments and other business strategy and workflow topics. People are the core of our business, so the idea was to provide our employees with complete information about what was going on and how things would be. The evolution to GR8 Tech has created opportunities for personal growth. We always reward fresh ideas and unexpected business decisions. GR8 Tech teams understand that entering the global market as a B2B solutions provider is a great way to boost skills and expertise and their willingness to reach new heights is essential.
What does the future hold for GR8 Tech?
The future is exciting. GR8 Tech's successful debut at ICE London 2023 saw interest from potential investors and operators, so we are looking forward to the next stages of negotiations. As for product development, we have prioritised the areas we need to strengthen in order to improve our offers and outperform our competitors. We will continue integrating data-driven approaches and focusing on information security and data protection, in accordance with upcoming trends. Moreover, local regulation will continue to rise and government authorities will continue implementing more regulation policies to control the betting industry. As software developers, we will keep track of the changes in the jurisdiction of our clients' operations and adapt our products to local regulators' requirements. These measures will help operators achieve more trust among players and expand their offerings to gain a market share.