M. Keravnos: Attracting investment is crucial for our economic model
07:38 - 21 November 2023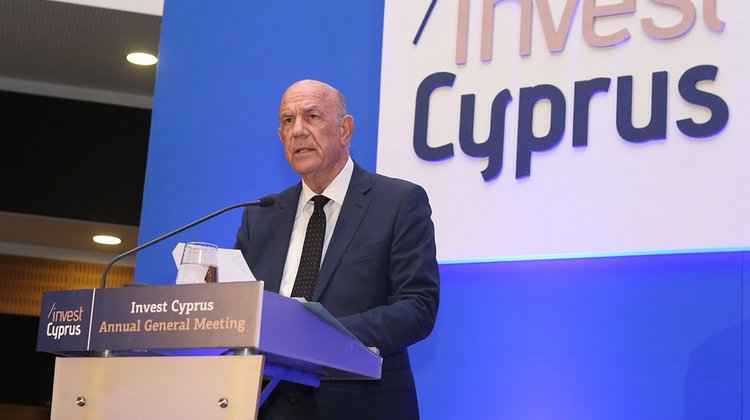 "The government has a responsibility and a duty to maintain a strong economy," said Finance Minister Makis Keravnos, adding that attracting direct foreign investment is a crucial tool to help achieve this.
The minister was addressing the Annual General Meeting of Invest Cyprus, where he said that the Cypriot economy proved particularly resilient in 2023, with a growth rate projected to be in the range of 2.4% - well above the EU average.
Inflation has dropped while unemployment continues on a downward trajectory, said Keravnos, adding that public finances are "healthy", running a significant primary surplus and a steadily declining debt-to-GDP ratio.
This healthy condition of the economy is what allowed the government to implement a new package of measures to deal with the high cost of living and inflationary pressure, he said. "For us to have the ability to apply effective social policy, we must implement policies that ensure steady and sustainable growth, under the umbrella of fiscal discipline and financial stability," the minister added.
Keravnos went on to refer to the recent double upgrade of Cyprus' economy by Moody's, which he said was a clear vote of confidence, while he also referred to the 2024 annual state budget, saying the aim was to contain public expenditure without affecting the implementation of significant projects which once complete, will contribute significantly to the country's economic growth and in extent, the people's quality of life.
"It is not by chance that development expenditure in this year's budget is up by 12%, with a focus on the green and digital economy," said the minister.
Another important tool in implementing the government's development programme is the "ambitious", as Keravnos called it, National Recovery and Resilience Plan.
Referring to Invest Cyprus, the minister said its role is even more crucial now due to the geopolitical and economic upheaval created by Russia's invasion of Ukraine as well as the war that has broken out in the Middle East.
He said it is clear that we are living in an era of constant challenges, both on a national as well as global level. "In such a difficult economic environment, safeguarding our economy through careful management, but also ensuring sustainable growth potential, must be and are at the forefront of our economic and social policies," said Keravnos.
In closing, the Finance Minister stressed that attracting productive investment – especially those that lead to the creation of new productive units and infrastructure – and creating new jobs is crucial in order to diversify and reinforce the country's economic model.
"I am certain that Invest Cyprus will continue to play an important role towards this end, especially at times of serious challenges and constant crises," Keravnos concluded.