G. Thompson: Sanctions are effective even though they come at a cost
Donna Kaparti 11:22 - 20 October 2023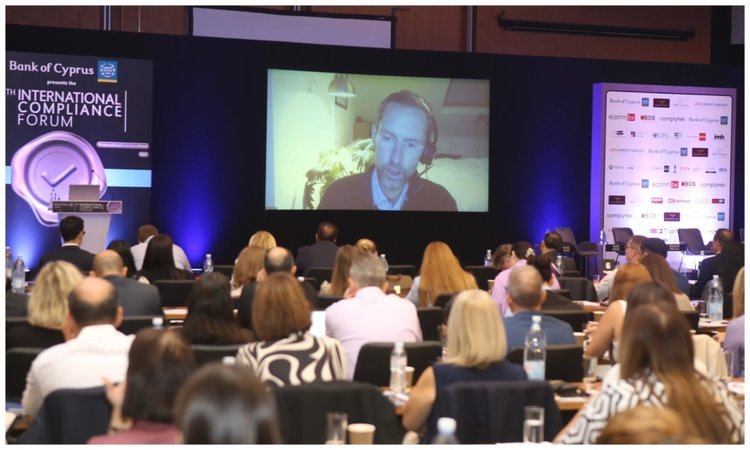 The implementation of sanctions is a means for the West to protect itself, Giles Thomson, Director of the Office of Financial Sanctions Implementation (OFSI) and Economic Crime, HM Treasury, UK has suggested.
Thomson was addressing the 9th International Compliance Forum in Nicosia, presented by the Bank of Cyprus.
During his address, Thompson focused on the sanctions against Russia which, he acknowledged, had come at a cost for all those enforcing them, as well as professional sector members. However, he continued, they had also been successful in their mission.
Thompson said that every effort was being made to mitigate the consequences (for those enforcing the sanctions), going on to note that the impact on Russia had been significant. He suggested that Russia's economy had been effected to enough of a degree to impact its ability to fight in Ukraine.
He went on to say that it was important to remember why sanctions were put into force, describing them as a means to protect the West.
Thompson also expressed the opinion that the sanctions had been effectively implemented and that close cooperation both between international allies and the private sector had been a significant contributor to this success.
He also said that guidelines had been provide to help with the effective implementation of the sanctions.
Thompson also noted that Russia was still able to obtain certain strategically-important goods for the purpose of war and that these were being evaluated.
Concluding, he informed the audience that further guidelines and useful tools would be made available soon for those impacted by the sanctions.
The International Compliance Forum is one of the biggest conferences of IMH, and every year it tackles the most important developments around regulatory compliance issues that concern professionals in the field as well as the largest local and international companies. This year's edition is taking place on 20 October at the Filoxenia Conference Centre in Nicosia.
(Source: InBusinessNews)