Cyprus could meet 40% of its needs from solar power by 2030, IRENA Chief tells CNA
07:51 - 16 October 2023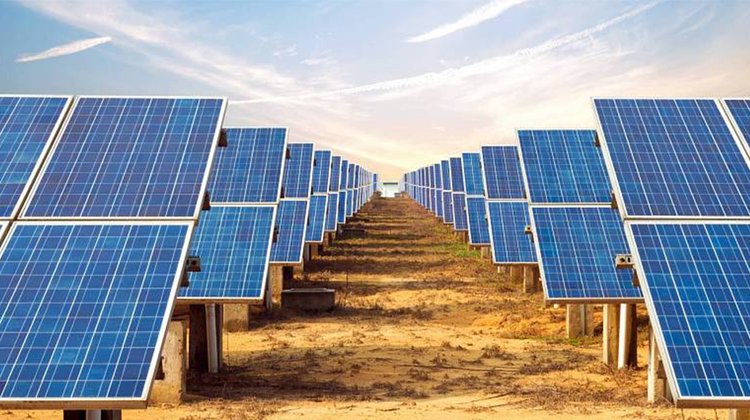 Cyprus has the potential to meet 40% of its energy demand through solar power by 2030, Director-General of the International Renewable Energy Agency (IRENA) Francesco La Camera said in an interview with Cyprus News Agency (CNA).
The IRENA chief also stressed the importance of interconnectivity of the energy grids of different countries, especially in the Mediterranean, in order to meet the demand and to balance the system.
La Camera said that IRENA has been working with Cyprus and also assessing the potential of the country in its transition to renewable energy. He noted that besides solar energy, Cyprus could also have offshore wind or interconnectivity with other Mediterranean countries.
"We have estimated that 40% of energy can come from solar by 2030 because there's a very good perspective," he said.
He also stressed that Cyprus was part of the Mediterranean Initiative MED9, which aims to make the Mediterranean a hub for green energy in the future and that IRENA has been working with Cyprus towards that goal.
He also emphasised the importance of modernising and strengthening the grid infrastructure and implementing specific policies to push renewables further in Cyprus, particularly considering the European Union framework.
"Storage is part of the tools we have to ensure more interconnectivity and flexibility within the grid. So is the connection with the other Mediterranean countries, which also a prospect in the medium term. So there are many things that could be done together," he said.
Regarding better integration of renewables into the grid, La Camera highlighted the importance of energy storage. He mentioned that storage technologies offer flexibility and interconnectivity, which can be achieved through local systems and cross-border collaborations. For instance, he discussed the Euro-Asia Interconnector project, connecting Israel, Cyprus, and Greece, as a means to enhance interconnectivity and balance energy distribution at a lower cost.
He stressed the need for physical infrastructure, workforce training and institutional capacity development in the country.
Renewables to address energy price volatility
------------------------------
The Director-General of IRENA, stressed also the crucial role of renewable energy in addressing the challenges posed by fluctuating energy prices and enhancing energy stability and affordability.
La Camera pointed out that the recent spike in energy prices is a sign that fossil fuel reliance is coming to an end. As he said, the traditional energy system based on fossil fuels was increasingly unable to support sustainable development and often led to uncertainties, as witnessed in recent months. He highlighted that the transition to renewable energy was vital for reducing costs and providing greater energy stability.
La Camera emphasised that renewables are "the most cost-effective way of generating electricity globally, making them a convenient and affordable choice for consumers."
Additionally, he pointed out the need for transition from centralised fossil fuel-based systems to decentralised renewable energy systems.
"The centralised systems based on fossil fuels were not very resilient to shocks, primarily because they had only a few actors in the market. Transitioning to renewables means that, more or less, everyone can produce renewable energy. This shift will lead us from a centralised to a decentralised energy system," he explained.
IRENA's Role in advancing renewable energy
-----------------------------------------------
La Camera said that IRENA's primary mission, was to support and promote the deployment of renewable energy. As he said, the agency has been producing knowledge and data on renewables, including their costs and capacities. This information, he noted, has been crucial in helping countries align with the goals of international agreements like the Paris Agreement.
IRENA's efforts also have led to the proposal to triple installed renewable energy capacity, which has gained support from the G7. The agency, said La Camera, plays a significant role in building consensus on global targets for renewables at events like the upcoming COP28 in Dubai.
"So we are building consensus to include global targets for renewables as part of the outcome of COP28 to be held in Dubai. This constitutes an important area of our work. The other one is facilitating the funding for renewable energy projects," he said.
He explained that they were creating partnerships with stakeholders, funds, companies, and banks. This collaboration, as he said, has successfully supported financing for projects in various regions, including Kazakhstan and Africa.
Challenges and barriers in the transition to renewables
-----------------------------------------------------------
La Camera outlined several common challenges that hinder the global transition to renewable energy, including physical infrastructure in order to modernise and connect energy grids, implement supportive policies and legal frameworks for renewable energy, develop institutional capabilities to promote renewable energy and the need for skilled workforce in the renewable energy sector.
He emphasised that these challenges are universal and apply to all countries, highlighting the need for changes in university curricula to prepare the workforce for the evolving energy landscape.
Especially for Europe, he stressed the need for strengthening and modernising its grid system to be more interconnected, in order to ensure flexibility and also as an instrument for balancing the system. He said that Europe has not yet put into the grid all the potential of North Sea and the Baltic Sea and that the grids of the Mediterranean were still not connected to Europe. He also referred to improvements, giving the example of the alignment between Portugal, Spain, France, and Germany.
"There's no doubt that interconnection is the future", he said.
La Camera also noted that various renewable energy technologies, including solar, wind, geothermal, hydro power, and green hydrogen, all have promising roles to play. The suitability of each technology, as he said, depends on the specific characteristics and resources available in a region. He stressed that a mix of these technologies, combined with energy storage solutions, interconnectivity, and modernisation of energy infrastructure, will be essential to building a resilient and sustainable energy system.
(Source: CNA)