ManageEngine ITCON Cyprus 2023 is coming to Nicosia and Limassol
Press Release 14:57 - 18 September 2023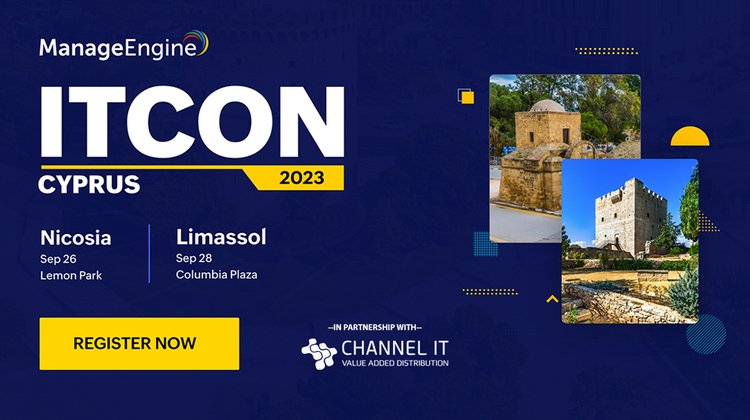 ManageEngine ITCON, one of the premier technology events globally, is set to return to Cyprus for its 2023 series.
This highly anticipated event will be held in upgraded venues and will feature an array of enriched topics. Participants can expect an on-site experience that delivers unparalleled insights and networking opportunities within the ever-evolving tech industry.
Organized in collaboration with Channel IT Ltd., the exclusive distributor of ManageEngine products in Cyprus, Greece, and Malta, will be held in Nicosia (Lemon Park) on September 26 and in Limassol (Columbia Plaza) on September 28. Attendance for delegates is complimentary.
Product experts from ManageEngine and Channel IT engineers will provide a comprehensive analysis of strategies to efficiently handle security incidents, safeguard networks and critical infrastructures, and protect sensitive company information. Additionally, they will explore methods to streamline routine tasks for remote endpoint management and discuss other crucial topics that are pertinent to modern IT departments in all types of companies and organizations.
Specifically, the topics are:
Service Desk: Help Desk creation, management and automation.
Active Directory: Automate routine Active Directory and Microsoft 365 tasks and comply with international standards and regulations such as ISO 9001, 270001 GDPR and more.
UEMS: Endpoint management and security automation.
IT Operations: Management and monitoring of networks, servers and applications in real time.
IT Security: Enhancing security and protecting sensitive corporate data.
Identity Access Management | Privileged Access Management: Manage and secure identities and access according to Zero Trust requirements, to ensure compliance with regulatory standards.
During ITCON Cyprus 2023, attendees will gain valuable insights into the industry's most current trends. They will also have the chance to explore best practices for managing and securing IT infrastructure and systems, as implemented by successful companies and organizations worldwide. Furthermore, participants will have the opportunity to become acquainted with ManageEngine's extensive and continuously evolving range of solutions.
Besides, IT executives from esteemed companies that rely on ManageEngine solutions will share their firsthand experiences with using the products and how they enhance their day-to-day operations contributing to the digitization of processes, cost containment, and productivity enhancement.
For the detailed program of ITCON Cyprus 2023, the profiles of the presenters, and for registering at the event in Nicosia or Limassol for free, click here.