CIM-Cyprus Business School announces new Advisory Board composition
08:44 - 18 September 2023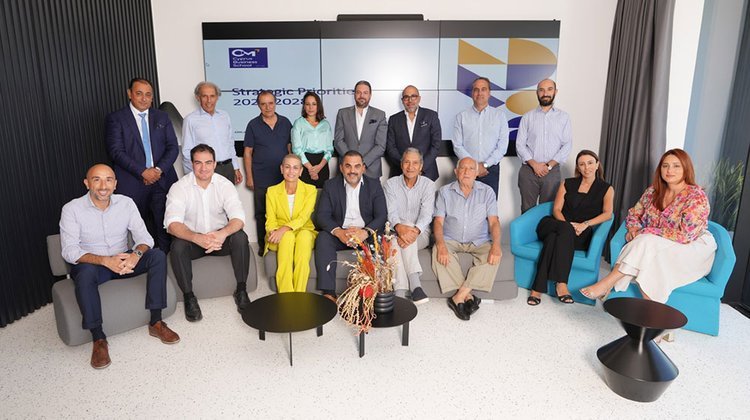 CIM-Cyprus Business School has announced the composition of its Advisory Board for 2023-2024.
The announcement was made during a formal lunch held at MAP Hotel Nicosia on Wednesday, 13 September 2023, an announcement from CIM said.
The Advisory Board of CIM is made up of prominent figures from the business world, confirming CIM's great contribution to Cypriot business activities and in particular to the education and training of employees, the announcement added.
Glafkos Mavros, a former General Director of Hellenic Bank, was unanimously voted Honorary President after stepping down after 12 years as President.
The new President, Marios Kapiris has been Director, of Kyndryl Cyprus branch in 2021 and Alliances and Ecosystem Leader at Kyndryl for Greece and Cyprus. Over the previous 20 years, he has worked in various managerial positions at IBM in Cyprus and abroad. He is also a member of the Board of the American Chamber of Commerce in Cyprus (AmCham) at the Cyprus Chamber of Commerce and Industry, and Chairman of the digital transformation committee, a member of the Board of the Cyprus Technology Association (Invest Cyprus) and a founding member of the Cyprus Australian Business Association. Marios Kapiris excels in his field and has just recently been awarded as Manager of the Year (In memory of Andy Hadjicostis) at the INBusiness Awards 2022.
The composition of the Advisory Board for the academic year 2023/24 is as follows:
President – ​​Marios Kapiris – Director, Kyndryl Cyprus
Members:
Glafkos Mavros, Former General Manager of Hellenic Bank
Anna P. Antoniou, Chief Marketing Officer, SPP Media
Theo Hadjiyannis, Chancellor, CIM
Nicholas Defteras, CEO, FXTM
Garo Dzaghigian, Sales Manager, TOYOTA
George Georgiou – CEO, Green Energy Group
Antonis Karpasitis, Former General Manager, METLIFE Cyprus
Georgia Chrysanthou – Director, House of Brands
Antonis Papas – Marketing & Communications Manager, NP Lanitis
Paola Ioannou, CFO, National Bank of Greece (Cyprus)
Soteroula Soteriou, Marketing & Corporate Image Manager, Charalambides Christis
Daphne Prodromou, Strategy and Communication Consultant and Former Communications & Strategy Manager, Bank Of Cyprus
George Chrysochos, Director, Cyfield Group
Spyros Vassiliou, Managing Partner, Spyros Vassiliou & Associates LLC
Dr. Nicholas Mastroyiannopoulos, Founder & Managing Partner, W11 Ventures
Dr. Christos Hadjiyiannis – Dean, CIM
Yangos Hadjiyiannis – CEO, CIM
Dr. Myria Kkali - Representative of Nicosia Lecturers' League
Dr. Katerina Pavlou - Representative of the Limassol Lecturers' League