Top US officials: Work remains to be done but visa waiver on a good path
08:20 - 08 August 2023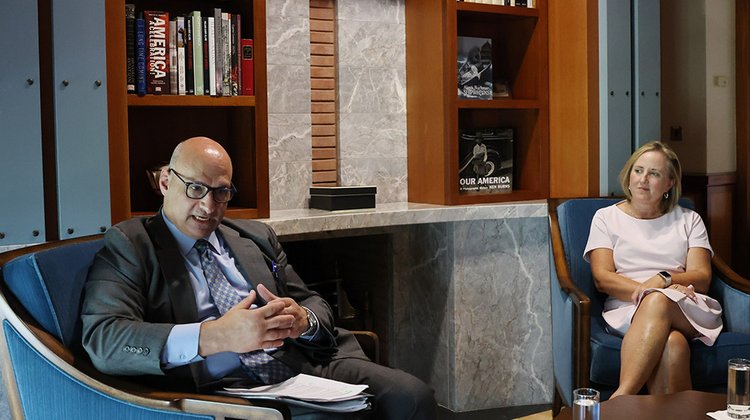 The premise for Cyprus to enter the Visa Waiver Program (VWP) is good but there is still lots of work to be done, prerequisites to be met and milestones to be achieved, Principal Deputy Assistant Secretary for International Affairs at US Department of Homeland Security, Robert Paschall, has told the Cyprus News Agency.
Paschall was on the island for a short visit last week and he met, among others, with the Minister of Foreign Affairs. In his interview with CNA, alongside US Ambassador Julie Fisher, Paschall spoke of the strong level of bilateral relations and the commitment there is from both sides for the VWP.
He said that his visit was only for 36 hours and therefore they had to focus on hitting the hard points. He explained that the VWP falls under his office, in consultation with the State Department, to determine which countries are eligible. Paschall said that the program permits citizens of participating countries to travel to the United States for business or tourism stays of up to 90 days.
"So you don't need a visa anymore, it is much more simplified, the access is much easier, this is a great program, it is one of the best things the Department of Homeland Security does. First of all, it is a security program, and it is also a travel facilitation program and it strengthens people-to-people ties. So all those things are very important and it allows for countries such as the US and Cyprus who keep ties and relationships, to deepen them," he said.
The PDAS told the Cyprus News Agency that they are working closely with countries like Cyprus who want to be part of the VWP to ensure that they qualify, as there are very strict requirements that are set by the US Congress- since it is a visa security program- to ensure that both countries are safe.
"What the program does through that,  is that it allows both through our warning and through your security processes and our security processes and requirements, to raise the bar for both countries and ensure that everyone is more safe through the travel continuum. It also allows for a much easier access for people to go back and forth, from both countries," he said.
He said that the whole process is lengthy, but they are working to ensure that we keep moving forward.
Paschall said that there are a lot of different milestones that need to be hit, but noted that it is important to maintain that we are going forward.
"Through the Embassy and through our relations, bilaterally with the Government of Cyprus,  it's important that we keep talking and going forward to trying to expedite the entry of Cyprus into the visa waiver program," he said.
He noted that there are lots of requirements that range from information sharing and working back and forth to make sure that we know a lot of what is going on when citizens enter each other's country.
"Just making sure that we have an understanding of security and all that is going on through travel.  So right now we are working on making sure that those connections are solid, that the information flows both ways, and that we have an ability to work with Cyprus so that the requirements of the program are met. We still have a lot of work to do to implement those and get those into a good place," Paschall noted.
He went on to say that this is a complicated program and it requires a lot of work on both sides, "but the premise is good and we are moving forward in a very positive relationship".
He described the meeting they had last Friday with the Minister of Foreign Affairs as excellent, pointing out that "we understand the requirements from both sides and it just shows the strength of the bilateral relationship and the work that the Embassy and the Ambassador have done to make sure that we are at a good place to move forward and hopefully will move forward in the near term," he said.
Replying to a question about the meeting he had with the MFA he said that the commitment is there adding that it is very obvious that Government will is there and that "they want to move forward with us and the commitment on our part is there as well."
The PDAS said that he doesn't want to say that it would be easy but went on to point out that anything worthwhile is not easy.
"So anything worthwhile doing requires commitment, requires work on both sides and I see that from both sides, the Ambassador has the staff working extremely hard to make sure this happens, the Minister of Foreign Affairs has it the same way and we really think we are moving forward in a great direction," he told the Cyprus News Agency.
Ambassador Fisher in her statements also said that they had a productive discussion with the Minister of Foreign Affairs and had the opportunity to meet with representatives from different Ministries as well.
"And one of the things that I think is particularly useful of the work that we have done in recent months, is this new structure that President Christodoulides has established around this process," she said. She noted that the idea of having representatives from the Police, the Ministry of Justice and the Ministry of Foreign Affairs, and others is really contributing to the effectiveness of the work we are all doing together.
"So we really very much appreciate the commitment that has been shown to advance these efforts and we get a senior here like Bob and it means we can make the most out of a short visit," she said.
Replying to a question if she believes there were some gaps before, she said that she is not looking backwards, in terms of the structure.
"But at this moment, where we are in terms of process as the Principal Deputy Assistant Secretary has said, this is a deeply technical process, there is a lot of legal framework around it, how we share information, how we build confidence in protecting the information that we share with each other, there is a tremendous amount of work that needs to be done.  I won't speak of what came before, but simply say that the way in which we are organising around it together, I think it's pretty productive," the Ambassador said.
In another question, the Principal Deputy Assistant Secretary said that Cyprus entering into the VWP would be wonderful and another big step for the bilateral ties.
"I have been here for a short time but I'm already in love with the country. It's wonderful, the work that we do together, anything that strengthens the ties, that allow people to travel back and forth much easier, and being able to not maybe make plans so far in advance and be able to jump on a plane in three days rather than in three months, all these things that are extremely important," he said.
He told us that the night before (Thursday, 3 August) he was able to go to the football match between Omonoia and Kampala for the Conference League and he enjoyed having that type of people-to-people interaction and meeting everyone.
"It was wonderful, it is very important. It is also important for us from the perspective of the European Union, because we want to make sure that all countries in the European Union have visa-free travel, we are working towards that and Cyprus is one that we have already focused on," he said, expressing the belief that hopefully we can get these countries, including Cyprus, into the program in the short term.
"Overall I think it is wonderful, the overall relationship, the strengthening of the relationship due to the hard work of the Ambassador and the Embassy, is wonderful. The Homeland Security would love to be another link in that chain, that will allow us stronger ties and strengthen the ties that already exist, so we are very excited about being able to contribute to the strengthening of the US-Cypriot relationship," Paschall said.
Ambassador Fisher on her part said that they are delighted to have the Homeland Security colleagues here to help contribute to that.
"I think it is a signal of the growing confidence and the strength of the bilateral relationship, as you know it is growing in so many different areas, but bringing more Cypriots to America and hopefully more Americans to Cyprus, I think it is another piece of improving the really incredible relationship we have.  We are really hoping, we are going to do all the work we can in the coming weeks and months however long it takes for us to move this forward," she said.
She encouraged Cypriots who want to travel to the United States in the meantime, to apply, saying that this is a great time to apply, as they have appointments available.
"It is really important because the more Cypriots apply, the closer it gets us towards our goal. So we really want to encourage people, particularly, so many people around the world have waited since the pandemic, there have been longs lines, but now we have appointments available and we would love to see more Cypriots applying for visas," the Ambassador said.
The PDAS, in his closing remarks, told the Cyprus News Agency that next time he comes, he will bring a lot of people with him and they will do an assessment.
"This is a mutual learning experience, we learn from you and you get to learn from us. It is a great ability for us to strengthen each other's security by learning from each other because, in the security area, it is important to be right every time. And we have got to make sure that we understand, not only from our perspective for security, but also the Cypriot perspective so it is important to learn from both," he noted.
Forty countries participate in the US Visa Waiver Program. Twenty-four are EU Member states.
(Source: CNA)