Rhapsody of the Seas docks at Ayia Napa Marina
08:22 - 04 August 2023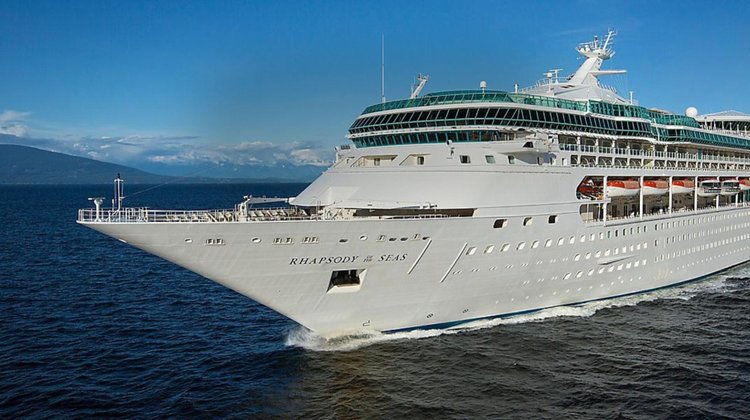 The Royal Caribbean Cruises' Rhapsody of the Seas docked at Ayia Napa Marina on 3 August, with almost 3,000 people on board.
The passengers were transported by bus to Ayia Napa, Protaras, Larnaca and the Avgorou Botanical Garden. Some chose to stay in the marina of the famous tourist resort.
The ship is 297m long and has 12 decks. It carried 2,100 passengers and 800 staff.
A small ceremonial event took place at the marina attended by its Director, the Mayor of Agia Napa and officials of the Deputy Ministry of Tourism.
A commemorative plaque was awarded to the crew officers and gift bags were given with olive oil produced by olive trees in the area. The Deputy Ministers of Shipping and Tourism arrived later in the afternoon because of the meeting of the Cabinet in Nicosia in the morning.
Koumis said that this is the second cruise ship that docks this year and three more are expected. He said it is important for Cyprus and the tourism sector to have such big ships of such capacity dock at the marina.
In statements Gary Waugh, one of the senior officers on the ship, said that they are incredibly grateful for the hospitality that the marina, the mayor and his team and everyone has provided them. He added that coming to Ayia Napa was an exceptional experience.
"This is the second time we visit the marina which is an outstanding project. We wish everybody here a great success and we look forward to returning. I believe we will be coming back in October to see you all again," he said.
Ayia Napa Mayor Christos Zannettou noted the importance of having 3,000 people visit the area and said he believed there will be more cruises to come. He also said cruise tourism is a sector that needs to be supported.
Costas Fitiris, Ayia Napa Marina's Director, said it was a pleasure to welcome the ship back to the marina again, noting that it shows the efforts made collectively by the marina, Municipality of Ayia Napa and government have paid off.
Filtris is optimistic the marina will welcome an increased number of cruise ships this year and in 2024, while responding to reporters, he said the marina's management was working closely with the deputy ministries of tourism and shipping, taking part in exhibitions and so on, to encourage more cruise companies to choose Ayia Napa for a visit.