Dr Loukas Barmparis: Technology is reshaping the global shipping industry
07:16 - 02 August 2023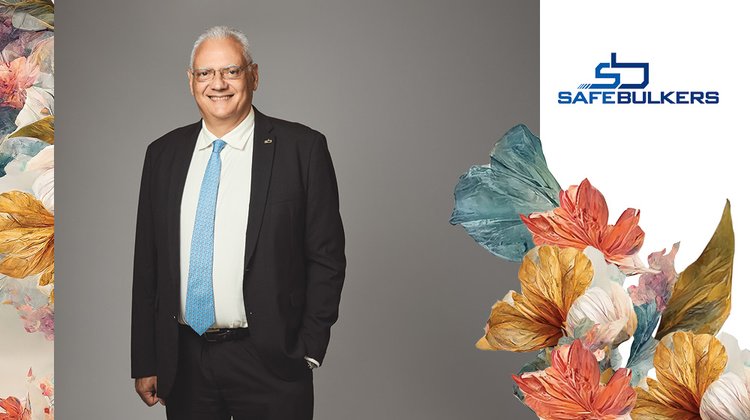 Dr Loukas Barmparis, President of Safe Bulkers, Inc. talks about the evolution of Cyprus as maritime haven, the challenge of decarbonisation and the company's dedication to strengthening the Cyprus Registry and promoting the Cyprus flag.
A video featuring the General Director of Safe Bulkers Management Limited, Nikos Kratimenos, created especially on the occasion of Safe Bulkers being chosen as a recipient of an 11th Invest Cyprus International Investment Award, can also be viewed below.
Congratulations on Safe Bulkers' win at the 11th Invest Cyprus International Investment Awards. What does this recognition mean for the company?
We are proud to be honoured with this award. Cyprus is a very attractive investment and business destination and we have been enjoying this business environment since 2015, when we first moved a large part of our shipping operations to Limassol. Today, headquartered in Limassol, we are convinced that, thanks to its dynamism and outward-looking mentality, Cyprus has succeeded in establishing a centre of maritime excellence with a modern infrastructure and quality services, thus creating the necessary favourable business environment to attract investments.
Could you share some insights into your decision to invest in Cyprus and the opportunities you have identified for growth? How do you define success in the context of your investment and business endeavours in Cyprus?
Over the past years, Cyprus has evolved remarkably into a leading global maritime centre, able to attract key industry players and significant investment. Recognized for its strategic location, competitive tax regime, efficient financial and legal services as well as the well-established shipping infrastructure and skilled personnel, Cyprus offers great potential and exciting opportunities for investors seeking to establish their operations to Cyprus.
International efforts to tackle climate change have put pressure on industry chiefs, and a goal has been set to halve carbon emissions by 2050. Do the challenges surrounding the implementation of various environmental issues make Safe Bulkers more cautious when it comes to large-scale investment in new vessels?
Companies across all industries, including the shipping industry, are facing increasing pressure to reduce their carbon footprint and promote sustainability. Over the years, we have been very active in reducing our fleet's environmental footprint, investing heavily in green technologies and eco-friendly ship designs through an extensive environmental investment programme. Our company has a head start on the decarbonisation issue, through a number of strategies aligned with the IMO's targets on greenhouse gas reduction. These include fleet renewal and modernisation (by selling some of our oldest vessels while selectively acquiring second-hand tonnage and ordering new vessels), the optimization of our vessels' performance and utilisation, and the application of newer eco-efficient technologies on our existing fleet.
How do you keep up with the speed of digital transformation in your sector?
Technology is reshaping the global shipping industry at an ever-growing pace. Taking the pulse of global shipping trends on the way to digital transformation, we have been working actively to optimize our operational efficiency while enhancing our competitiveness and resilience. We have always been focused on how to evolve by integrating new technologies and implementing innovation in our daily business. Our ongoing project – the installation of data collection and analysis systems – is a significant part of the company's transition towards the digital world. Also, we acknowledge that cybersecurity is critical. In these transformative times, we must keep in mind that, while new technologies may present great opportunities, they often come with great threats too. We work to keep our people and operations safe, both onboard and ashore, we have placed control systems on ships and in our offices to ensure safety, efficiency and continuity and we are continuously educating and training our crew and shore personnel to ensure that cyber risks are properly identified, assessed, monitored and reported.
In March, you announced that you had added ex-DNB Bank executive Kristin Holth as well as Marina Hajioannou to the Board. What benefits do these new appointments bring to Safe Bulkers?
We are excited to have Kristin Holth and Marina Hajioannou join the Safe Bulkers Board of Directors on our ongoing journey to sustainable growth and continued success. Both are real assets, contributing value to our company as we continue to expand the female representation on the Board and within the company. Having increased the female to male ratio over the years, we remain dedicated to creating and maintaining a diversified work environment of equal opportunities, in which all our employees can perform to the best of their abilities and grow.
What role do you see Safe Bulkers playing in shaping the future of the local shipping industry?
As the largest shipowner under the Cyprus Registry, we are working relentlessly to strengthen the Registry and promote the Cyprus flag as a flag of choice, encouraging shipowners and ship managers to register more vessels in Cyprus. We believe that Cyprus has even more potential to attract further investments in the country's existing maritime cluster, thereby deepening and upgrading its leading position in the global shipping industry.
This interview first appeared in the July edition of GOLD magazine. Click here to view it.