City of Dreams Mediterranean partners up with Cablenet
11:22 - 01 August 2023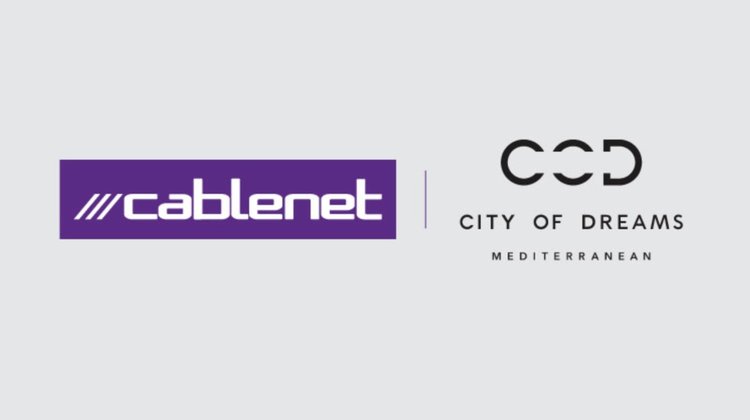 City of Dreams Mediterranean, the iconic integrated resort that is set to elevate Cyprus' hospitality and entertainment scene, has announced its strategic partnership with Cablenet, a leading telecommunications provider, as its exclusive technology partner, promising an extraordinary experience for visitors.
A fusion of luxury and cutting-edge technology
"City of Dreams Mediterranean will bring guests an unparalleled level of luxury and sophistication," Cablenet said in a press release. "With its grand opening, the resort promises to redefine the standards of hospitality and entertainment in the region. Embracing the vision of a technologically advanced destination, the resort has joined forces with Cablenet over the past couple of years to build and ensure a state-of-the art infrastructure that will securely meet the demands of all applications that are used to run and maintain the resort and its operations."
The infrastructure will allow guests to enjoy seamless connectivity, innovative entertainment, and unparalleled convenience during their stay, it added.
Cablenet: Redefining connectivity
As the preferred technology partner for the City of Dreams Mediterranean, Cablenet brings its vast expertise and technical knowledge in telecommunications to enhance the guest experience. "With its advanced infrastructure and innovative services ranging from connectivity, mobility, datacentre, collaboration services, cloud, and hospitality TV, Cablenet is committed to delivering secure, seamless, reliable, and high-performance services throughout the resort, ensuring both guests and staff are fully connected," it said.
Enhancing entertainment options
"City of Dreams Mediterranean understands the importance of entertainment diversification for its guests," it added. "Cablenet's cutting-edge technology facilitates an array of digital entertainment options, ensuring visitors have uninterrupted access to an extensive selection of TV channels, content, and streaming services. Whether guests wish to unwind in their rooms or enjoy thrilling entertainment in the various sections of the resort, Cablenet's entertainment solutions cater to every preference."
Gaming and beyond
For those drawn to the adrenaline rush of gaming, City of Dreams Mediterranean offers an expansive casino experience. "Cablenet's advanced network infrastructure ensures secure and seamless connectivity for gaming enthusiasts, enhancing their gaming experience, and allowing them to stay connected with fellow players and gaming communities worldwide," the telecoms company said.
Smart room solutions
"City of Dreams Mediterranean sets new benchmarks in guest comfort and convenience. Leveraging Cablenet's technological expertise, the resort introduces smart room solutions to create a truly interactive and personalised experience for guests," said Cablenet. "With intuitive room controls and smart automation, guests can easily adjust lighting, temperature, and entertainment options to their liking with just a few taps on their devices."
Efficiency and sustainability
In line with its commitment to sustainability, City of Dreams Mediterranean embraces technology to minimise its environmental impact. Cablenet's solutions optimise energy consumption and resource management, contributing to the resort's overall green initiatives, it said.
A shared vision for excellence
"The partnership between City of Dreams Mediterranean and Cablenet represents a shared commitment to excellence in customer experience," it said. "With Cablenet's innovative solutions, the resort can offer guests a seamless blend of opulence and modernity, ensuring that their stay is truly unforgettable."
City of Dreams Mediterranean and Cyprus Casinos Property General Manager, Grant Johnson, said: "Cablenet is a leader in its sector and just like us, it strives to deliver high-quality, innovative services. Having in mind that we ran highly demanding operations and want our guests to have the best experiences during their stay, it was an easy decision to entrust them with the resort's telecoms infrastructure."
Thomas Hoplaros, Chief Commercial Officer – Business (Cablenet Communication Systems PLC), "We are both honoured and proud to be part of such an innovative and technologically advanced project which is the largest of its type in the region and that will contribute positively to the local economy, we look forward to the continued partnership".