Costa Coffee-University of Nicosia-Intercollege scholarship collaboration
10:29 - 01 August 2023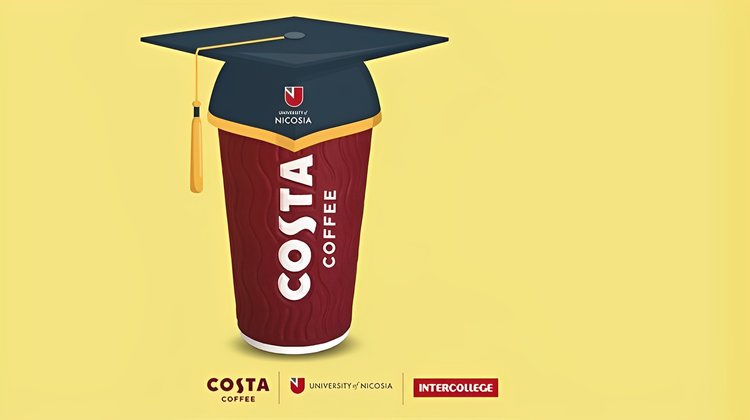 Coffee chain Costa Coffee is offering potential students a valuable academic opportunity to study at the world-ranked University of Nicosia, as well as at the leading professional training college, Intercollege.
Young people who wish to now have the opportunity to work at Costa Coffee, building a rewarding career with the world-renowned coffee chain while also studying, now have the opportunity to enjoy what the company describes as a generous reduction in their tuition fees, as well as other benefits.
More specifically, based on the agreement signed, Costa Coffee employees will immediately secure significantly reduced tuition fees.
The scholarship for the programs of the University of Nicosia amounts to 25% of the tuition fees of the undergraduate programmes (excluding the Medical School study programs and the Veterinary Medicine program) and 20% of the tuition fees for the postgraduate study programmes (excluding the Clinical, Counseling and School Psychology).
Interested applicants will also benefit from 30% tuition fees for Intercollege's Diploma in Culinary Arts programme.
In this way, students get a double win, as they simultaneously have a guaranteed income from Costa Coffee through a flexible working schedule, as well as reduced tuition fees at two great academic institutions.
It should be pointed out that the University of Nicosia (UNIC) is one of the leading research-oriented universities in the wider Mediterranean region. It offers 100+ conventional (lifetime) and distance learning programs at undergraduate, postgraduate, and doctoral level, hosting more than 12,500 students from 100+ countries. According to the Times Higher Education (THE) World University Rankings 2023, the University of Nicosia (UNIC) is in the 2% of the best universities worldwide.
Intercollege, on the other hand, is an academic and professional regional center of excellence in culinary, hospitality, wellness, and shipping, with a focus on Greece, Cyprus, and the wider Mediterranean region.
(Source: InBusinessNews)