New minister: We are redefining our energy strategy
15:01 - 09 May 2023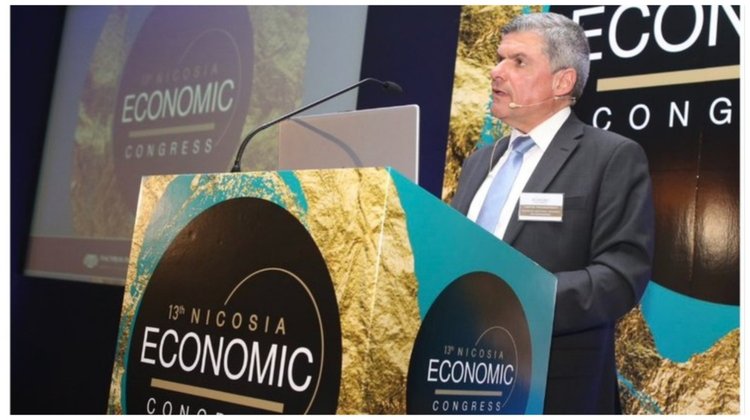 The green transition is a top priority for the new government, as is reducing electricity costs to help the local industry and economy, the new Energy Minister, George Papanastasiou, told the 13th Nicosia Economic Congress.
Addressing the congress, which was presented by Pancyprian Insurance, Hellenic Life and ECOMMBX on 9 May, Papanastasiou said that the unprecedented crisis that saw the EU scrabbling for alternative energy sources and routes, but also high inflation, have forced the government to redefine its energy strategy, with the ultimate goal of reducing energy costs for households and businesses.
Only thus, he said, will the state be able to maintain the country's competitiveness and ensure a viable and healthy economy.
He said the main pillars of his ministry's policy is to strengthen the security of Cyprus' energy supply, lift its energy isolation, and ensure the functioning of the competitive electricity market and the internal natural gas market.
"At the same time, we are stepping up our efforts for a swift transition to the green and cyclical economy, based on the Green Deal and the EU policy 'Fit for 55', which provides for a 55% reduction of greenhouse gas emissions by 2030," said Papanastasiou.
"This is what we are focusing on; for us to substantially reduce the cost of the energy we produce and consume in Cyprus, we must turn our attention towards securing natural gas, the bridge fuel for the green transition, mainly from the Eastern Mediterranean area. Since 2009, around 78 trillion cubic feet (tcf) of natural gas have been discovered in the Eastern Mediterranean, with 21 of them currently estimated to be available for export," said the minister.
As he pointed out, Cyprus first discovered natural gas in its Exclusive Economic Zone (EEZ) in 2011. Since then, another 12 to 15 tcf have been discovered. "So, we can't stand here in 2023 and still be discussing how to exploit it, completely overlooking the obvious: that part of our deposits must be transferred to Cyprus for electricity production," he said.
The minister reiterated that a meeting will be held later this month, with representatives from all the oil majors currently active in Cyprus' EEZ and the broader region. "The aim is to conduct a highly specialised workshop where all those involved – technocrats, advisors to the state, experts and stakeholders – can discuss the government plans, to conclude on specific, viable solutions," said Papanastasiou.