PIRLS 2021 survey shows encouraging results for Cypriot students
10:01 - 26 May 2023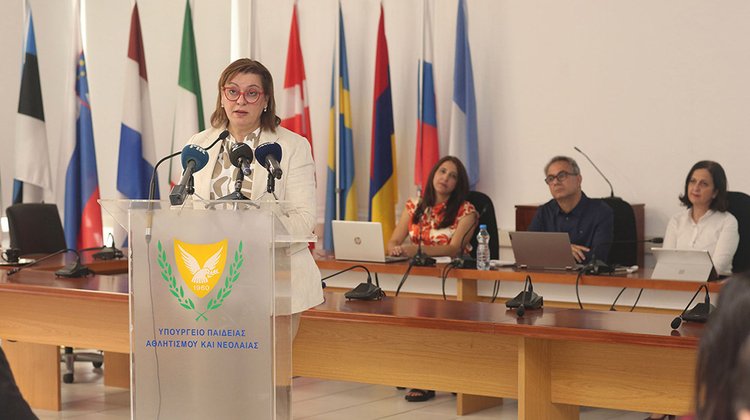 Minister of Education, Sports and Youth Athena Michaelidou said on Thursday that Cyprus' results in the PIRLS 2021 survey are encouraging for the country.
Michaelidou was speaking during a press conference organised by the Ministry to present the main results of the International Programme on Progress in Reading Literacy (PIRLS 2021) for Cyprus.
The Minister noted that the PIRLS survey is organised by the International Agency for the Evaluation of Educational Achievement (IEA), is conducted every five years, and provides internationally comparative data on the reading and comprehension skills of primary school students in grade 4.
"The results of Cyprus in the PIRLS 2021 survey are exciting and very encouraging for our country", she stressed, explaining that "the performance of our students has increased significantly compared to our previous participation in the survey and exceeds the median value of the scale."
The pilot survey took place in March and April 2020, with the participation of 366 students from 20 schools in Cyprus. The main survey was conducted in March-June 2021 with the participation of 4,589 students from 160 public and private schools. 272 teachers and 4,352 parents/guardians also took part in the survey.
It was found that the average performance of Cyprus on the PIRLS scale was 511. Furthermore, this score represents a statistically significant improvement (17 points) compared to Cyprus' previous participation in 2001 (494). In addition, girls' performance (515) increased compared to boys' (506).
In statements to the Cyprus News Agency (CNA), the President of the Pancyprian Organisation of Greek Teachers (POED) expressed her hope that the announcement of the PIRLS results would be the beginning of further support for teachers, our children, and the public school. Myria Vassiliou added that it was unfair to silence or ignore in public discourse the high performance and success of children in international surveys.
"This could not have been achieved without our teachers' dedication, commitment, and love, even with limited support. This is further confirmed by the fact that these results are for the period 2021, a period in which our schools had to cope with a challenging daily routine due to the COVID-19 pandemic," she added.
(Source: CNA)