Energy Minister to go ahead with natural gas import despite possible reactions
16:15 - 25 May 2023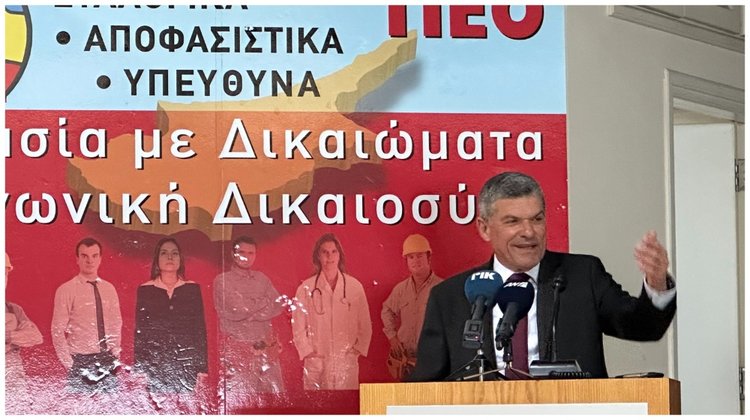 Minister of Energy George Papanastasiou said Cyprus will go ahead with its plans to transport natural gas quantities from the region both for electricity generation in Cyprus and for liquid natural gas (LNG) exports despite in spite of geopolitical reactions.
Speaking during a conference held by trade union SIDIKEK PEO, on Cyprus' Electricity Authority, Papanastasiou reiterated that the electricity bills must go down, noting that this will happen with the introduction of natural gas via a pipeline from the region as opposed to LNG, the prices of which have skyrocketed due to the war in Ukraine and the ensuing sanctions imposed on Russia.
The new government has shifted its policy envisaging the import of natural gas from Israeli gas fields and from gas reserves in the Cypriot EEZ both for electricity generation as well as for liquefaction utilising a modular LNG to be exported to European and other markets. On May 29 Cyprus will hold a workshop to discuss this proposal both with energy companies operating in the Cypriot EEZ as well as companies operating upstream and downstream sector.
Noting that this plan has been approved by Cyprus President Nikos Christodoulides, Papanastasiou added that "we will have geopolitical reactions but, finally, this country should stand on its own two feet."
"We will import natural gas from our neighbourhood, and perhaps also our own, will not lose it here and there. Cyprus will come first above all others," he said, adding that if any excess quantities are left the matter of exporting would be discussed "but Cyprus will come first above all others," he reiterated.
Papanastasiou highlighted the EAC's importance in the energy market in Cyprus and pledged he will support the Authority's bit to increase electricity production from renewables. The EAC must be the price setter for lower prices, he said.
Exploration in the Cypriot EEZ has so far has revealed 4 trillion cubic feet (tcf) in Aphrodite gas field in bloc 12, 5 to 8 tcf in Glaucus gas field in block 1, while two more discoveries were made in block 6, Cronos 1 with a gross mean of 2.5 tcf and Zeus 1 with an estimated quantity between 2 and 3 tcf. So far plans included a possible transport of Cypriot natural gas quantities to Egypt LNG plants for liquefaction.
Panastasiou will travel to Israel in mid-June to discuss the proposal for natural gas transfers to Cyprus while he will continue efforts to settle the dispute over the claim that Aphrodite reservoir extends to the adjacent Yishai gas field in the Israeli EEZ.
(Source: CNA)