Bank of Cyprus Cultural Foundation to host 'ReInHerit a Museum' immersive performance
11:17 - 12 May 2023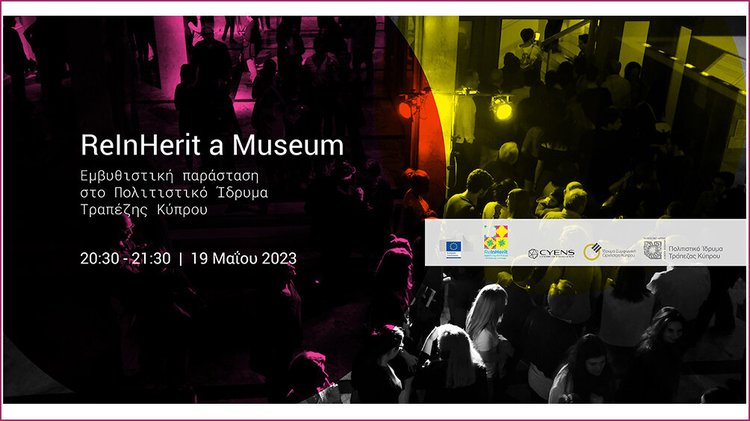 The upcoming 'ReInHerit a Museum' Immersive Performance at the Bank of Cyprus Cultural Foundation (BoCCF) invites the audience to embrace the Foundation as a place of cultural preservation but also one of creation.
Through the use of modern interactive technologies and live music, visitors will on Friday, 19 May be immersed in the world of the performance and explore it using their bodies, experiencing the museum anew as a creative, welcoming, living space.
The performance combines a large-scale interactive sound installation with elements of augmented reality, a large group of moving musicians, real-time graphics generation and projection mapping, as it envelops and underlines the Bank of Cyprus Cultural Foundation's current temporary and permanent exhibitions.
It will be taking place at BoCCF (86-90 Phaneromenis Str., 1011 Nicosia) on Friday, 19 May 2023. With a duration of one hour, it is due to begin at 8.30pm and entrance is free. The performance is suitable for audiences of all ages. Call 22128157 for more information.
'ReInHerit a Museum' is one of the performances organised in the framework of ReInHerit – 'Redefining the Future of Culture Heritage: Creating an Innovative Model for Sustainability' (http://www.reinherit.eu), coordinated by BoCCF. The performance is organised by CYENS Centre of Excellence, ReInHerit partner, in collaboration with the Cyprus Symphony Orchestra and the Cyprus Youth Symphony Orchestra. The performance is presented as part of the events celebrating the European Museum Night of 2023.
The project is characterised by an innovative approach to the curation of the visitors' experiences of cultural heritage sites, for which an immersive performance is created within a museum. During the performance, visitors navigate the BoCCF building and its museums freely, shaping their personal experience of the space and its exhibits.
Through their movement, audience and musicians, trigger sonic events whenever and wherever they enter to explore, according to the locations of the sound installation's receivers. Interaction with the performance's environment happens using a smartphone app which has been designed especially for this event. The app offers the opportunity to see objects from the BoCCF's Ethnographic Collection, which are not presently exhibited in spaces open to the public. These are shown as three-dimensional projections of augmented reality, within the museum spaces.
ReInHerit funding was secured in the framework of the Horizon 2020 CSA Programme, on the theme Culture beyond borders – Facilitating innovation and research cooperation between European museums and heritage. The Programme proposes an innovative model of sustainable cultural heritage management, aspiring to disrupt the current status quo of communication, collaboration and innovation exchange between museums and cultural heritage sites.
Credits:

Performance direction and music composition: Andreas Papapetrou
Programming & mobile app design: Fotos Frangoudes, Alexios Polydorou
Video Art: Stefanos Papadas
2D animation design: Alexis Baldwin
Museologist: Maria Shehade
Communication Officer: Chrystalla Charalambous-Papadopoulou
Project Manager: Niki Kyriakou
Project Coordinator: Kleanthis Neokleous
Performers:

CYPRUS YOUTH SYMPHONY ORCHESTRA
Violin - Christian Bishara, Panos Milios, Anfisa Antonova, Ladyslava Korolenko, Leto Syrimi,
Viola - Lydia Mattheou
Cello - Michalis Vassiliades, Sofia Kleopa

CYPRUS SYMPHONY ORCHESTRA
Flute - Virginie Bove
Oboe - Simeon Spasov, Laura Rodgers
Clarinet - Angelos Angelides, Dusko Žarković
Bassoon - Giovanni Galetti, Giovanni Magni
French Horn - Kelly Alijani, Catherine Heaver
Trumpet - Gareth Griffiths, Andreas Yiannakouras
Percussion - Marios Nicolaou