Michaelides: Cablenet confirmed as fastest growing telco provider in Cyprus
07:46 - 09 March 2023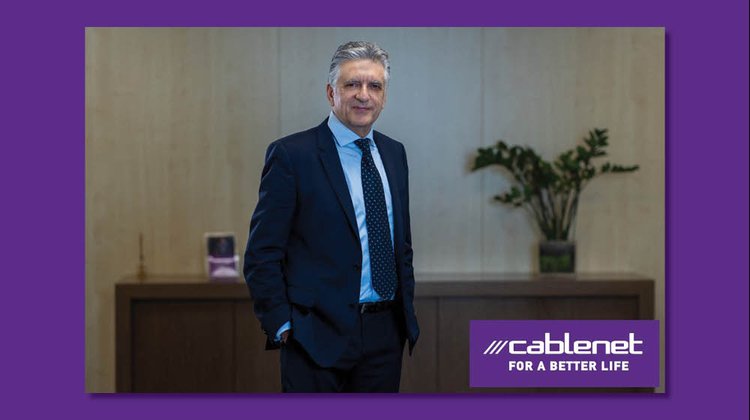 With a record 40% growth in overall subscriber base and a 102% increase in mobile subscriptions, which has translated into a significant 19.4% growth in revenues reaching €63.9 million by the end of 2022, Cablenet has established itself as the fastest-growing telecommunications provider in Cyprus.
According to an announcement from Cablenet, which provides comprehensive telecommunications solutions that include Internet, fixed and mobile telephony, and TV services, the company's innovative Purple Max Mobile product concept, has been the main driver behind such growth.
According to Cablenet, Purple Max Mobile offers unlimited data allowances at prices that are accessible to the wider market. This value proposition has led to a 134% increase in mobile revenues when compared to 2021, the company said.
Commenting on this performance, Yiannos Michaelides, Cablenet CEO stated, "Such growth is nothing short of remarkable when one considers the economic climate in which we are operating. We are in the aftermath of a global pandemic that took the world by storm and are now facing the economic implications of the disruption brought about by the war in Ukraine. This notwithstanding, the market continued to trust us with their communications needs, during a time when demand for connectivity was ever-more critical for continued social and economic development. I am truly humbled and committed to deliver on our long-term evolutionary path towards establishing Cablenet as a national full-service, quad play, telecom operator by building up a mobile services business of scale, alongside our leading fixed services."
Recognizing the need for fast-speed broadband, and in line with its growth plans, Cablenet expanded its fixed services network into new areas of Cyprus. It now has an estimated aggregate coverage of 205,000 Homes passed. However, the company said it believes network expansion is not enough unless customers enjoy the full internet experience both inside and outside their home. Consequently, Cablenet renewed its partnership with Plume, a world leader in innovative, cloud-driven smart home and business services. As a result, Cablenet launched 'Purple Max Internet', to complement to its mobile offering, creating increased value in addition to a fast and secure Internet service experience.
Customers appear to be recognizing Cablenet's efforts as it retained top spot in overall Customer Satisfaction Survey (CSAT) as well as the highest Net Promotor Score (NPS) for both fixed and mobile services.
"Whilst we continue to invest in our technology and networks, our people remain our biggest asset and its thanks to their dedication and commitment that we can achieve such results. We take their happiness and wellbeing very seriously and it gives me great pride that we also registered and 18% improvement in our employee net promotor score. Our renewed set of values, our reinvigorated culture, and our absolute focus on our employee well-being and development are providing a key component for our long-term sustainability," Michaelides explained.
Cablenet Chairman, Nikhil Patil, also expressed his satisfaction at Cablenet's 2022 performance: "We are very excited at the progress Cablenet has made and what the future holds for this growing company. It has continued to prove its determination to bring added value to its customers and returns to its shareholders. The ongoing transformation of Cablenet, at a time when it's growing at an industry-leading rate, is no easy feat. The Board and I are incredibly proud of how Cablenet's Management and people have performed to make this feat a reality in 2022. We remain committed towards Cablenet and shall continue to support its expansion in the various areas," Patil said.