Energy Minister presents Cyprus' advantages for foreign businesses at London conference
07:33 - 14 November 2023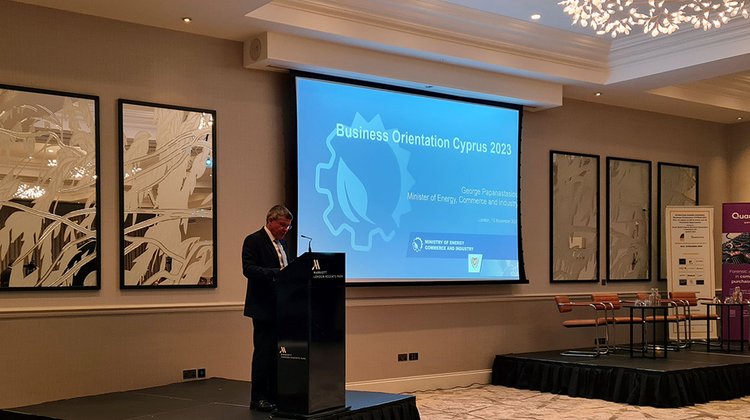 "Cyprus as a destination for businesses is considered as one of the most attractive places and is trusted by well-known firms from various sectors," the country's Minister of Energy, Commerce and Industry has told a Cyprus-UK Business conference taking place in London.
George Papanastasiou was addressing an audience of professionals from energy, technology, real estate, finance, and other sectors, taking part in the annual Cyprus-Great Britain Business Association event on 13 November.
The Minister spoke of the 'Cyprus Vision 2035', which aims at making Cyprus "one of the world's best countries to live, work and do business in".
He presented the audience with the reasons for choosing Cyprus for international business: the positive economic outlook; the access to educated workforce; high quality of life; a reliable business support service; a modern legal and regulatory framework; low cost of doing business, along with a strong business ecosystem and attractive and transparent tax regime; the strategic location; and being an EU and eurozone member country.
He also presented the new strategy for attracting international companies and talent, including tax incentives, a reduced naturalisation period for non-EU nationals, and a new law for the facilitation of strategic investments.
He then outlined the work of the Business Facilitation Unit, which streamlines all services required by foreign firms in Cyprus. It has registered 1,680 companies in 2022 and 233 in the current year, from various sectors: ICT, high-tech and innovation, pharmaceutical, shipping, energy, education, and financial services.
Speaking to the Cyprus News Agency, Minister Papanastasiou said that he gave emphasis on the advantages of Cyprus "which make the country stand out from the competition".
In his introductory remarks, the High Commissioner of the Republic of Cyprus to the UK Andreas Kakouris said that despite the continuing Turkish occupation and its small size, "Cyprus is recognised as a pillar of stability" with good relations and connections in the region.
He highlighted the Cypriot government's initiative in getting humanitarian aid into Gaza and the importance of trilateral collaborations with countries in the region.
On the economy he commented that "Cyprus has become synonymous with the word 'resilient'", having withstood various shocks.
He then highlighted the long-standing business links between Cyprus and the UK and described the event as "an excellent opportunity to showcase Cyprus as a reliable partner and international hub."
(Source: CNA)