Investment Trends according to experts at 9th International Funds Summit & Expo
12:47 - 23 October 2023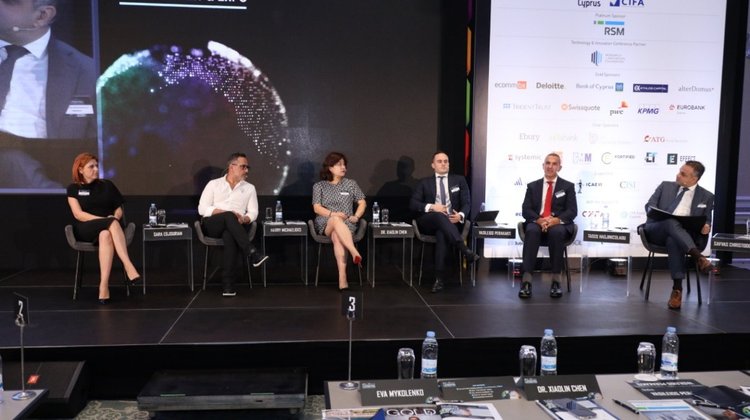 Experts on The Asset Management / Markets / Investment Stage at the 9th International Funds Summit & Expo in Limassol discussed 'The Investment Trends.'
The discussion followed an introduction by the Moderator of the Session Savvas Christodoulou, CFA, Head, Investment Advisory Wealth Management, Eurobank.
Addressing the audience, Christodoulou, shown in the main photo, mentioned three important challenges faced by the assets industry today, the first being technological changes. "Equity markets have already shown the way," he noted.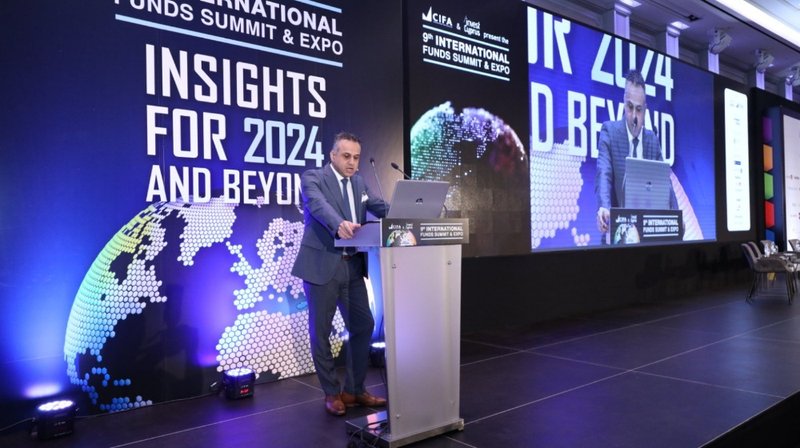 Christodoulou
The second challenge is regulation, he continued. "Fund managers need to have a proactive approach," he underlined.
The third challenge is the rapidly changing economic environment, including but limited to bank collapses and geopolitical tensions.
Managing these challenges required expertise, he noted, adding that the discussion today would focus on the third challenge.
Also ahead of the panel discussion, Corrado Macchiarelli, Global Markets Analysis Division, International Monetary Fund, USA spoke about 'Market Outlook and Trends,' looking at the current market environment and potential opportunities and risks for investment funds and fund managers.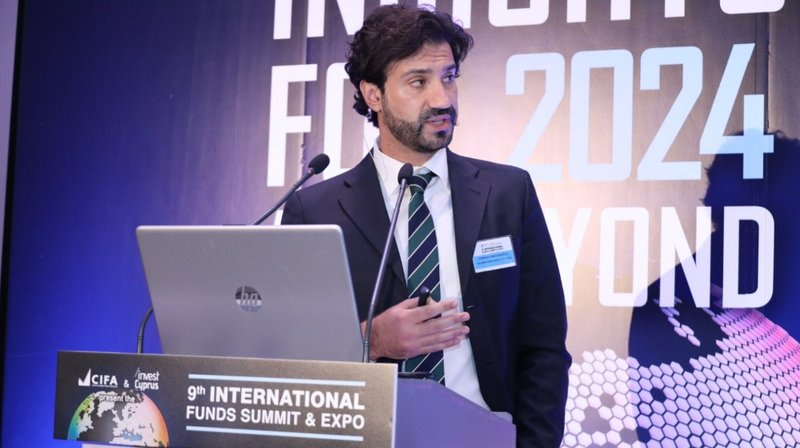 Macchiarelli
He began with putting focus on the Global Financial Stability Report recently published by the IMF.
These included that financial stability risks remain elevated, that acute stress in banking has subsided although the weak tail of banks remains large, among other findings.
The panel was made up of Tasos Hadjinicolaou, Investment Strategy & Advisory Manager, CISCO - Bank of Cyprus Ltd., Vasileios Perakakis, Director, Portfolio Valuation, Kroll Advisory Ltd UK, Dr. Xiaolin Chen, Head of International, KraneShares, UK, Harry Michaelides, Treasury and Investment Junior Director, ECOMMBX, and Sara Eojourian, Head of Wealth Management and Executive Director, Athlos Capital Investment Services Ltd.
The Panel Discussion entitled 'The Investment Trends' put special focus on trends in the following categories: Fixed Income, Equities, Private Equity, Alternatives, Crypto – Tokenisation, NFTs, and Digital Assets.
The panelists also discussed 'Crypto, tokenisation, NFTs – The opportunities of investing in digital assets,' 'Investment opportunities,' and 'Product innovation.'
Hadjinicolaou gave a presentation that looked at developments in negative rates around the world in recent years and how they have been impacted by mandates.
Another aspect of his address examined central bank expansion and its impact on the sector while Hadjinicolaou looked at how much the investment environment had changed over the years, with stakeholders working with conditions that could not have been conceived during the 1970s.
Hadjinicolaou noted that negative yield curves usually preceded recessions but that had not yet occurred. He also noted that it was as yet possible to know for sure if there would be a recession, when it would begin and how deep it would be, based on the data currently at hand.
"I don't think that the next 20 years will be like the past 20 years," he concluded.
In his address, Perakakis among other things noted changes in the documentation accompanying investments.
Amidst other observations, he also noted that technology-driven industries, including those involving AI were anticipated to grow.
As noted by Perakakis, crises were different and so required different handling, while concluding that funds in the future would require better documentation, something he anticipated to be more focused on in the coming months.
Dr. Xiaolin Chen noted that when she attended the 2022 Summit she had talked about related conditions in China and so would this year be giving an update.
She noted that China had the world's second biggest economy and asked the audiences look beyond short-term volatility and see how investors could benefit in the medium and long-term.
Dr. Xiaolin Chen also noted that 700 million people made up China's middle class in a population of 1.4 billion, dwarfing the relevant number in Europe.
She referred to the Chinese President Xi Jinping's efforts for the country to embrace urbanization. She also mentioned the President Xi Jinping efforts for China to become carbon neutral by 2060.
Dr. Xiaolin Chen also mentioned that people were being encouraged to begin to travel again, including through state policies.
She also referred to The People's Bank of China ability to make policies more accommodating towards getting the economy to grow further.
500 billion dollars per year are also being invested in carbon neutrality in China, Dr. Xiaolin Chen also noted, far higher than Europe or the US.
She also mentioned the Chinese government's five year plan.
Michaelides, in his address, said he did not believe that the journey was more important than the destination when it came to goal-based asset management, asking the audience to think of the satisfaction of providing their clients with a good 'destination' or solution.
He gave the example of a retirement plan needing a probability of success of at least 90% and that this should be taken into account when moving ahead with formulating the suggestions and helping clients reach their investment goals.
In her address, Eojourian, among other things, noted the impact of inflation on the global macroeconomic environment.
She looked at the relationship between interest rates and market expectations, outlining the actions taken in both the EU and USA.
Eojourian suggested ways in which alternative fund managers could make the most of the situation, including investing in Treasury Bills, something current tax regulations meant Cypriot clients could particularly benefit from.
She also noted that banks in Cyprus currently had the lowest passthrough (Deposit Beta) of interest to deposit holders, meaning that depositors in, for example France, gained more than depositors in Cyprus. Eojourian made particular mention of the Sophic Treasury Bill platform, which is anticipated to go live in the coming days.
Traditional fund managers meanwhile should look at going into duration, she suggested.
Eurobank, Bank of Cyprus, and ECOMMBX were Gold Sponsors of the Asset Management/ Markets / Investment Stage.
The 9th International Funds Summit & Expo welcomes leading fund managers and fund administration specialists from across the world to discuss the evolving regulatory and increasingly competitive landscape in the global asset management sector.
Taking place on 23-24 October at the Parklane, a Luxury Collection Resort & Spa, in Limassol, the summit has a packed agenda, with key topics including an overview of investment vehicles and asset classes, asset management and financial stability, as well as cross-border distribution.
There will also be an extensive discussion around sustainable investing, which is key when it comes to investing nowadays, as well as FintTech and RegTech in the investment funds industry. The latter will also be discussed in depth, with a special emphasis on managing funds in the AI era and the use of technology to optimise investments.