George Karatzias: Developments on funds legislation in Cyprus in line with EU
09:40 - 23 October 2023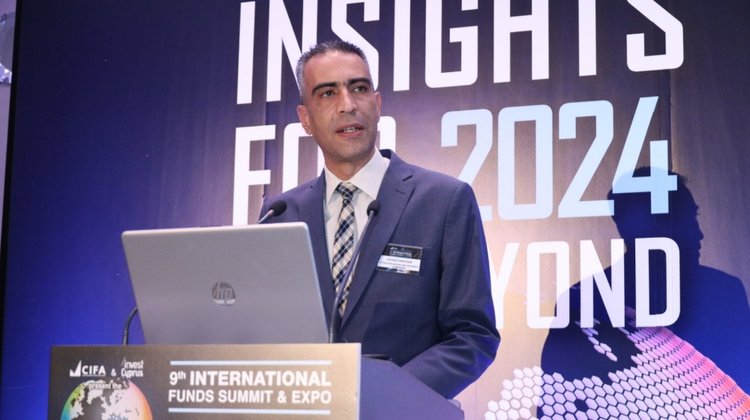 In his keynote speech at the 9th International Funds Summit & EXPO currently underway in Limassol, George Karatzias, Vice Chairman, Cyprus Securities and Exchange Commission underlined the tools and services CySEC provides to funds managers and investors while also listing a series of recent developments in the sector.
In his keynote speech entitled 'Latest Regulatory Developments and Trends of the Funds Industry,' Karatzias noted, among other things, the impact of sanctions and the actions that CySEC took.
He also noted that CySEC's role has expanded in line with new regulations including allowing cloud funding to seek regulation, among other things.
Karatzias stated that local legislation was also being brought in line with EU conditions on a number of matters including the law on the regulation of European long-term investment funds, among other issues. Discussions are underway, he noted.
He said the agreement on refining the legal framework of fund administration included an agreement with provisions of the passport of depositories in Europe. Initially, Cyprus was not in the thresholds, but it now is, allowing the passport of European depositaries to service Cyprus funds.
He said, "CySEC remains at the forefront of the latest European financial legislation, making Cyprus as safe and responsible place to do business globally."
The 9th International Funds Summit & EXPO and the 36th International Investment Funds Association (IIFA) Annual Conference 23-25 October) are being held by the Cyprus Investment Funds Association (CIFA) and the International Investment Funds Association respectively.
The 9th International Funds Summit & Expo will welcome leading fund managers and fund administration specialists from across the world to discuss the evolving regulatory and increasingly competitive landscape in the global asset management sector.
Taking place on 23-24 October at the Parklane, a Luxury Collection Resort & Spa, in Limassol, the summit has a packed agenda, with key topics including an overview of investment vehicles and asset classes, asset management and financial stability, as well as cross-border distribution.
There will also be an extensive discussion around sustainable investing, which is key when it comes to investing nowadays, as well as FintTech and RegTech in the investment funds industry. The latter will also be discussed in depth, with a special emphasis on managing funds in the AI era and the use of technology to optimise investments.
More than 30 speakers from the international funds industry will be addressing the 9th International Funds Summit & Expo, in the presence of over 500 participants.