Medicover Genetics announces new test for personalised cancer care
08:00 - 22 October 2023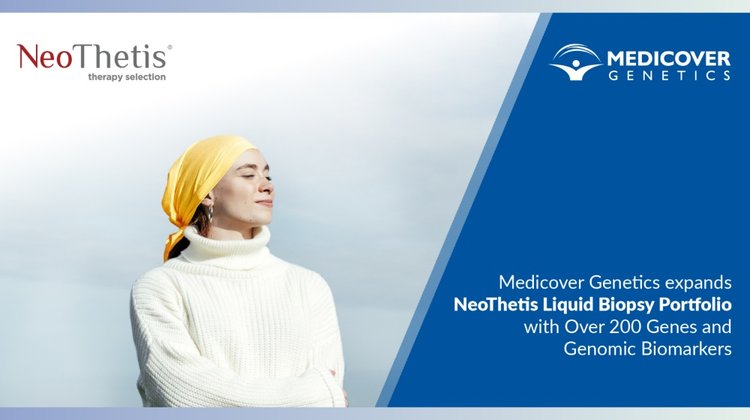 Medicover Genetics, a leader in molecular diagnostics with laboratories in Germany and Cyprus of international reach, has announced a new test that leads to more precise treatment strategies for primary and metastatic cancer.
More specifically, the company has announced the expansion of its NeoThetis Liquid Biopsy portfolio with Pan-Cancer Plus; a new test that through a simple blood draw, offers robust analysis of over 200 genes and genomic immunotherapy biomarkers MSI and bTMB, guiding precise treatment strategies for primary and metastatic disease.
The non-invasive nature of this test mitigates many of the challenges associated with invasive tumour biopsy procedures, it said.
Medicover Genetics, with more than 25 years of experience in genetics diagnostics, offers a complete in-house and tailor-made portfolio produced in its laboratories in Germany and Cyprus and offered internationally.
The CEO Medicover Genetics Cyprus, Prof Philippos Patsalis, explained: "NeoThetis Pan-Cancer Plus panel is an important stride in improving personalised cancer care. Holistic understanding of cancer's unique genetic characteristics is crucial for guiding precise therapeutic approaches. Our objective is to consistently connect the dots between genetic knowledge and patient care, and today, we've come a step closer to realising that goal".
To go into the medical specifics, the tested genes adhere to clinical practice guidelines established by professional bodies like NCCN, ESMO, and ASCO, and are linked to FDA/EMA-approved therapies and clinical trial eligibility criteria.
The new panel incorporates Microsatellite Instability (MSI) analysis, a predictive biomarker for immunotherapy, and blood-based Tumour Mutational Burden (bTMB) analysis. As a tumour-agnostic biomarker, bTMB unveils prognostic insights and therapeutic avenues for patients across the spectrum of solid tumours, rare types included. Pan-Cancer Plus delivers over 1Mb of genomic coverage and targets more than 2,000 genetic loci, ensuring accurate bTMB scoring and MSI assessment respectively.
This comprehensive assessment of MSI and bTMB uncovers new opportunities for approved or suggested targeted therapies and immunotherapy-related clinical trials.
The company said that the development of NeoThetis Pan-Cancer Plus underscores Medicover Genetics' commitment to aiding patients on their cancer treatment journey and supporting healthcare professionals with the knowledge to make informed decisions, enhancing clinical management and patient care.
Medicover Genetics offers genetic testing services and genetic counselling, proprietary CE-IVD marked solutions and a versatile Technology Transfer Platform which enables partners to perform high fidelity genetic tests in-house. With services in over 30 countries across Europe, Asia, and Africa, the company empowers laboratories, healthcare professionals and patients to place genetics at the core of medical decisions.
Medicover Genetics is part of Medicover, a leading international healthcare and diagnostic services company founded in 1995 and listed on Nasdaq Stockholm. www.medicover.com