Yiasemides: Cyprus is fast becoming one of the leading investment fund centres in Europe
07:07 - 21 October 2023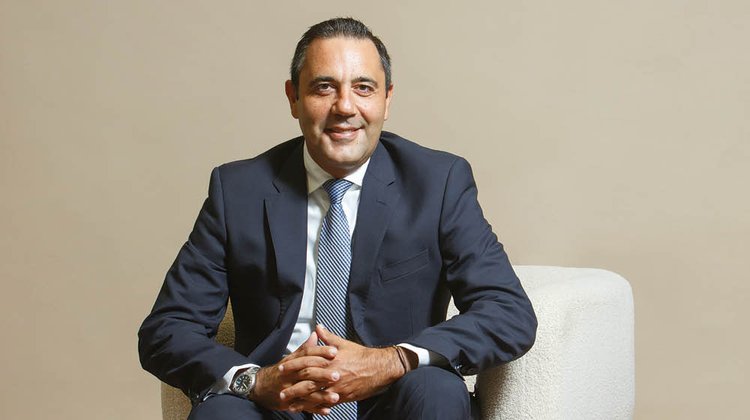 The island's investment fund landscape is gradually changing and Cyprus Investment Funds Association (CIFA) President Andreas J. Yiasemides is determined to maintain this positive course, indicating that as Cyprus keeps evolving and becoming a destination of choice for investment funds and asset managers alike, CIFA remains committed to the enhancement of the island's investment fund ecosystem.
He spoke to GOLD magazine ahead of the upcoming 9th International Funds Summit & Expo taking place in Limassol on 23 and 24 October and 36th IIFA Conference to be held in Cyprus from in Cyprus from 23 to 25 October.
What tangible benefits do you see from international events such as the 9th International Funds Summit & Expo and the 36th International Investment Funds Association (IIFA) Conference?
International events, including the likes of the 9th International Funds Summit & Expo and the 36th IIFA Conference, are catalysts for showcasing Cyprus' strengths and advantages in the funds industry to a global audience. They create an environment where industry experts, potential investors and other stakeholders can engage in direct dialogue, fostering trust and facilitating real-time feedback. This face-to-face interaction often leads to faster decision-making and the initiation of collaborative ventures. Moreover, the exposure to global best practices and new technologies presented at such events allows Cyprus to align its offerings with international standards and thus maintain a competitive edge. From an economic standpoint, hosting or participating in these events also brings a spillover benefit to other sectors, such as tourism, as attendees often extend their stays to explore the country. Additionally, the international media coverage and discussions that emerge from these events enhance Cyprus's brand image as a premier investment destination, attracting further attention and interest from global fund managers and investors. We are extremely proud that we will host the annual IIFA Conference, a landmark event that Cyprus was chosen to host after the relevant vote by the Association's members. This is a true testament that Cyprus is now on the global map of Investment Funds experts.
How does Cyprus position itself within the broader European and international investment fund landscape and what advantages does it offer to fund managers and investors?
Cyprus is fast becoming one of the leading investment fund centres in Europe thanks to the continuous efforts of both the public and private sectors in recent years. Today, Cyprus offers unique access to high-growth markets and a professional and cost-efficient framework for funds and fund managers, and presents remarkable strengths to stay at the forefront of industry developments. Despite the COVID-19 pandemic, global uncertainty due to geopolitical tensions and subsequent inflation, Cyprus has become a regional domicile of choice for investment funds and asset managers. Even though we are still a new jurisdiction – just 10 years old – we have found our niche in the European ecosystem. Cyprus' cost-efficient structure is well suited for small to medium fund managers, which need to be cost-cautious, and 65% of fund managers established here belong to this category. Cyprus offers the same quality services but at lower prices than its competitors.
What are the main opportunities, incentives and policies available for investment funds in Cyprus today?
The overall environment in Cyprus is ideal for fund structures and fund managers. Cyprus offers an OECD and EU approved tax system, access to the EU market, a favourable tax regime for alternatives (equities, real estate, venture capital, infrastructure), double tax treaties with over 60 countries, an attractive tax regime for Intellectual Property Holdings under the fund (IP Box), the transposition of all EU Directives: AIFMD, UCITS V, MiFID II. Investment opportunities, flexible structuring options, enhanced substance and governance, cost efficiency, targeted tax incentives, an advantageous legal status, transparency and integrity are just some of the main advantages of Cyprus as a jurisdiction. The country also offers a prudent and transparent regulatory framework and a competitive tax regime to attract international custodians, depositories, fund managers, and fund administrators. We are constantly building on the already robust ecosystem with new legislation, such as the forthcoming dedicated law on fund administration.
Can you provide examples of successful investment fund projects or initiatives in Cyprus that demonstrate the market's potential?
In the case of collective investments in Cyprus, the numbers say it all. Despite global challenges, Assets Under Management (AUM) reached €10.7 billion at the end of the first quarter of 2023, marking a 175% growth since 2017. The total number of licensed companies increased by 4% year-on-year to 335. Even more significant is the increase in the number of licensed companies with activities, which reached 252 compared to 235 in the corresponding period of 2022. Fund managers from various geographical areas have chosen Cyprus, recognizing its remarkable advantages as a fund jurisdiction. Indicatively, we are witnessing an increasing trend from Indian, Israeli and Japanese fund managers to establish a structure in Cyprus. For example, organisations such as MUFG Investor Services and, more recently, the Global Maritime Fund, which aims to be the world's largest maritime fund, have chosen the island as their base.
How does CIFA ensure that Cypriot funds maintain the highest operational standards?
By working closely with all stakeholders, including fund managers, investors, service providers, and the Government, CIFA ensures that the voice of the industry is heard and that the highest standards are maintained. We actively collaborate with national and international regulatory bodies and associations such as CySEC, EFAMA and IIFA, to ensure that the Cypriot funds industry is in line with the latest global standards and best practices. The Association conducts regular workshops, seminars and training sessions for its members to keep them updated on the latest trends, technologies and operational standards.
How does Cyprus facilitate cross-border marketing and the distribution of investment funds within the European Union and globally?
As an EU member state, Cyprus benefits from the EU's legal framework, which is designed to facilitate cross-border marketing and the distribution of investment funds. Cyprus is evolving rapidly into a cross-border hub for investment funds, with the majority of assets being held by international investors. This is a remarkable achievement, if we consider that only Ireland, Luxembourg and Malta have higher percentages than Cyprus, a relatively new jurisdiction compared with the rest. I believe that the advantages mentioned earlier and the fact that the overall business environment in Cyprus is supportive make Cyprus an ideal destination for cross-border funds.
What support and resources are available to fund managers and investors in Cyprus from CIFA?
CIFA plays a central role in supporting and advancing the investment funds sector in Cyprus. We organise regular events that cover various topics, from regulatory changes and best practices to industry trends and technological advancements. This helps professionals stay updated and informed. We also organise and participate in conferences and meetings where we network, share experiences and build partnerships for the benefit of the sector. The Association represents the interests of its members at a national and international level, lobbying for favourable regulations and policies and acting as a bridge between the industry and the Government. And, of course, we support efforts to promote the industry to attract more investors and high-quality professionals to the country. This includes international roadshows, participation in global events and/or promotional campaigns.
(Photo by Michalis Kyprianou)
A version of this interview first appeared in the October edition of GOLD magazine. Click here to view it.