Malta-Cyprus energy ministers push for power interconnections
09:42 - 13 October 2023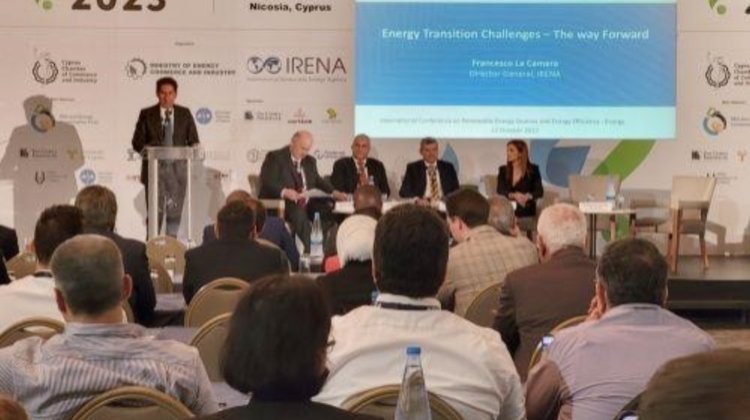 Cyprus and Malta's Ministers of Energy highlighted the need for interconnections in the Mediterranean, especially between island-nations, in order to secure their energy safety, but also to provide cheap green energy to Europe.
The Ministers were talking during the first plenary session of the 7th International Conference on Renewable Energy Sources and Energy Efficiency - Energy Security, organised by Cyprus Chamber of Commerce and Industry (CCCI), the Ministry of Energy, Industry and Commerce and the International Renewable Energy Agency (IRENA) on Thursday.
The panelists underlined the opportunity to make the Mediterranean Sea a green hub, connecting southern Med countries to northern Med countries and the rest of Europe, thus contributing to energy safety and political stability.
Moreover, they highlighted the importance of private sector investments in green energy projects, in order to achieve green transition goals on time.
Cyprus' Minister of Energy, Commerce and Industry, George Papanastasiou, said that energy is not always produced where it is consumed. This is why interconnections are very necessary, he said.
Presenting Euroasia Interconnector, he said that "it is a European project of common interest, with receives funding from the European Commission, connecting Israel, Cyprus and Crete." The interconnection transfers electrons in both directions of up to 2000MW. "It's a project of 1.9 billion euro. It is funded by the Commission with €750 million", he said, but noted that private financiers need to be involved in such projects.
"It is missing 1.2 billion euro. The project promoters will be out looking for financing. It is impossible to deliver a project of such importance, without the involvement of the private sector and private funding," he said.
The Minister added that the east part of the Mediterranean provides a good place to produce green energy, because of solar energy. "Europe will need this green energy. This interconnection provides the means to get this production of energy from where it is produced to where it is consumed and vice-versa," he said.
Papanastasiou noted that it was an idea of the European Commission to connect all EU members electrically. "Cyprus is isolated from an energy point of view. By having this interconnection Cyprus connects to the rest of Europe and it provides Cyprus with opportunities for moving low-cost energy to places where it is expensive. Also, it provides security of supply", he said.
When it comes to natural gas, the Minister said that Cyprus is considering taking some of its gas reserves into the system and converting it into electricity. This can happen either by a pipeline coming from Israel's EEZ, or by LNG, he said.
"Currently in Cyprus, consumers pay €300 million for emissions produced by fossil fuels," he said, adding that this is why we need gas ASAP, to reduce emissions, combined with solar and wind power.
He noted that, compared to other countries of the region, Cyprus has no infrastructure in its EEZ. Egypt and Israel have infrastructure and interconnectivity, while Cyprus is not connected in any way. "We are in progressed discussions with Israel to connect", he said, noting that Cyprus also pushes hard to get the Aphrodite and Kronos fields developed, "because that is wealth in Cyprus EEZ and it is cheap natural gas."
In his welcoming speech earlier, the Minister mentioned Cyprus' vision to transform the region into a green hub. The government has set as a primary goal the reduction of electricity costs for households and businesses, the advancement of security of energy supply, the acceleration of green transition and the diversification of energy forces.
He added that 41% of Cyprus' RRP are being used to accelerate transition to the green economy. Specifically, these funds are meant for the introduction of natural gas for electricity production and possibly blue hydrogen, for the electricity connection between Cyprus, Israel and Greece, the introduction of energy storage systems and the expansion and utilization of the electricity network, he said.
Malta's Minister for the Environment, Energy and Enterprise, Miriam Dalli, noted that for the first time 9 EU Mediterranean countries signed a joint declaration to deploy as much renewables as possible.
"We want to reach out to other Mediterranean countries, especially when it comes to the South, because we believe there is mass potential for collaboration. I look at this initiative not only from the perspective of a renewable investment, but as an initiative that can contribute to the stability in the Mediterranean region," she said, adding that collaboration can create green jobs and funnel investments in the Mediterranean region, that will help not only financially but can also contribute to political stability.
Noting that two islands, Malta and Cyprus, have the presidency of MED9 the one after the other, she said that both countries will be pushing for the MED9 energy initiative.
"We look at the Mediterranean Sea as a green energy hub. It has the potential; it will manage to create and invest in interconnections that can bring together the southern part of the Mediterranean to the northern part and the rest of Europe," she said.
She highlighted the need to unlock financial investments. "That is the obstacle we need to address: to unlock private capital and channel it to green projects," she said.
She said that Malta wants to increase its renewables, acknowledging the increased cost. Due to Malta's lack of land and deep waters, they have launched a policy for offshore renewable technology. "We want to issue an expression of interest to start deploying offshore renewables, to 12 nautical miles from the island, in order to reduce fossil fuels dependency," she said.
Private enterprise sector has a major role to play in this, she added. "I believe that private enterprises can have an input to this green transition. We launched an ESG platform, where companies can voluntarily import what they are doing to see if they are realizing the ESG criteria", she said. Malta had its first issuance of a green bond by a public utility company, she added, noting that this leads the way for private enterprises to start looking into green bonds.
There is mass potential to ensure that the Mediterranean becomes a green energy hub, she said, noting that this requires green energy corridors, interconnections between countries and mass investments, like in battery storage systems.
Finally, she noted that on 9th October the MED9 reached an agreement for a technical committee and a way forward. "A transition that leaves no country behind. Coming from an island member state, that would have been easier to bypass, we want to be part of that transition", she concluded.
Francesco La Camera, Director-General of IRENA, said that the case for renewables no longer needs to be proven. "A total of 295GW of renewables were added worldwide last year, a testament of the sector's remarkable growth," he said.
He noted that the cost of renewables has continued to improve despite the recent crisis and energy security concerns. Additionally, worldwide, between 2021 and 2022, 1 million jobs had been added in the sector.
"Despite the growing momentum, investments to renewables are not in the place needed", he said, highlighting that leaders around the world are committing to the new energy transition. "Just recently G20 leaders agreed to accelerate efforts to triple renewable energy capacities by 2030. The world needs to triple global renewable power capacity to just over 11,000GW by 2030," he said.
La Camera added that we need radical action and significant acceleration of renewable energy development, coupled with tangible promise in energy efficiency.
"The Mediterranean region is leading the way. We have been witnessing a boost in region collaboration and cross border interconnection projects. We welcome the joint statement of 9 European Mediterranean countries issued last May in Malta", aiming to build a corridor of green energy transmission between the North and South shores of the Sea, he said.
He added that more targeted investments are required. Public funds need to go into supporting infrastructure development and then having a policy framework and addressing socio-economic gaps. "This is especially true with islands, that are economies struggling with climate change, dependent on fossil fuels, with rising energy concerns and logistical challenges," he said.
More importantly, he said, we need to build a new energy system with three main pillars: infrastructure, expansion and modernization, alignment of policy and regulation and the reinforcement of institutions and workforce developments.
"We can mobilize investment necessary for the energy transition. Together, with international collaboration, we can unlock financing opportunities and drive the green energy transition forward," he said, adding that clear policy, targeted investments and international collaborations are key.
Finally, he noted that there can be no energy security, without energy transition and highlighted that, indeed, the Mediterranean can become a green hub.
Cyprus Energy Regulatory Authority (CERA) President, Andreas Poullikkas, spoke about the role of hydrogen in the energy transition, the "very optimistic", as he described it, long-term scenario for the transition of the EU from a carbon economy to a hydrogen economy, the national hydrogen strategies and the economics of green hydrogen, in relation to its competitiveness compared to other fuels taking into account the purchase price of greenhouse gas rights.
Poullikkas talked about "hydrogen valleys", RES energy self-sufficient communities that also channel energy to electrolysis units to produce hydrogen, which will be traded in the local networks.
The Conference Chair, Professor Ioannis Michaelides gave the welcome note of the Conference, pointing out that "our attention is focused on the pressing issues of renewable energy sources, long-term energy planning, digitalisation, energy supply security and energy efficiency".
Othonas Theodoulou, CCCI's Vice President, noted that today' challenge is to develop those strategies, energy mechanisms and services that best support development and improve quality of life, minimize energy related cost, while combating environmental impact.
(Source: CNA)