"Vrakas" ready to welcome visitors to Limassol Wine Festival
12:15 - 19 September 2023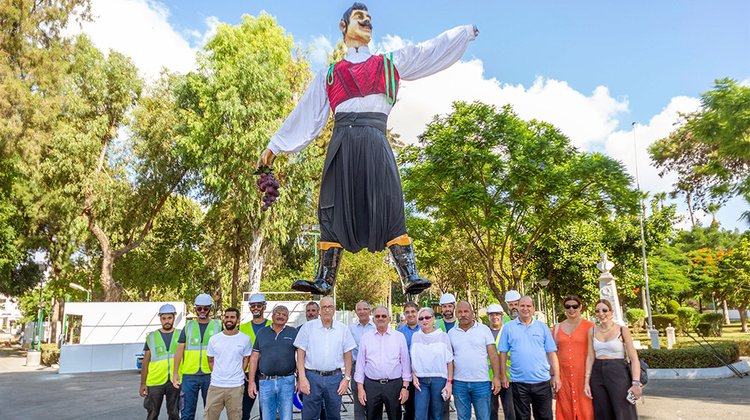 A large traditional male figure with a folklore costume, known as the "Vrakas", who has come to be the signature of the Limassol Wine Festival, has been put up, ready to welcome thousands of locals and visitors to the well-known annual event taking place in the coastal town of Limassol.
Addressing a press conference, Limassol mayor, Nicos Nicolaides, invited guests to visit the 62nd Wine Festival due to take place between 7 and 15 October at the town's municipal garden.
The seven-metre imposing figure of the viticulturist was placed in the entrance of the garden on 19 September to the sounds of popular songs about wine.
The mayor said that the aim every year is to further upgrade and improve the festival keeping the tradition alive.
He said that many new elements and touches had been added to the traditional and very popular festival adding that further details on the program will be unveiled during a press conference next week. Replying to a question he said that this year two events will be held in wine villages of the Limassol region on 8 and 15 October respectively.
Nicolaides also said that the Wine Festival extends to the districts of the city, as events will be held in the context of the Euro-Mediterranean Festival of Traditional Dances, where Cypriot wine and Cypriot dishes based on the grape will be offered to the guests.
Free bus transportation will be offered to visitors travelling to the festival from other cities.
(Source: CNA)