Alphamega Hypermarkets rewards customers with MasterChef crystal glassware
Press Release 10:45 - 18 September 2023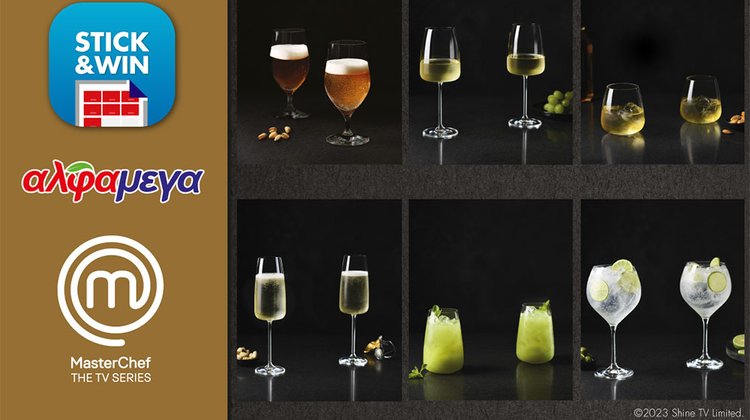 Alphamega Hypermarkets continues to reward its customers for their ongoing trust and loyalty, by giving away new high-quality MasterChef products, as part of the Stick & Win reward scheme.
By collecting digital coupons with each purchase, Alphamega Hypermarkets' customers have the opportunity to get their hands on various glassware sets with the name and logo of the popular TV show, MasterChef, for free or at a reduced price. The high-quality crystal glassware offer enhanced transparency, durability and stability, while they are manufactured in the Czech Republic, a leading producer of crystal glassware worldwide.
Specifically, through Alphamega's popular loyalty scheme, Stick & Win, customers can obtain:
A set of two lowball glasses
A set of two highball glasses
A set of two beer glasses
A set of two gin glasses
A set of two white wine glasses
A set of two red wine glasses
A set of two champagne glasses
In particular, the wine glasses have a flat base, which adds a modern and classy feel, while they also boast an elegant thin stem, inspired by popular crystal glassware brands.
The offer will run from 18 September 2023 until 7 January, or until stocks last. One digital coupon is issued for every €10 on a single receipt, while only those who have registered with the Alphamega Family loyalty programme can participate in the Stick & Win reward scheme.
It should be noted that in order to save the coupons to the Stick & Win app, customers must present the original copy of their receipt at any in-store customer service centre.
Enjoy your drinks in crystal, high-quality glassware, with Alphamega Hypermarkets!