Himonas on how Cyprus stays ahead in the global maritime industry
07:30 - 18 September 2023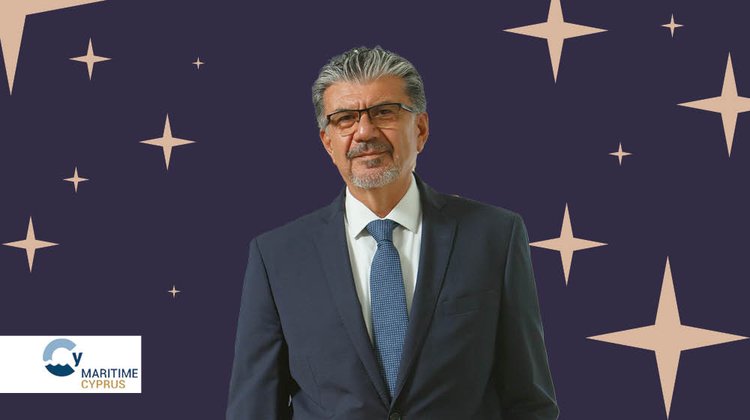 Maritime Cyprus has long been established as a major event for key players and stakeholders in the local and global maritime industry.
Stelios Himonas, Permanent Secretary of the Deputy Ministry of Shipping, who will be addressing Maritime Cyprus 2023, outlines the Government's actions for a greener future and keeping the country aligned with all the technological developments affecting the maritime industry.
What do you wish to achieve through Maritime Cyprus 2023?
We are very proud of the development and establishment of the biennial conference as one of the finest worldwide. It is undoubtably an important event in the global shipping industry calendar. Our aim is to continuously upgrade Maritime Cyprus and select a lineup of distinguished speakers to discuss and analyse the most important issues affecting the international shipping industry. We have worked hard to put together a meaningful and forward-looking conference programme, which is relevant to current industry challenges and reflects our global mission. With over 800 shipping executives from across the globe due to attend, and a packed programme featuring an impressive speaker line-up of leading ship owners, regulatory bodies' representatives and industry professionals, this year's event is shaping up to be one of the most impactful since its inception in 1989. Maritime Cyprus 2023 offers hundreds of maritime professionals around the world a platform to come together, to discuss and solve problems and share best practices.
Where does Cyprus stand in terms of digital developments in the shipping industry compared to its EU counterparts?
The Shipping Deputy Ministry, understanding the importance of digital technologies and the possibilities that these tools provide, is currently in the process of optimising and digitally transforming its business procedures in order to maximise its operational efficiency, based on three key principles: (i) One stop shop experience: Users should feel they are interacting with one agency through all their touchpoints. (ii) Seamless process integration: Business units and their procedures should seamlessly integrate and complement each other with information and processing activities based on lean business processes and complete software solutions. (iii) Operational excellence: Providing reliable services at efficient operating cost and minimum inconvenience to customers and employees by leveraging intelligent process automation. Furthermore, the Deputy Ministry aims to develop a fully paperless operational environment, in which the certificates it issues are electronically signed and verified. The current advances in technological developments are inevitably affecting the maritime world as well: the shipping industry is being transformed by the increased application of IT systems onboard and onshore; remote controlled, unmanned and autonomous ships will be operational in the near future.
The global shipping industry has agreed to reduce planet-warming gases to net-zero "by or around 2050", but critics say the deal is fatally flawed. Is this target truly realistic and feasible?
We are confident that this target is broadly achievable by the international shipping sector. Innovative technologies such as fuel optimisation systems, propeller duct systems, as well as biofuel/alternative fuels are already available in the market. Moreover, vessels, including Cyprus-flagged vessels, have already participated in sea trials by consuming such fuels. It is expected that, in the coming years, these fuels will be readily available for the maritime sector and port facilities will be upgraded, by adopting new bunkering technologies, to be able to supply such fuels to ships. In addition, IMO is looking to adopt a framework regarding the certification of biofuels and consequent consumption onboard. From our side, the Deputy Ministry of Shipping, through its green incentives scheme, rewards shipping companies that take measures to reduce greenhouse gas emissions beyond the agreed global levels.
How do you expect the shipping sector to develop over the next decade and what will be the dominant trends in this area? Will Cyprus keep up?
Decarbonisation, technological transformation, increasing regulation and the challenging markets of recent years are all increasing the complexity of the current business environment and questioning the effectiveness of traditional business models. With all this change affecting every aspect of our work from the strategic to the day-to-day, it is often difficult to gauge the extent and nature of change needed on the inside, in order to effectively deal with change coming in from the outside. Our continuous cooperation with shipowners and shipping companies through collective action in our efforts to tackle the challenges that shipping faces, demonstrates our determination to support the shipping industry in order to serve its role, contributing to a sustainable growth. Our shipping taxation system continues to be a key competitive advantage in the sector. It has contributed enormously towards the development of the Cyprus Flag and the expansion of our shipping cluster, by creating a climate of stability, which protects the future of the shipping industry in Cyprus. Furthermore, providing top quality public services to the shipping industry, including by digitalising all our services, is our highest priority. We firmly believe that through our policies and actions we have proved that Cyprus is a quality, modern and efficient flag providing high level services and a competitive business and taxation environment, whilst ensuring the highest possible standards of safety, security and environmental protection. We are confident that, based on this approach, we will increase the attractiveness of the Cyprus Ship Registry and the maritime cluster.
This interview first appeared in the September edition of GOLD magazine. Click here to view it.