UCY and Quadprime sign cooperation agreement
07:18 - 16 September 2023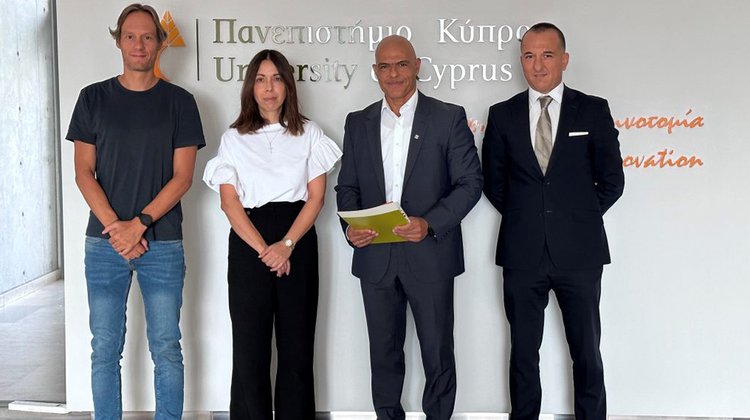 The University of Cyprus and Quadprime, a member of the MAP S.Platis Group, have signed a memorandum of cooperation for issues related to the fields of Information Technology and Communications (ICT), Cybersecurity, and Data Protection.
Quadprime is an independent security and resilience advisory firm providing businesses with risk, security and resilience services and, through the bilateral cooperation, students of the Department of Informatics of the University of Cyprus will be given the opportunity to expand their knowledge and practice in relation to cyber security and related issues of organisations and businesses, a press release notes.
More specifically, the cooperation framework includes student internships, joint participation in student projects of mutual interest (for B.Sc. and M.Sc. coursework), participation in joint research activities, participation in knowledge transfer and dissemination activities that include, among others, lectures and presentations, and, sponsoring initiatives that promote cybersecurity and data protection.
Commenting on the multifaceted benefits of this collaboration on behalf of Quadprime, the CEO of the company Pantelis Angelides praised the contribution of the University of Cyprus to the field of technology and emphasised the importance of human resources for the cyber security industry, noting "the need for personnel with appropriate skills are constantly growing in the field of cyber security and with this collaboration we are helping our country to develop the professionals it needs so much.
In the long term, the entire Cypriot ecosystem will benefit from the support of competent professionals who will undertake risk management and strengthen resilience against cyber threats. With proper guidance, students will be able to form a sound and informed view of what cyber security is and why they should choose a career in the field, through first-hand familiarity with the industry's practices and fundamentals. Such collaborations can only have benefits for the Cypriot economy and society," he concluded.
On her part, the Chair of the Department of Computer Science, Professor Anna Philippou pointed out that the signing of the Memorandum "gives depth to the education of the students of the Department of Informatics, providing additional benefits, as well as incentives, to the students to utilise their knowledge and their abilities. Through such partnerships we strengthen the culture of cyber security and data protection in Cyprus," she said.