GOLD New Issue: Rising Stars
07:30 - 16 September 2023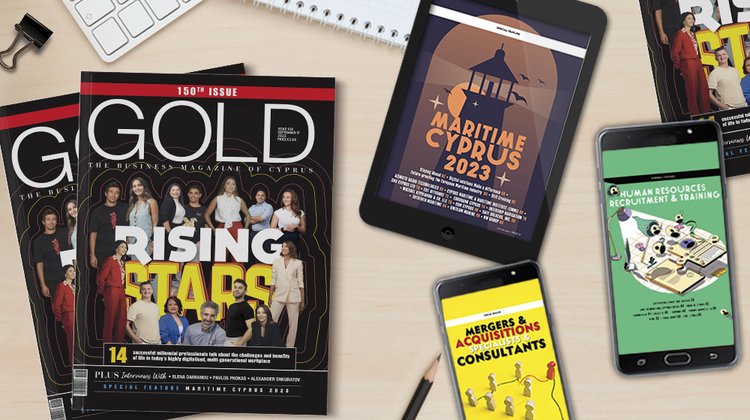 In this month's special 150th issue of GOLD, out on Sunday, 17 September, we embark on a journey to uncover the secrets to success, engaging in thoughtful conversations with 14 rising stars in Cyprus' corporate world.
In the timeless, relentless, and sometimes treacherous pursuit of success, young professionals eager to scale the upper rungs of today's corporate ladder are discovering that mere loyalty and an insatiable thirst for knowledge no longer suffice. Confronted by a world in which macroeconomic headwinds are corroding their negotiating power while modern demands for a healthy work-life balance affect their ambitions, they must develop a slew of qualities and skills to move upwards.
In this cover story, we present a panoramic view of the contemporary corporate arena as revealed in the stories of these aspiring professionals – or as our title suggests, rising stars. They were selected on the basis of age (25-35) by a variety of companies active in different sectors, in response to our request for a 'star' employee who has already proved to be successful and, in their view, has the potential to thrive further in their future career.
In addition to this and all GOLD's regular features, this issue also includes exclusive interviews:
Elena Damianou, Head of the Business Facilitation Unit at the Ministry of Energy, Commerce & Industry talks about the BFU
Marianna Prokopi-Demetriades, Founder of RSL Revolutionary Labs explains how the startup is taking advantage of the global demand for skincare solutions
Pavlos Phokas, Multimarine Group Commercial Director portrays the Group's evolution
Alexander Shkuratov, Founder and CEO of the Island Private School talks about the inadequacies of the traditional educational model and explains how the school's curricula are designed to better prepare students for the real world.
Special Features:
Human Resources, Recruitment and Training
Maritime Cyprus 2023
Mergers & Acquisitions Specialists & Consultants
All this and more in Issue 150 of GOLD magazine, out on Sunday, 17 September.