President does not rule out more measures to provide economic relief
15:26 - 15 September 2023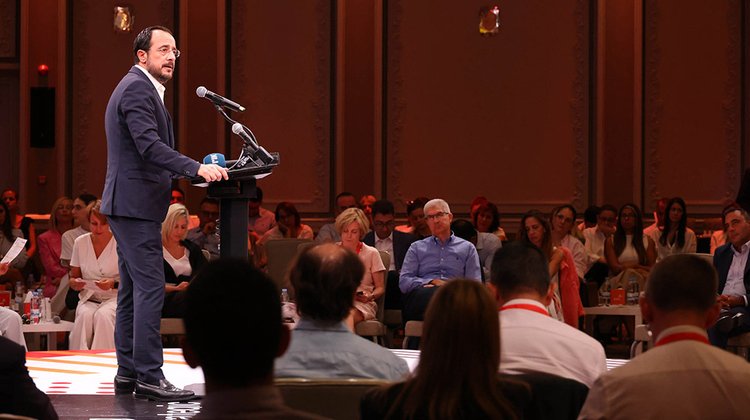 The President of the Republic Nikos Christodoulides has said there is a possibility of the government announcing new measures that will provide economic relief to citizens, even while he will be on an official visit to the US.
Christodoulides will be in New York between 16-23 September to address the 78th UN General Assembly.
At the same time, he noted his sensitivity to those facing problems reminding, however, the great responsibility he bears for the country's economic management.
The President of the Republic was responding to questions from journalists upon his arrival at the annual meeting of PwC Cyprus in Limassol on 15 September.
Invited to comment on the criticism of price increases in products and fuel and whether he intends to take measures to alleviate the burden on the citizens, he said "first and foremost, I would like to say that we are particularly sensitive, and above all, I personally have a particular sensitivity to this specific issue".
At the same time, he said "I have responsibility, and as government, we are obligated to manage the country's finances correctly."
President Christodoulides said the government has already taken specific measures, and assesses the data as they develop daily, "and I do not exclude any announcements if and when we find that, on the one hand, yes, there is a need, and I see it, but at the same time", he said, we have a responsibility to see how things are evolving for the next three to six months.
The President reminded that he has expressed his support for more targeted measures for the people who are facing more problems.
"Even next week, when I will be in New York, this is one of the issues that concerns me and I will be in constant contact with Cyprus and even there, will hold contacts in relation to the economic issues of the country and I do not exclude the possibility that we will make announcements,"he added.
To a remark that the electricity subsidy was stopped during the height of summer while gas prices were still going up, the President said "We have witnessed where bad management of finances led us", adding he does not believe that anyone, even the political parties or the people of  Cyprus, want the island to return to the conditions that led the country to take wrong economic policies.
President Christodoulides said that the government will submit its first budget in the next few days, noting it is a budget that takes all this into account. "It is a surplus budget that has people at the epicenter of the policies proposed," he said.
(Source: CNA)