Nerd Hub invites young curious minds to Open Days
09:33 - 11 September 2023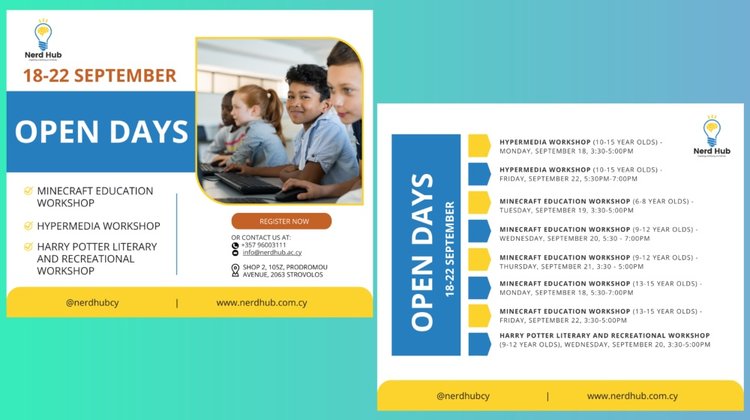 Nerd Hub, a haven for young minds seeking knowledge and adventure, has announced its forthcoming Open Days taking place from 18 to 22 September.
"This is an exceptional opportunity for young adventurers to step into the enchanting world of Nerd Hub and witness the transformative experiences that await," it said.
Ned Hub is the perfect place for children who are curious about the world, have a passion for technology, love educational games like Minecraft, audiovisual apps or even storytelling, and science. The workshops follow a multidisciplinary approach to assist children in developing digital and media literacy, digital citizenship, fundamental coding, and web design skills.
Minecraft Education Workshop
The Minecraft Education Workshop uses the game-based platform to promote creativity, collaboration, project-based learning, and fundamental coding skills through play. Following a multidisciplinary approach, students will participate in activities involving literacy, math, social studies, and science to complete innovative, fun, and educational projects.
Hypermedia Workshop
The Hypermedia Workshop allows students to develop a range of technological skills including video, audio, and image editing, as well as web design.
"Aligned with our project-based approach, children will work towards applying this knowledge and skills to real-life scenarios, producing various digital outcomes," it said. Alongside developing these digital skills, children will also enhance their understanding of being responsible digital citizens by learning about concepts such as media balance and well-being, privacy and security, digital footprint and identity, cyberbullying, and news and media literacy.
"Through the magical context of Harry Potter, students will immerse themselves in literacy and recreational activities." While exploring the world of Hogwarts, they will engage in mini-projects involving arts and crafts, digital platforms like Minecraft Education, creative writing workshops, read-aloud sessions, and even butterbeer making. "Hufflepuffs are welcome too!"
To visit Open Days Week, parents can fill in this registration form to indicate which workshop their child will be trying out.
Find our more on the Nerd Hub website: www.nerdhub.com.cy