NAGA Pay announces Apple Pay integration
Sponsored Article 09:39 - 08 August 2023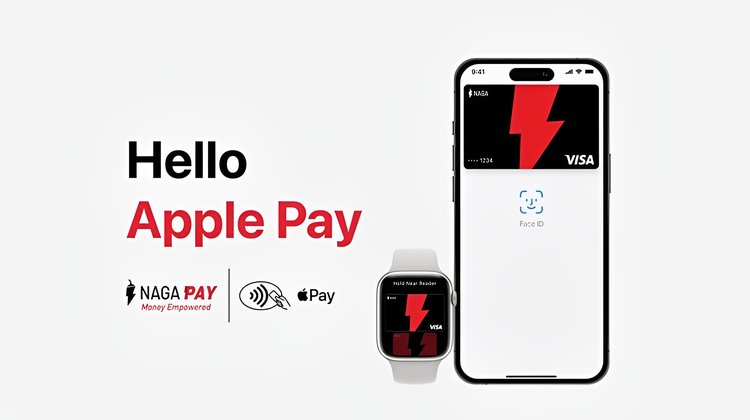 NAGA Pay, a leading payment solution, is excited to announce the integration of Apple Pay, empowering users with fast, secure, and contactless payment capabilities. This integration marks a significant milestone for NAGA Pay, as it expands its commitment to delivering innovative and enhanced payment solutions to its global user base.
NAGA Pay's collaboration with Apple Pay offers users the convenience of instant and secure payments. With Apple Pay, transactions are processed swiftly, providing a seamless checkout experience both online and in stores, ensuring the highest level of security for each payment.
Enjoy the simplicity of contactless payments with Apple Pay. By tapping their devices, NAGA Pay users can complete transactions quickly and effortlessly, streamlining the checkout process at a wide range of merchants worldwide.
Security and privacy have always been top priorities for NAGA Pay. Apple Pay further strengthens these principles by ensuring that users' payment details are never shared with merchants or stored on Apple servers. Each transaction is authenticated via Face ID, Touch ID, or device passcode, providing an additional layer of protection.
NAGA Pay's partnership with Apple Pay expands the accessibility of its services on a global scale. Apple Pay is widely accepted at a vast network of merchants worldwide, making it easier for NAGA Pay users to make payments wherever they go.
Adding NAGA Pay cards to Apple Pay Wallet is simple and user-friendly:
Open the NAGA Pay app on your device, select the card you want to add, tap on "Add to Apple Wallet" and follow the on-screen instructions to complete the setup process.
Commenting on the integration, Managing Director of NAGA Pay Stelios Eleftheriou, expressed his enthusiasm: "We are thrilled to introduce Apple Pay as part of our commitment to continuously enhance our product's user experience. With Apple Pay, our customers can now enjoy the convenience of seamless and secure payments, giving them more control over their financial transactions. This strategic partnership aligns perfectly with our mission to revolutionize the way people manage their finances globally."
As the financial landscape continues to evolve, NAGA Pay remains at the forefront of delivering cutting-edge solutions that cater to the ever-changing needs of its users. The integration of Apple Pay is a testament to NAGA Pay's focus on bringing the latest advancements in payment technology to its platform.
About NAGA Pay
NAGA Pay is your ultimate money app, where you can get up to 3% cashback** in Bitcoin on your everyday purchases! It's offering you a free IBAN with a Crypto debit card, authorized by VISA, with no annual fees. With a fast and seamless registration procedure, NAGA Pay allows you to pay with crypto or euro offline & online and withdraw money at any ATM worldwide.
Through a single mobile app you can buy crypto***, invest in stocks, pay with crypto or euro and enjoy cashback in Bitcoin, make Sepa payments, send money to friends, refer friends**** so you both get €10 in Bitcoin, short/long markets and much more all from your smartphone!
Risk Warning: CFDs are complex instruments and come with a high risk of losing money rapidly due to leverage. 82.93% of retail investor accounts lose money when trading CFDs with this provider. You should consider whether you understand how CFDs work and whether you can afford to take the high risk of losing your money.
Apple, Apple Pay, Face ID, and Touch ID are registered trademarks, and are used under license from Apple.
**Terms and Conditions (Cashback) apply
***The Cryptocurrency wallet within the NAGA Pay application is provided by NAGA X LTD, a crypto asset services provider, authorized and regulated by the Cyprus Securities and Exchange Commission under Registration No. 009/23.
****Terms and Conditions (Refer a Friend) apply