Fire reignites in Limassol as high winds expected
12:49 - 07 August 2023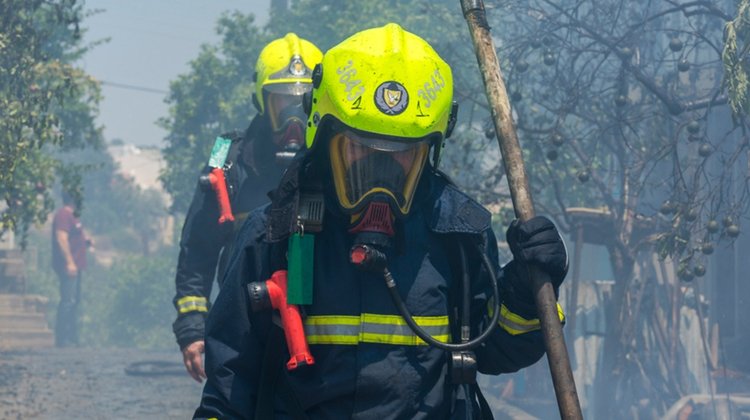 A blaze that was sweeping through the Limassol district and had been brought under control by Monday morning has reignited, the Fire Service said.
Firefighting forces have been mobilised after the fire reignited in the Apesia area, with a weather forecast for strong winds in the afternoon looming over the effort.
According to information from the coordinating centre in Apsiou, ground and aerial firefighting units have been joined by the first of two Greek Canadair firefighting aircraft the country is sending to assist the fire-fighting efforts, with the second expected to arrive later on Monday.
House President Annita Demetriou is at the coordinating centre in Paramytha and is being briefed on the situation.
Fire Service Spokesman Andreas Kettis said the possibility of new fires reigniting will be higher in the afternoon, when winds are expected to start picking up.
He added that the fire has been surrounded, and firebreaks and accesses are being created for the ground forces to try to contain the blaze.
According to Kettis, the fire area is still being monitored. Continuous reignitions are being faced with ground and aerial forces, mainly on the northwest side of the perimeter.
The Greek Ministry for Climate Crisis and Civil Protection announced on Monday the dispatch of 20 tons of flame-retardant liquid to Cyprus, in addition to the two Canadair aircraft that will help extinguish the fire in the Limassol district.
As stated, responding immediately to the request submitted by the Cypriot authorities, through the European Civil Protection Mechanism, to provide assistance in dealing with the large forest fire raging in the mountains of the Limassol District, Greece has put at the Mechanism's disposal two Canadair CL-415 aircraft, which are part of the European Civil Protection Protection Pool (ECPP), as instructed by the Minister for Climate Crisis and Civil Protection of Greece Vassilis Kikilias.
It is added that Greece will send to Cyprus 20 tons of retardant liquid, also through the European Civil Protection Mechanism.
It is also noted that the Greek assistance to Cyprus comes a few days after Cyprus provided direct assistance with two Air-Tractor aircraft to deal with the large forest fires that hit the country.