Dickran Ouzounian: The story behind his decision to bring Lexus to Cyprus
07:13 - 06 August 2023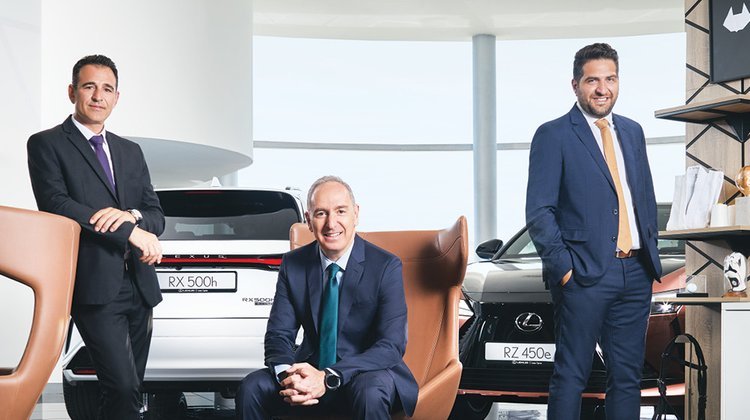 Lexus this year celebrated its 20th year in Cyprus, as the company continued to stand out in the electric vehicle sector for its dedication to detail and refinement.
The past two decades have seen many milestones in the brand's history on the island, among them the arrival of the first Hybrid luxury SUV, the creation of a showroom featuring modern equipment and providing an interactive digital experience, and the recent arrival of electric models.
The Managing Director of Toyota Cyprus, Dickran Ouzounian, the company's marketing director Loucas Leonidou, as well as the general manager of Lexus Cyprus, Constantinos Ioannides, in an interview with IN Business magazine, outlined the course of Lexus in Cyprus, the characteristics that distinguish the company from its competition, as well as future plans.
Tell us about the beginning of Lexus Cyprus. Why did you decide to bring Lexus to Cyprus?
Dickran Ouzounian: In 1990, having recently obtained my law degree, I had joined a management trainee program at Toyota GB. In June 1990, I received a call very early on a Saturday morning from the Chairman of Inchcape PLC, which owned Toyota GB at the time. I felt shocked and surprised that the President was calling me directly and I was worried about what he was going to say.
Without even greeting me, he said: "Young man from the little island of Cyprus, do you fly?". "Yes Sir!" was my immediate response, followed by his second question: "Young man can you drive?". Again, my answer was an immediate yes.
After that he instructed me to head immediately to the famous Turnberry golf resort, attend the first Lexus press launch dinner and get his new company car back to London safe and sound before dark on Sunday.
I will never forget that weekend and especially the return to London. I had to take back the President's Lexus LS400 limousine in good condition, driving through spectacular, winding country roads and almost endless highways, in heavy rain and wind. But it was an amazing experience! It was like riding a magic carpet. I had never felt anything like that before.
That day I promised myself that I would grow our company here in Cyprus, so that we would have the financial strength and business acumen to one day successfully launch this incredible new brand in our market.
That day came in August 2002 with the opening of the specially designed Lexus Center in Nicosia and our commitment to always treat customers as guests in our home.
You are celebrating the brand's 20-year anniversary in Cyprus. What moments do you stand out as milestones in its story?
DO: Initially, as I mentioned above, an important milestone for us was in 2002, when we opened the Lexus Center in Nicosia, a unique and impressive car showroom designed 100% to Lexus standards, which remains, to this day, unparalleled in terms of luxurious and personalized service experience to our customers. Chronologically, I still highlight the following important milestones for us:
2005 and the arrival of the RX, the first Hybrid luxury SUV.
In 2013 when we introduced the Lexus Easy financing program, enabling customers to acquire their own Lexus even more easily, combining incomparable advantages.
In 2014 when the first generation of the NX arrived, Lexus' most popular and best-selling SUV in Europe.
In 2015 we developed the possibility of configuring cars on our website.
In 2016 when our showroom was renovated with modern equipment for a more interactive and digital service experience for our customers.
In 2021 with the introduction of the Lexus Relax extended warranty program.
2022 when Lexus started accepting the first car orders online, but also the arrival of the first plug-in hybrid (Lexus NX).
In 2023 with the arrival of the Lexus RZ and Lexus UX 300e electric models we now have the most refined and fully electric range, offering all the leading electrification technologies, covering all customer needs.
What are the characteristics that make you stand out from the competition?
Loucas Leonidou: Lexus stands out thanks to its uncompromising commitment to every detail. From driving feel to designs that represent the pinnacle of craftsmanship and refinement, everything is thoroughly considered and executed to ensure the highest level of precision and beauty at every turn.
At Lexus, we exude passionate enthusiasm. We relentlessly challenge ourselves, find the best way and push the boundaries of what is possible. With electrification that ignites the senses, driving performance that inspires confidence and luxury that is deeply personal, Lexus delivers emotional satisfaction at every touchpoint.
How do you ensure that the customer feels the luxury experience that Lexus offers, from the showroom to the road?
LL: Lexus has always been committed to treating its customers better than any other luxury car brand. Luxury is not just about offering a variety of products and features or following the latest trend.
To redefine Lexus luxury, we've focused on creating experiences that feel personal. Anyone can change the definition of luxury, but only a few can rise to the great challenge of delivering it with true feeling and character.
Tell us about the current models that Lexus offers. What areas are today's models focused on?
Constantinos Ioannides: Today, you'll find our definition of luxury in a growing range of electric vehicles, from the first all-electric Lexus RZ to our first Plug-in Hybrid Electric Lexus NX. All lead the way forward to a visionary and human-centric future without compromise and with zero emissions.
What are the plans and vision of Lexus Cyprus for the next chapter in its glorious journey?
CI: Now Lexus intends to transform the very nature of luxury cars for the future. We want to elevate driving pleasure and joy through our vision of zero-emission mobility: the electric Lexus.
This is a concept embedded in our vision of a full transition to alternative drive systems by 2035. After all, technology is most powerful when authentic humanity is at its center.
(Source: InBusinessNews)