Paddy Jansen: The expansion of our operations will go hand-in-hand with the development of Cyprus
07:14 - 05 August 2023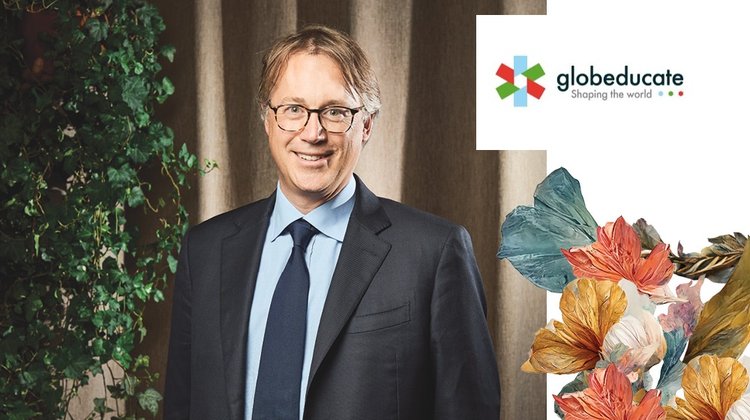 Paddy Jansen, the Chief Operating Officer of Globeducate, explains how the company wishes to become a gamechanger in the local education sector and praises Cyprus' economy, which enables the island to attract investment and enhance new industries.
A video featuring Jansen, created especially on the occasion of Globeducate being chosen as a recipient of an 11th Invest Cyprus International Investment Award, can also be viewed below.
Congratulations on Globeducate's win at the 11th Invest Cyprus International Investment Awards. What does this recognition mean for the company?
It means a great deal to us. Firstly, it recognises Globeducate as an important partner for the future development of Cyprus. As Cyprus continues to attract investments, companies and more foreigners coming to work in new industries for the country, there is a growing need to expand the provision of education and we know that premium international education is key. The award is also recognition of our Cypriot partners – Pascal Education, with schools in Nicosia, Larnaca and Limassol. Led by the Andreou family, these are fantastic schools and, with Globeducate, they will continue to prosper, focusing on developing the next generation to become global citizens who will shape the world.
In August 2022 Globeducate announced the acquisition of Pascal Education (Cyprus) Ltd. What were the benefits of this investment?
First of all, our Pascal Education schools are already well established and are known for providing a fantastic education for children and young people in Cyprus. They were founded and have been led by the Andreou family over the past 45 years and are now the largest provider of international schools in Cyprus. For us, it is not only about the school building; the most important element in education is people and, mainly, teachers as you will surely recall from your own schooldays! Teachers are key and their leaders are key to making schools excellent. Pascal Education brought all of these elements to the table. Globeducate will only enhance and provide the means to develop further into the future. More importantly, it will give teachers and students access to educational resources, learning and professional communities, and experiences that they otherwise would not have.
Could you share some insights into your decision to invest in Cyprus and the opportunities you have identified for growth? How do you define success in the context of your investment and business endeavours in Cyprus?
Cyprus is thriving and, as the economy grows, it attracts more business and new industries and, therefore, more people from other countries. This influx of people means a lot of new families, who need education with an international focus that fits their needs. Cypriots are also becoming more prosperous and they, too, see a growing need for high-level international education that will set their children up for success in the future. All in all, schools are a local business and we serve local communities and the families in them. As economies prosper, the need for quality education increases so, logically, even though it is a relatively small country, Cyprus is very interesting for us. Our future investments in Cyprus are clear and simple: the expansion of our operations will go hand-in-hand with the development of Cyprus. As long as there is a growing demand for quality international education, we will continue to try and meet that demand. We are currently building new extensions in Nicosia and Larnaca and we have plans to develop a new campus in Limassol. We are also actively looking to establish other school campuses in Cyprus. We expect to double the numbers of students in our schools in Cyprus over the next three years.
What is the impact of Artificial Intelligence (AI) on education? How do you plan to take advantage of the rapid technological development?
The impact of Artificial Intelligence (AI) on education is significant and it is a topic that Globeducate has incorporated into our agenda with our Global Advisory Board, a team of leading educational thinkers who meet with our senior leadership twice a year. The Board includes an AI expert, Priya Lakhani OBE. We have set up a task force across our schools to explore this very important question. We know that AI has the potential to enhance personalised learning by analysing students' data and adapting educational content to their individual needs, saving teachers time and allowing them to support students with a greater individual focus. It can provide intelligent tutoring systems, virtual assistants, and interactive learning experiences. AI-powered grading systems can automate assessment and feedback processes, saving time for educators. However, it is crucial that we consider the ethical use of AI in education and address concerns about privacy and data security. There is no doubt that human teachers will retain a central role in the learning process. As a group, we are taking AI developments seriously and are investing time in designing training for our teachers and administrators.
What do you wish to achieve through your global STEAM agenda?
Through our global STEAM (Science, Technology, Engineering, Arts and Mathematics) agenda, our goal in all schools is to foster innovation, creativity and critical thinking skills among students worldwide. This agenda aims to inspire interest in STEAM subjects, promote hands-on learning experiences and encourage collaboration and problem-solving abilities. With STEAM education integrated into curricula, students can develop the skills required for the future workforce and become active contributors to technological advancements. Ultimately, the aim is to create a generation that can tackle complex global challenges, drive scientific progress and leverage technology for positive societal impact. We work with strategic partners such as LEGO ® Education and Arts International to help us elevate the profile of STEAM education in the curriculum and to give the very best experiences to students. Ensuring that we deliver the "A" (Arts) in STEAM is crucial for our students' future success.
What role do you see Globeducate playing in shaping the future of the local education sector?
As a leading global educational organisation, Globeducate has the potential to shape the future of the local education sector in Cyprus in several ways. We already recognise the fantastic work taking place in schools and, since joining, teachers from Pascal Education schools have played significant roles in our global events this year. In our own schools in Cyprus, we can introduce innovative teaching methodologies, leverage technology to enhance learning experiences, and promote global citizenship and cultural understanding. All of Globeducate's schools foster close relationships with local ecological groups through our Eco-Schools commitment and partnership with the WWF wildlife charity, and we can establish partnerships with local educational institutions, businesses, universities and communities to create a holistic and inclusive education system that encourages our students to look outwards. By embracing sustainability and social responsibility, Globeducate can contribute to shaping a more equitable and sustainable future.
This interview first appeared in the July edition of GOLD magazine. Click here to view it.