Vaso Nikola Leonidou: "I am very excited and determined to lead this remarkable company"
08:22 - 03 August 2023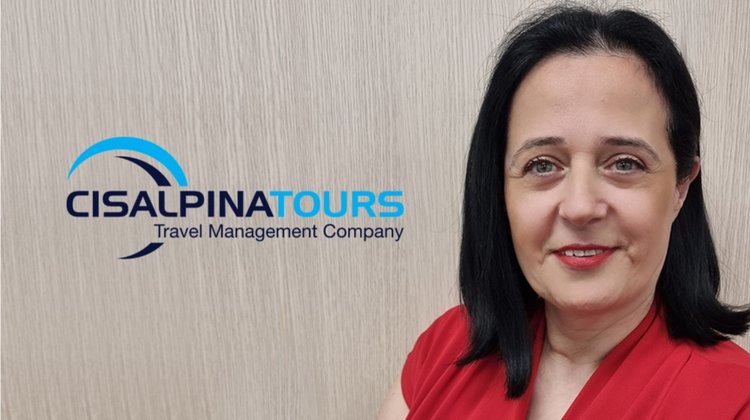 With a 30-year career in shipping and the travel industry, Vaso Nikola Leonidou - Managing Director of Cisalpina Tours Cyprus Ltd – knows a thing or two about managing business trips in the maritime sector.
Having recently opened an office in Cyprus – its fifth worldwide – the travel management company, which is 100% owned by Limassol-based MSC Group – aspires to lay the foundations for the development of a business unit dedicated to business travel, in particular for customers in the maritime sector. Here, Leonidou explains how the company came to open its Cyprus office and what led her to this point in her career.
Can you please explain what Cisalpina Tours does and what managing business travel entails?
Cisalpina Tours is a TMC (travel management company) which organises and manages the business trips of 800 Italian and international client companies, for around 2 million travel transactions a year. In addition to business travel, Cisalpina Tours is dedicated to the organisation and management of corporate events, incentive trips, congress programmes and has an internal live communication agency called Out of the Blu.
As the third TMC in Italy and the fourteenth in Europe, Cisalpina Tours takes care of all stages of managing a business trip and offers its client companies technological tools to book and control the spending budget at any time. Furthermore, it informs travel managers and corporate travellers on whatever it happens in the world and on travel safety issues by responding to the duty of care requirements that every company must fulfil for its employees on business trips.
When was it established and how did it start out? And where is it now?
Cisalpina Tours was founded in 1970 in Turin (Italia) and today it is present in seven offices in Italy and in five offices worldwide. The internationalisation plan also foresees the opening of offices in Durban (South Africa), Hamburg, Paris, London, Geneva and London between 2023 and 2024.
According to your website, the company launched an international expansion plan in 2022. How did Cyprus come to be a part of these plans?
The Limassol office represents the fifth foreign office and the consolidated presence of the MSC Group (owner of Cisalpina Tours) in Cyprus lays the foundations for the development of a business unit dedicated to business travel, in particular, for customers in the maritime sector.
When was Cisalpina Tours acquired by MSC Group and how has the company benefited since?
In 2015, MSC Group first acquired 95% of Bluvacanze Group – which Cisalpina Tours is part of – and in an immediate second step assumed 100% control. As part of the MSC Group, it ensures the highest standards of excellence for multinational companies of all sizes and complexities. The main advantages derive from belonging to a leading global company in the logistics and cruise sectors, strongly rooted in the territories where it operates and projected towards strong development.
In its official announcement, the company said it was opening its Limassol office to target the maritime and shipping industry?
Yes, the maritime sector in business travel services for all workers in the sector is the focus of the Limassol office.
What exactly does this mean? What exactly are the services the company will be offering in Cyprus.
Consultancy in business travel: Cisalpina Tours in Cyprus provides the most convenient solutions in terms of cost optimisation, traveller's satisfaction and reporting in order to support our corporate clients' decisions. The TMC operates a continuous in-depth analysis of the market offers (about the entire supply chain: air, hotels, car rentals and more) so that the companies can better manage their Travel Programme, reaching the goals of cost saving and cost efficiency at the highest level.
Service: Our commitment is oriented towards our capacity to relate, keeping an accurate and customised assistance that is really close to the customer, both in terms of place and time, 24 hours a day.
Technology: Cisalpina Tours delivers several tech-solutions which are structured into complex, effective and tailor-made information tools, created on the basis of the specific needs of our corporate clients.
What does the company's philosophy, "Think Globally, Act Locally" mean?
We have a consistent strategy when selling internationally while adapting our tactical approach to the local market, applying the right attitude in individual countries that takes into account cultural differences and always knows how to enhance the skills of local teams.
Can you name a few technologies and innovations that Cisalpina Tours has introduced that make it stand out from its competition?
Cisalpina BI (Business Intelligence) and a new self-booking tool (MyTico) are the latest technologies released.
Developed on Microsoft cloud technology and made accessible through Qlik Sense®, a well-known application that allows users to create visualisations, graphs, interactive dashboards and apps for their own data analysis, Cisalpina BI adapts to the needs of companies and their travel policies. Each client company has its own needs regarding the monitoring of travel spending and operations (bookings, travel approvals, other). So, the new business Intelligence platform adapts to all needs, offering continuous and real-time monitoring so that travel managers always have the budget under control.
MyTico allows the direct booking of all the main business travel services, as well as the sending of requests in integrated mode to the operators of Cisalpina Tours, for prompt management. It integrates with the various company ERPs and offers all travel management functions, with the application of travel and cost authorisation processes, up to the reporting and feeding of expense reports.
Cisalpina BI enriches the portfolio of TMC solutions for travel budget monitoring which consists of cutting-edge technological tools (repricing/requoting), various online booking tool solutions (local and global), which guarantee process optimisation, performance, high level of service and safety. In this regard, Cisalpina Tours has obtained the ISO 27001 IT security certification.
What is your view of the global, as well as the Cypriot tourism industry? The main trends and challenges?
After the pandemic, tourism and business travel are facing the greatest challenges ever: to bring travellers to countries capable of generating value for the territories that welcome them, in a context of security and quality.
In particular, in business travel, companies need to measure their environmental impact and they ask us TMCs to provide tools capable of making the best choice in terms of transportation and hotel accommodations with an appropriate response to the objectives of their Sustainability Reports.
With its 3.2 million tourists in 2022, Cyprus has reached 80% of the levels observed in 2019 and has a great future in year-round holiday tourism, as an ideal destination for most European countries with cold climates. The key is air accessibility at competitive fares.
Finally, could you tell us a bit more about yourself and what led you on this career path?
Allow me to take you on a journey through the world of shipping and Travel, where my passion for the global trade and logistics has led me on an incredible adventure. I was born and raised in the United Kingdom, and my fascination with the intricate workings of business dynamics drove me to study Management and Finance, setting the stage for a fulfilling career in the shipping and travel industry.
Throughout my 30 years' expedition in this field, I have had the privilege of gaining extensive knowledge in this field.
My journey into the shipping world began with a curiosity for understanding how goods and products traverse the globe, connecting people and economies. Fuelling this curiosity, I pursued my studies in Management and finance, recognising that it would be the cornerstone of my future endeavours in the shipping industry. Eager to enhance my skills and broaden my horizons, I actively pursued various courses in management, leadership, and specialised certificates, such as IATA (international Air Transport Association) (UFTA) universal federation of Travel Agents, and marketing.
As I set foot in the shipping industry over three decades ago, I knew I had found my calling. From the very start, I embraced a commitment, driven by a profound understanding of global supply and logistics. My career has taken me through various pivotal roles in reputable shipping companies, each step contributing significantly to my growth and the industry's progress.
Over the years, my familiarity with the shipping and travel industry process has grown into an expertise that I take immense pride in and accomplishments in planning, handling customs compliance, and managing vessel operations, crew travel.
I have had the privilege of managing teams and mentoring countless professionals, fostering a culture of continuous learning and innovations. My journey has been enriched by participating in various management courses, equipping me to adapt seamlessly to the ever-evolving demands of the shipping landscape.
Even after a long time in navigating the shipping and travel industry, my passion for this field burns brighter than ever.
As the Managing director of Cisalpina Tours Cyprus, I am very excited and determined to lead this remarkable company and team towards unprecedented success. Our journey has just begun, and I am confident that the passion, expertise dedication that each team member brings, will propel us towards a bright and promising future in the world of travel. Together we are poised to create an extraordinary legacy and make a lasting impact in the lives of our customers and the travel industry as a whole.