Koukkides-Procopiou: E-justice to be fully operational by the end of 2023
07:14 - 28 August 2023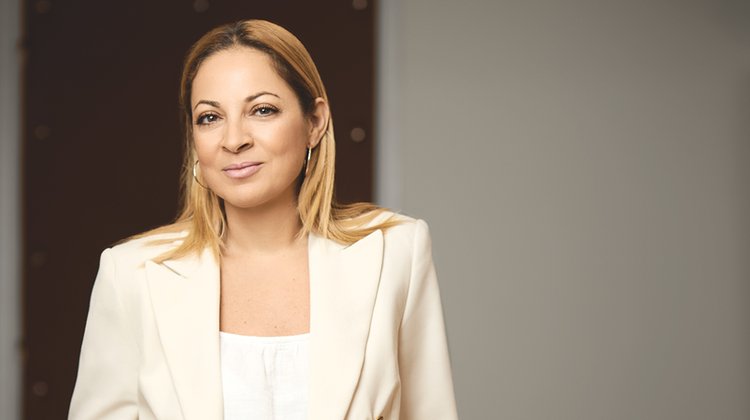 Anna Koukkides-Procopiou, Minister of Justice and Public Order, shares her vision for a just and fair society served by an anthropocentric legal system and poses important questions about how victims of crime are treated in Cyprus.
Concerns have been raised recently with regard to overcrowding in the Central Prison, the illegal use of mobile phones by inmates, and overall living and working conditions there. What do you intend to do about these issues?
Prison overcrowding has been a problem for quite a while. It is something that needs to be dealt with sooner rather than later, yet without allowing the urgent to precede the important. Such thinking is reflected in the modus operandi of the Ministry of Justice and Public Order and all the planning that has gone into this issue. Our team has worked tirelessly to this end and our proposals were approved by the Council of Ministers within the first three months of the new Presidency. These proposals cater for immediate, medium-term, and long-term prison needs and address longstanding security and human rights issues in the Central Prison. Having discussed this with my counterparts in other European countries, I have seen that Cyprus is not alone. All over Europe, prisons are overflowing, unable to cope with growing numbers, while at the same time, recruiting the right number of staff for the job is becoming more and more difficult.
What steps will be taken to strengthen and enhance the Independent Anti-Corruption Authority of Cyprus following the European Commission's 2023 Rule of Law Report, which claimed that the Independent Anti-Corruption Authority in Cyprus does not have the necessary tools to carry out its mission?
Preparatory work, regarding the legal framework, the infrastructure and logistics, such as housing and staffing requirements, needed to be completed in order to facilitate the establishment of the Independent Anti-Corruption Authority, was carried out by our Ministry. Thus, the Law on the Establishment and Operation of the Independent Anti-Corruption Authority entered into force in March 2022 and we ensured that the required regulatory framework, allowing the hiring of investigators, was also in place by December 2022. The transition of responsibilities from the Ministry to the Authority came to an end in June 2023, thereby enabling the independence of the institution.
What are the greatest remaining shortcomings of the Cyprus legal system that need to be addressed right away?
If asked this question, most citizens and businesses would respond with the saying 'justice delayed is justice denied'. Bottlenecks are widespread and they make up the biggest challenge faced by the justice system in Cyprus. This has been recognised as such in the recent EU Scoreboard. As of July, the Supreme Court works side by side with the Supreme Constitutional Court. A specialised Court of Appeals is also in place. As of September, new rules and regulations regarding civil lawsuits will come into effect, aiming to simplify and speed up judicial processes, especially those dealing with small claims. Soon, a new Commercial Court and a Maritime Court will also be in place. Other reforms aimed at streamlining judicial processes are also in the pipeline, while efforts are ongoing to encourage out-of-court settlements and facilitate arbitration and mediation processes where possible.
How successful have the the steps taken to digitise the court system been so far?
The intermediate i-justice system has been up and running since 2021 and the Courts expect e-justice to be fully operational by the end of 2023. The transition to Digital Audio Recording will be concluded by 2025. We have been assured by the Supreme Court that it has been working closely with the Deputy Ministry of Innovation towards this direction.
Lately, due to some high-profile legal cases (e,g. the unsolved murder of Thanasis Nicolaou, the Bishop of Kition being found guilty of sexual assault 40 years after the event, etc.), we have seen numerous organised protests against decisions taken by the Law Office of the Republic and against perceived corruption in general. Have people lost faith in the judicial system? If so, how can it be regained?
Making access to justice quicker and easier for all, as well as focusing on victims' rights, would be a step in the right direction. This is also one of the priorities of the Spanish EU Presidency. The focus, both in public discourse and policy making, should shift in this way. We need to ponder whether, in the past, we've focused too much on protecting and promoting the rights of the perpetrators of crime, while spending much less time protecting and promoting the rights of their victims.
What goals do you wish to fulfil during your term and what do you want your legacy to be? How would you assess your first few months in office?
It's a tough job but I did not expect anything different when I came into office. Change takes people and interest groups affected by it out of their comfort zone and a reaction is to be expected. When you start taking hits, you realise that that you have moved and shaken things, so obviously you are being effective, otherwise no one would bother. It is exactly the moment when you make a conscious decision to keep going, despite the difficulties faced, because you are doing all this for others, not for yourself. This is what Nikos Christodoulides' government is all about; this is what 'anthropocentric' really means – improving people's everyday lives by turning a vision into policy and a policy into practice. This is what I want my legacy to be.
This interview first appeared in the August edition of GOLD magazine. Click here to view it.