Educational beach cleanup by the Institute of Certified Public Accountants of Cyprus
Niki Christofi 10:45 - 16 August 2023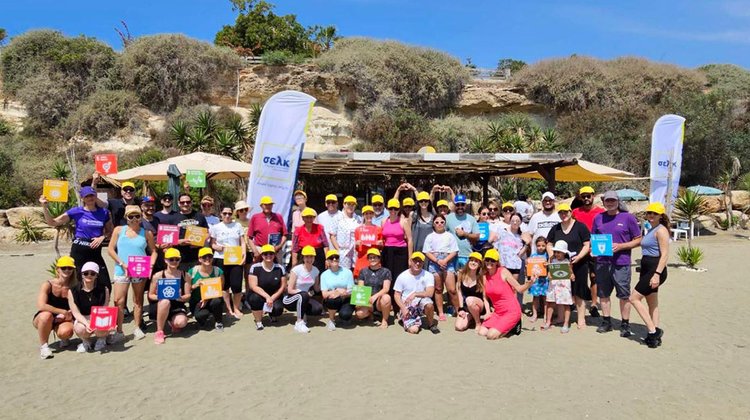 On the occasion of the celebration of World Environment Day, the Corporate Social Responsibility Committee of the Institute of Certified Public Accountants of Cyprus (ICPAC), in collaboration with Let's Do It! Cyprus and Pervolia Community Council, as well as Larnaca District Administration, proceeded with the cleaning of Faros beach at Pervolia, which is one of the most beautiful beaches in Cyprus.
The total attendants were 100 people, from 5 to 88 years old, who collected garbage which was recycled or disposed of appropriately, promoting volunteerism and environmental awareness. A Certificate of Achievement was also provided to all the participants.
ICPAC further pioneered within the framework of the cleanup, as it organised an Interactive Seminar at the beach, where participants, young and old, were asked to find actions to achieve the 17 Sustainable Development Goals which relate to a healthy planet, as well as to world that is fairer, more peaceful, and prosperous. The 17 Sustainable Development Goals are the world's best plan to build a better world for people and our planet by 2030.
The Instructor of the Seminar, Panos Demetriou, Head of Corporate Social Responsibility at Let's Do It! Cyprus, said that this event encourages us to look at the future with optimism and that Corporate Social Responsibility and Sustainable Development are concepts that are now more important than ever. The planet, the economy, businesses, and we as a "society," need to understand that the Social Responsibility and Sustainable Development are the keys for a cleaner and more beautiful environment. He pointed out that it is for this reason that the European Union recognized the necessity of the disclosure of non-financial information by companies, according to the guidelines of the Corporate Sustainability Reporting Directive (CSRD).
Panos Demetriou mentioned that the CSRD was established by the European Union and the European Commission with the aim of developing a transparent environment and culture in which companies should be accountable and transparent about any information related to or causing a long-term impact on society and the environment in which they interact. Moreover, he emphasised that the CSRD is an essential regulation for the accountability and recording of all information that affects society and the environment, such as social issues and treatment of employees, respect for human rights, the fight against corruption and bribery diversity on company boards. Companies that fall into 2 of the 3 criteria below: (1) more than 250 employees (2) 40 million euros in net turnover (3) 20 million euros in total assets on the balance sheet must comply with the CSRD.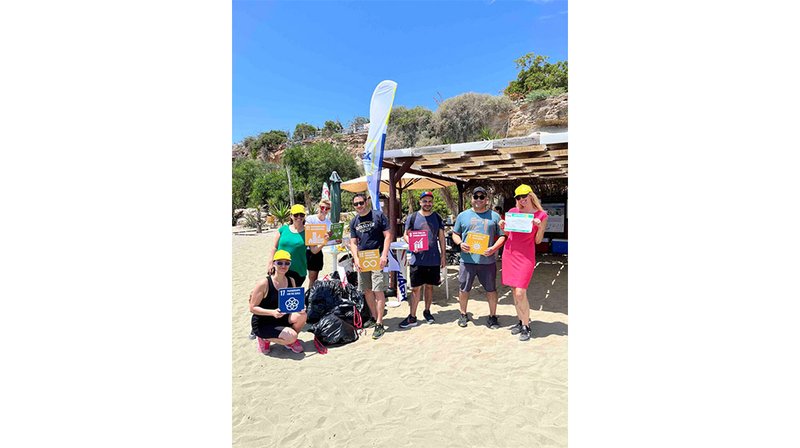 It is noteworthy that the participants were also trained in safety rules at the beach by Fotini Stampolidou, lifeguard trainer at Larnaca Lifeguard Club "Kimon." She gave advice such as that swimmers should not swim in the sea alone, should not dive into murky and unknown waters, should not pass the buoys that define the swimming zone, should enter the water at least three hours after your last meal, should not push or immerse others in the water, should consume plenty of fluids, and that staying in a shady place is important. She emphasised that children need continues attention, and should not be left alone even for a second. Moreover, she recommended that if they have the opportunity, people should please help the lifeguards to save lives. Every help is important because it can save lives. She also mentioned a well-known strategy, that the feeling of safety without knowledge produces danger but the feeling of danger with knowledge produces safety. Each person deserves to be protected because he/has the right to live.
Konstantina Achilleos, Communication Officer at ICPAC, said that it is remarkable that last year's ICPAC beach cleanup, was selected for a Pancyprian award by Let's Do It! Cyprus, which is part of the Let's Do It! World campaign, a global cleanup campaign that aims to rid the natural areas of the world of rubbish. She further noted that for ICPAC, actions such as this event are a priority and will continue in the future. Finally, she stated that this specific action has become an institution and will be extended to other areas of Cyprus, with the support of the Corporate Social Responsibility Committee of ICPAC.
Chryso Photiou, member of Pervolia Community Council and member of the Cultural Committee, stated that she is proud that Pervolia Beach has been awarded a Blue Flag for the eleventh consecutive year. The Blue Flag is an international symbol for beaches that meet certain standards for safety, cleanliness, and environmental awareness.
Marlen Kakouridou, a representative of the KEAN company, said that she is impressed by the fact that young children participated in the event, being taught the values of caring ​​and voluntarism from an early age, as well as elderly people, who feel that even in an old age, they can contribute to the protection of the environment.
Aiming to be a fun awareness day, the beautiful event was combined with Zumba dance, which the children really enjoyed.
To end with, I would like to refer to the messages of António Guterres, Secretary General of United Nations, regarding World Environment Day as well as the International Day of Zero Waste. The planet is our only home, we have only one Earth. Pollution is responsible for approximately 9 million premature deaths each year. More than 1 million plant and animal species risk extinction, many within decades.
Every year, over 400 million tons of plastic is produced worldwide, one third of which is used just once. Every day, the equivalent of over 2000 garbage trucks full of plastic is dumped into our oceans, rivers, and lakes. The consequences are catastrophic. If present trends continue, by 2050 our oceans will have more plastic than fish. We should eliminate the use of plastic, reuse and recycle it.
It is time to cleanup our world and make progress towards circular, zero-waste economies. History has shown what can be achieved when we work together and put the planet first. Together we can ensure that our planet not only survives, but thrives. Businesses need to put sustainability at the heart of their decision-making for the sake of humanity and their own bottom line. A healthy planet is the backbone of nearly every industry on Earth.
Niki Christofi, Member of the Corporate Social Responsibility Committee of ICPAC and Business Mentor