Wizz Air celebrates six millionth passenger at Larnaka Airport
08:12 - 01 August 2023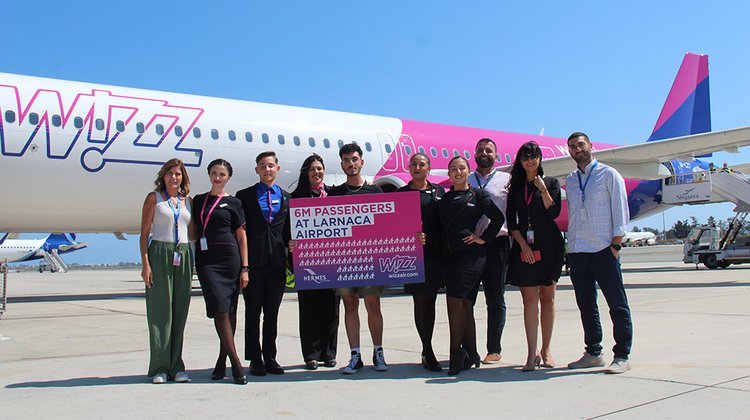 Wizz Air is celebrating carrying six million passengers to/from Larnaka International Airport and, to mark this milestone, the airline gave its 6 millionth passenger a travel voucher.
This achievement highlights the airline's commitment to providing affordable, high-quality air travel opportunities for travellers in the region, the company noted in a relevant announcement.
Since the launch of its operations at Larnaka International Airport in 2010, Wizz Air has strongly established its base with four aircraft and itself as a key player in the market of Cyprus, connecting passengers to a total number of 31 destinations in 18 countries such as Athens, Copenhagen, Damman, Jeddah, Kutaisi, London Gatwick, Krakow, Prague, Rome, Tel Aviv, Yerevan and many more. The carrier's focus on customer satisfaction, combined with its ever-growing route network, has contributed to this remarkable accomplishment of being the biggest operator at Larnaca, an announcement from Wizz Air notes.
Larnaka Airport is a key airport for Wizz Air's base and its operations. As a result of continuous development of the airline and the introduction of new routes, the number of passengers carried has progressively increased over the years. This remarkable achievement is evidence to Wizz Air's continued popularity and strong demand for low fare flights to and from Cyprus, the company's announcement adds.
Speaking about this milestone, Zsuzsa Trubek, Corporate Communications Manager at Wizz Air underlined, "We are proud to have reached the milestone of carrying 6 million passengers at Larnaka International Airport. It is a proof of the trust our passengers have placed in WIZZ over the years. We remain committed to offering the lowest fares, excellent service, and an extensive network of destinations to cater to the evolving needs of our customers."
Maria Kouroupi, Senior Manager of Aviation Development and Communication of Hermes Airports stated, "Wizz Air's success in Cyprus aligns with Hermes strategy to enhance air connectivity with year-round flights and promote sustainable tourism. This partnership has significantly contributed to the growth of Cyprus economy and tourism. We are proud to be a part of Wizz Air's remarkable journey and eagerly anticipate continuing this successful partnership for many more milestones in the future."
Wizz Air's success in Cyprus is part of its strategy to enhance air connectivity and stimulate tourism in the region. By consistently expanding Wizz Air's network and investing in modern fleet, the airline aims to further strengthen Larnaka International Airport's position as a gateway for travellers seeking affordable travel options across Europe.
It is also worth noting that according to CAPA – Centre for Aviation Awards for Excellence 2022, Wizz Air is Europe's fastest-growing and most environmentally sustainable airline globally.