Leaders of Cyprus and Greece want more solid cooperation
13:17 - 31 July 2023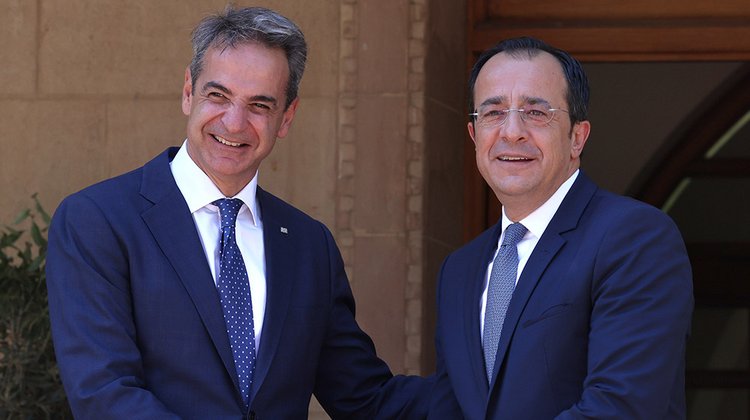 Leaders of Cyprus and Greece who met at the Presidential Palace in Nicosia, said that the two countries have the willingness to have an even more solid cooperation. 
The Greek Prime Minister was on 31 July paying Cyprus his first official bilateral visit abroad since taking office. 
President of the Republic Nikos Christodoulides said that they will announce some specific decisions and actions that will prove their strong conviction for further cooperation, while Greek Prime Minister Kyriakos Mitsotakis said that the cooperation between the two Governments is excellent and that they will try to build an even more institutionally solid framework on how they work together.
Welcoming the Greek Prime Minister to Cyprus, President Christodoulides expressed conviction that the "excellent cooperation" will continue and will be further strengthened adding that following their meeting and consultations today "I am sure that we will also announce some concrete decisions, actions that will prove our strong willingness for further cooperation".
He said that the presence of the Greek Prime Minister in Cyprus is not only of symbolic importance, especially at the present moment, "taking into account all these challenges but also opportunities that we have before us."
President Christodoulides said he looks forward to the discussions they will have, "so that we can see how, through our joint actions, the two countries prove in practice what they really desire, i.e. to be pillars of security and stability in the region."
We are, the President added, in an area of particular geostrategic importance and "we want to work with all our neighbors without excluding anyone at all, as long as we work with a positive approach and always with respect for international law."
The Greek Prime Minister thanked President Christodoulides for the "warm welcome" and said that due to the wildfires in Greece he had to postpone his trip to Cyprus that was to take place some days ago.
However, he added, "it is not just my obligation, but I would say a practical recognition of this unique relationship between Greece and Cyprus, the fact that the first official bilateral trip of the new Greek Prime Minister always takes place here in Cyprus."
He agreed with President Christodoulides that the geopolitical circumstances in the wider region present new challenges but possibly also new opportunities. Mitsotakis assured that "the cooperation between the two Governments is excellent and that we will try to build an even more institutionally solid framework in terms of how we work together not only on current and important foreign policy issues but also on another important range of issues which I believe require even better coordination between our two Governments."
Therefore, he added, the two governments will be in coordination for the important developments ahead and he referred to the United Nations General Assembly as well as important decisions and discussions that will take place at the European level.
He stressed that they adhere to the decisions of the UN and to the respect for international law, adding that "these two constants, these two positions determine the way in which we perceive the developments in the wider region."
Following talks with President Christodoulides, the Greek Prime Minister is due to meet with House of Representatives President, Annita Demetriou, and then Archbishop of Cyprus Georgios.
(Source: CNA)