Emirates builds unrivalled network with partners to reach over 800 cities
Press Release 11:05 - 31 July 2023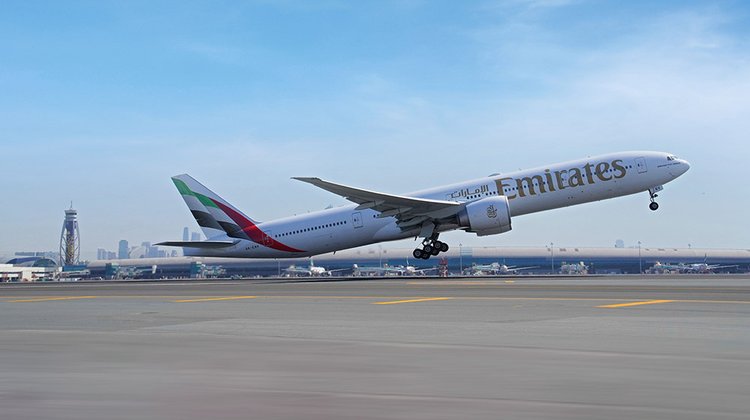 On an average week, over 50,000 travellers connect to their destination of choice on codeshare or interline flights operated by Emirates' many partners.
The airline's numerous partnerships developed over the years have helped fuel its growth, enabled frictionless connectivity for customers, bolstered loyalty reciprocity and tapped into unique markets that have generated new traffic flows.
While Emirates' business strategy has always been to grow organically, its strategic partnerships like interline agreements and codeshares help to expand its global footprint, enabling the airline's customers to reach places far beyond its own network. Emirates will continue evolve its partnership strategy by broadening many of its interline partnerships to full-fledged codeshare agreements, and strengthening its existing codeshares to build on its already industry-leading network position.  
Since it signed its first interline agreement, Emirates' global partner network has grown exponentially across Europe, North America, Asia, Australia, Africa and the Middle East. 
Today, the airline has 29 codeshare, 117 interline and 11 intermodal rail partners across the transport ecosystem in over 100 countries, delivering an array of travel choices through flexible schedules for travellers, and providing seamless connectivity, relevance and a network reach that extends to over 5,250 additional sectors covering over 800 cities. For example, in the Americas this means reaching cities beyond major airports, like Corpus Christi through United and Halifax with Air Canada. In Asia, travellers have strong connection opportunities to leisure points like Koi Samui in Thailand and Luang Prabang in Laos with partner Bangkok Airways. In Africa, South African Airways and Kenya Airways connect Emirates customers to an array of underserved points like Vilanculos, Kilanmanjaro, Juba, and Maputo. For customers of those airlines flying on Emirates, connecting to the carrier's network of over 140 destinations through Dubai is easily within reach.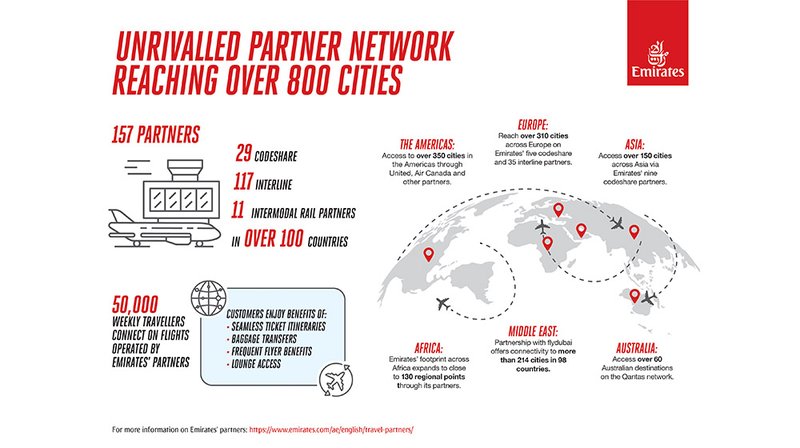 Customers can book connecting flights with the airline's partners and enjoy the benefits of seamless single ticket itineraries, baggage transfers, frequent flyer benefits, lounge access, alongside other perks to ensure a smooth travel experience.
Adnan Kazim, Emirates' Chief Commercial Officer said, "We have a long-standing history of partnerships that have reshaped the way people travel around the world. It's a reflection of our commitment to providing our customers greater flexibility and confidence when planning their travel itineraries through leveraging the strength of our partners' complementary route networks. It's also helped to enhance Dubai's connectivity to the world, providing direct and indirect links to over 800 cities, generating more tourism to our hub and boosting business and trade opportunities. These partnerships have also supported inbound tourism to over 100 countries through opening up connection opportunities and smoother journeys via the exclusively served points of our partners.  As we enter the next phase of growth for Emirates, codeshare and interline partnerships will be a critical component of our future success and a core part of our commercial strategy, and we're working hard to develop them even further to offer a huge choice of onwards destinations for our customers." 
Last year, Emirates signed codeshare and interline agreements with 11 airlines. Besides the  cornerstone codeshare agreements with United Airlines and Air Canada, which expanded the airline's connectivity to over 570 points in the Americas, Emirates also signed up with Airlink, Aegean Airlines, Air Tanzania, ITA Airways, Bamboo Airways, Batik Air, Philippine Airlines, Royal Air Maroc, and SKY Express, further expanding network choices it offers to customers. The airline also recently announced an interline agreement with Kenya Airways.
This year, Emirates is set to enter into new partnerships and deepen the level of cooperation on existing ones with airlines across East, South and Central Asia, Africa and Europe. The airline's loyalty programme, Emirates Skywards and its freight division, Emirates SkyCargo also work closely with codeshare and interline partners to coordinate holistic partnerships that complement network and loyalty programme frameworks, boosting benefits for customers flying with both carriers and helping them reach new markets more efficiently. On the operational side, Emirates Airport Services play a pivotal role in helping make connectivity work seamlessly and enabling reciprocal lounge access for customers.
Across the airline's network, strategic partnerships with over 140 airlines have boosted connectivity options for customers through expanding city pairs on a single ticket, in addition to integrating benefits in the loyalty space:
The Americas: Emirates customers travelling to the US have access to more than 200 U.S. cities in the United network, via Chicago, Houston or San Francisco. Travellers can also access dozens of destinations across Canada, Mexico, Caribbean islands and Central and South America. Customers journeying to Emirates' extensive network beyond Dubai have a myriad of choices to unique destinations across the Middle East, Africa, Central and South Asia. Emirates' partnership with Air Canada allows customers of both carriers to enjoy seamless connectivity to 232 points spanning three continents, including to destinations across the Americas, the Middle East, Africa, Southeast Asia, and the Indian subcontinent.
Europe: Customers can connect on Emirates' five codeshare partners including Air Malta, Air Baltic, Aegean Airlines, TAP Portugal and Siberia Airlines, and its 35 interline partners to reach more than 313 cities across the continent, including popular holiday destinations across the Mediterranean.  The airline's rail partners in Germany, Spain and France provide on-ground connectivity for travellers to explore Europe on train, and connect seamlessly with Emirates on a single ticket.
Asia: Emirates' already extensive Asian network is further bolstered through the airline's nine codeshare partners ranging from Japan Airlines, Korean Air and Garuda, among others, reaching over 150 popular cities across Thailand, Indonesia, Korea, Japan and the Philippines, as well as other popular tourist and business hotspots.
Australia: Often called one of the most seismic partnerships in the industry, the Emirates and Qantas relationship is one that jointly provides access to over 60 Australian destinations that Emirates does not fly to, while Qantas customers are able to fly on Emirates to Dubai and access over 65 cities in Europe, the Middle East and North Africa beyond Qantas's existing international network.  Frequent flyers of both Emirates Skywards and Qantas Frequent Flyer can earn and redeem points travelling with both carriers and enjoy access to each airline's lounges at airports all over the world.  The airline's Jetstar partnership (a subsidiary of Qantas) also enables travellers to reach cities in Asia – all on one ticket.
Africa: Emirates' footprint across Africa has expanded over the years to drive better connectivity and value for customers with more flight options to smaller regional points across the continent. Through its codeshares with South African Airways, Airlink, Royal Air Maroc, Tunis Air, and interlines with a dozen other regional carriers, the airline has expanded its reach to close to 130 regional points in Africa.
Middle East: The airline's keystone partnership with flydubai has not only bolstered traffic flows in and out of its Dubai hub, but has also delivered enhanced connectivity to more than 215 destinations across 98 countries, and over 250 codeshare flights to choose from on an average day. Emirates customers can access more than 80 unique flydubai destinations; and flydubai passengers can access more than 100 Emirates destinations. In the last two years alone, the partnership has enabled over 2 million customers to travel on the joint networks of both carriers. The innovative partnership provides seamless connectivity at Dubai International Airport (DXB) between Terminals 2 and 3, baggage transfers on a single itinerary, as well as reciprocal loyalty benefits under the joint loyalty programme, Emirates Skywards.