Erik Woodhouse praises Cyprus for role in Russian sanctions
08:05 - 31 July 2023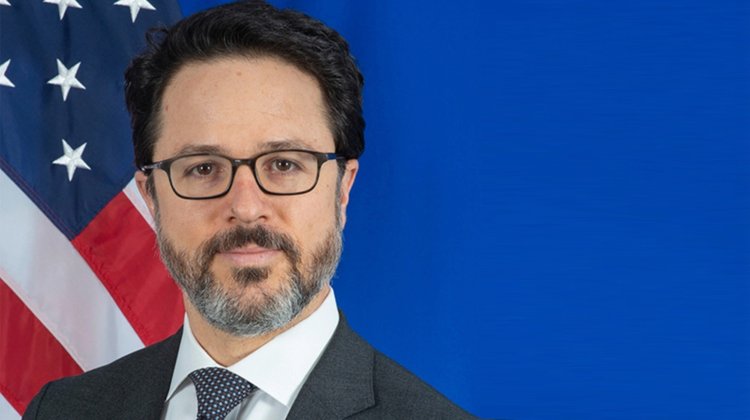 The US Department of State's Erik Woodhouse has praised Cyprus for its cooperation in enforcing sanctions against Russia, in response to its invasion of Ukraine.
Speaking to the press during a visit to Cyprus, Woodhouse – who is the Deputy Assistant Secretary for the Division for Counter Threat Finance and Sanctions – commended Cyprus' efforts in implementing and enforcing sanctions against Russia.
As he said, the sanctions and export control measures imposed on Russia have taken a toll on its military capabilities, materials, and financing, and the US government is committed to continue these efforts as long as Russia persists in its aggression.
"We will continue to expand and intensify the sanctions and export control measures that we have put in place for as long as it takes," he said.
The sanctions are targeted specifically at Russia and individuals and entities involved in its harmful activities, and not the people or government of Cyprus, Woodhouse added
They are focused on undermining and limiting Russia's ability to evade and circumvent sanctions by working through networks they have around the world, he said.
Elsewhere, Woodhouse praised Cyprus for its continuous efforts to improve oversight in the financial sector, reducing the activities of shell companies and raising standards to effectively implement and enforce the sanctions.
"The message from the government following our recent actions was clear and strong and we think that was very important, and that starts at the very top with the message that the President himself sent," he said. "The government has made clear its strong and deep commitment to follow through and I think appropriately, are still in the process of deciding what their exact right steps will be and that's just the normal part of policy making."
The US and Cyprus have shared information and will continue to do so, he said, adding that he appreciated the productive discussions he has had during his visit with both the government and private sector representatives. He assured that the insights and feedback gathered during his visit would inform policy-making in Washington as the US continues to support Cyprus in countering Russian activity.
"I think there's a deep commitment here to making progress and an interest in finding the right way to do so", he said.