Democratising Property Investments: Aristidou, Nicolaou, and Dimitriadis lead the discussion at Beyond Expo
14:48 - 02 June 2023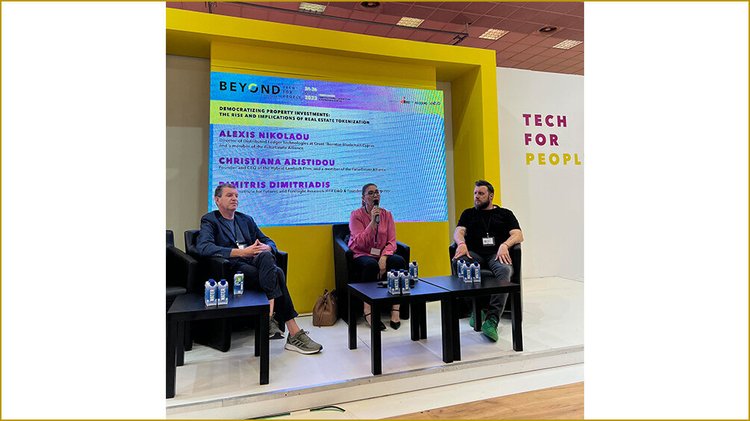 FuturEstate Alliance, the pioneering real estate tokenisation platform, recently shared the insightful discussions that took place during the recent Beyond Expo 2023 panel in Greece.
The discussion was entitled 'Democratising Property Investments: The Rise and Implications of Real Estate Tokenisation.'
The panel brought together industry experts who explored the future of real estate investment through the lens of tokenisation, a groundbreaking concept that is revolutionising the industry, an announcement from the platform noted.
Representing FuturEstate Alliance, Christiana Aristidou from The Hybrid Lawtech Firm and Alexis Nicolaou from Grant Thornton Cyprus showcased the organisation's innovative mindset in real estate. Their expertise exemplified how FuturEstate Alliance is pushing the boundaries of the industry using cutting-edge blockchain technology.
Christiana Aristidou, an accomplished international business and technology lawyer with over 25 years of concrete experience in major foreign legal jurisdictions, captivated the audience with her insights into real estate tokenisation. She emphasised the significance of representing ownership rights to a property as digital tokens on a blockchain, enabling fractional ownership and increasing liquidity in the real estate markets.
Continuing her presentation, she emphasised that "through the platform the legal framework of each country is checked, so that the tokens, the digital elements, can be used without problems."
Alexis Nicolaou, a finance expert with extensive experience in diverse sectors, including accounting, finance, media, content production, and electronic banking, emphasised the profound importance of blockchain technology within the real estate industry. He mentioned that "through the platform we essentially offer the evaluation of a business plan" and added, "we started from real estate, but it can be applied to anything that can be digitally exploited."
Moderating the panel, Dimitris Dimitriadis, Futurist, Institute for Futures and Foresight Research IFFR DAO, and founder of zoltar.agency, skillfully navigated the complex landscape of regulatory frameworks and potential risks associated with real estate tokenisation. He emphasised the need to harmonise legal and regulatory systems with technological advancements while ensuring investor protection.
The participation of Christiana Aristidou, Alexis Nicolaou, and Dimitris Dimitriadis in the 'Democratising Property Investments: The Rise and Implications of Real Estate Tokenisation' panel highlighted the potential of blockchain technology to revolutionise the real estate industry.