Technology is transforming the Legal industry
Anna Tomouzou 10:24 - 16 June 2023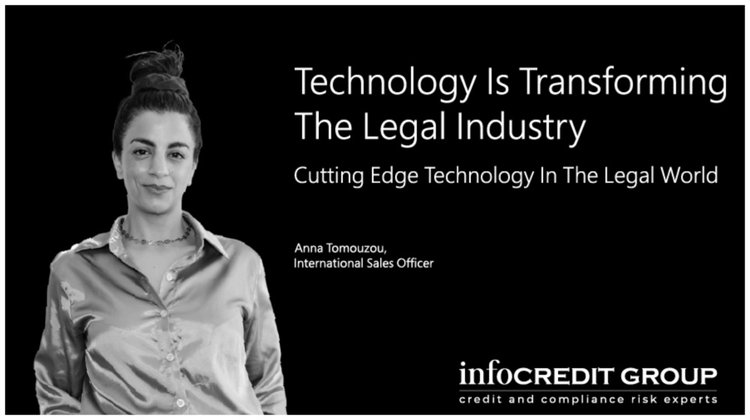 In modern days, the rapidly changing environment of the Legal industry creates a demand for reliable, high quality and comprehensive access to information.
Undeniably every law case comprises of many overlapping disciplines and legal areas, therefore, what makes a Lawyer great at a practicing area, is the knowledge to a variety of topics and the power of accessing data through a reliable source at any time. While time is crucial for them, the online libraries and productivity platforms are becoming indispensable tools for their day-to-day tasks. The law professionals need to gather as much data as possible which will support them in their effort to contradict other attorneys on a case. Therefore, a good amount of information from a trusted and reliable source is crucial part of their practice.
In this article we will emphasize the importance and the numerous benefits coming out from the legal technology tools as they are a source to databases, cases, statutes, legislations, journals and more, giving access to a vast amount of legal information. Thus allowing to the law practitioners to conduct comprehensive research on their subject and area of business and analyse precedents, interpret laws while remaining updated with the latest legal developments.
Research is their main aspect of their work as they need to collet data which will later on form their structure on a legal argument while they will support their client by providing them correct information and guidance through the process.
Therefore, deadlines might add pressure to lawyers meaning that they will need to trace efficient and fast ways to gather up details. Digital sources and legal tools help on this process as they significantly reduce the time and cost associate with traditional methods of legal search, without needing the manually sift through numerous volumes of legal texts. Lawyers nowadays can access electronic platforms and quickly trace cases, statutes and legal commentaries related to their topic. Also find cross referring laws and identify relevant sections, all at one place, through a quick search rather than using different books, hardcopies, and other manual files. Also, instead of visiting physically multiple libraries or subscribe to numerous print publications, they can have access to information with few clicks away. The online libraries are a great source for in depth research with an extensive and diverse collection of legal books related with various jurisdictions, including legal journals and commentary. A huge advantage of the online libraries is the fact that the individual can have access anytime in the day and remotely, while focusing on the exact topic of interest using filtering, keywording or even Boolean language as to be more precise and targeted. This results to the significant improvement, efficiency and accuracy of the work gathered.
Having said that, lawyers can formulate effective case strategies and decision-making while anticipate potential arguments that could be raised by a contradictive conversation. For law practitioners, being able to prepare themselves for the opposing party's tactic and use persuasive arguments is a major component of their business environment.
Information and continuous education in different aspects of a practicing area is a key in the legal industry. To remain updated, they need to access online databases, attend webinars, and keep their learning processes maintained as to be able to legally represent an entity at high quality. For that purpose, their access to a variety of documents such as drafting notes for guidance, cases overviews, contracts, pleadings, agreements, legislations, and much more are essential. The different resources will help them maintain consistency, prepare a well-structured strategy and be able to contradict a legal argument.
We need to point out that in the Legal world, the information is constantly evolving, while world news and political aspects affect the industry, therefore new cases and regulations arise frequently. The online tools provide support in this fast-paced industry as they are constantly and in real time updating their content. Therefore, the online tools can ensure that the users are accessing the most current legal developments as well accurate data.
It's worth mentioning that validated legal tools also provide the ability to its users to share with each other useful annotations, comments, and research findings from a vast area of legal resources. This fosters collaboration, facilitates knowledge sharing, and promotes teamwork within law firms or across multiple legal professionals working on a case. This tactic enhance efficiency and promote best practices.
Online libraries also offer the benefit of organizing the work using filing records into folders whether its articles, paragraphs from e-books or journals. Also allow the highlighting on texts and even make annotations. This means that printing a high volume of documents can be avoided therefore minimizing the cost and the time from gathering hardcopies.
To summarize, we have come to conclusion that the legal technology is the new era in the Legal industry and that online libraries and professional platforms are essential in the modern world as they enhance legal research and the overall practice of law. From the extensive collection of legal resources to advanced search capabilities, convenience, real-time updates, collaboration features, and cost-effectiveness, the legal tools significantly enhance the research needed as well understanding how the different laws and regulations interact with each other within a vast of practicing areas.
We also need to emphasize that the flexibility aspect of things is becoming a major component of today's work environment in different industries and the Legal world is one of them.
Anna Tomouzou, International Sales Offices, Infocredit Group
INFOCREDIT GROUP is the official partner of Lexis Nexis in Easten Europe, a major Legal & Professional global provider of legal, regulatory, and business information and analytics.
Learn more about Lexis Nexis legal tools at https://lp.infocreditgroup.com/legal-solutions/ or contact for a trial at +357 22 398000.