Experience the stunning Aegean Sea with the Agusta 109C helicopter of Cypriot company Zela Jet
10:55 - 09 May 2023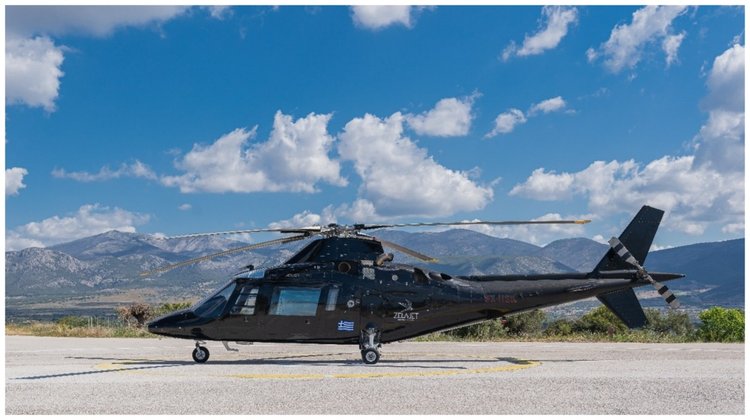 Zela Jet, a member of the Zela Aviation Group, offers the ultimate travel experience this summer. Following the evolving trends in tourism and recognising the needs and desires of the modern traveller, Zela Jet turns private travel into affordable luxury, taking travellers to their favourite destination with the impressive Agusta 109C helicopter.
The Agusta 109C helicopter is available for private flights customized to meet the preferences of individual travellers. You can fly from Athens to popular Greek islands like Mykonos, Santorini, Paros, Milos, Naxos, Andros, Patmos, and Spetses. Reservations can be made from both Cyprus and Greece.
The Agusta 109C, which has a capacity of 7 people, combines comfort and safety, while its aerodynamic design and powerful engines turn the trip into an exciting experience over the Aegean Sea.
Travellers can enjoy the breath-taking views of Greece from above in this type of helicopter thanks to its panoramic windows. The blue sky only adds to the unparalleled beauty of the sights.
Zela Jet, a pioneer in executive flights, will now offer the Pilatus PC-12 NGX aircraft as an option starting July 1, 2023, in addition to their Agusta 109C helicopter. The luxurious Pilatus PC-12 NGX, with a capacity of 7 passengers, promises unparalleled trips and short escapes to Greek islands and nearby destinations in the south-eastern Mediterranean.
The company's President, Mr. Andreas Christodoulides, emphasizes that Zela Jet, always prioritizes safety, discretion, and reliability, and continues to provide high-quality services at affordable prices, satisfying even the most demanding traveller. As highlighted by Mr. Christodoulides, our aim is to provide a diverse selection of choices for Cypriot and Greek travellers, allowing them to fully appreciate the benefits of private flights whether for work or leisure purposes. After all, anyone who flies privately can reach their destination anytime, quickly, without limits or restrictions, said the President of Zela Jet.
Zela Jet
Zela Jet is a subsidiary of Zela Aviation, which in collaboration with major airlines worldwide and with a wide range of aircraft and helicopters, provides high-quality services for private and business flights. Its headquarters are in Limassol with regional offices in Athens, Greece and London, United Kingdom.