13th Nicosia Economic Congress to take place
07:00 - 09 May 2023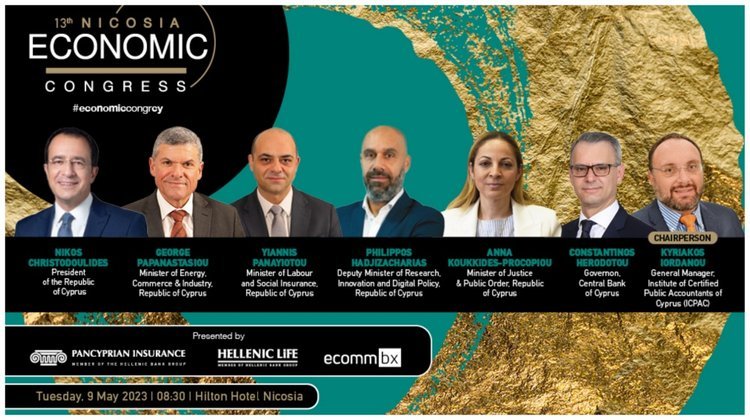 The 13th Nicosia Economic Congress will be held at the Hilton Nicosia this morning to examine the current state of the Cyprus economy and its future prospects.
One of the most important annual gatherings of over 300 senior executives, entrepreneurs, economists, academics and government officials, today's Congress, will be addressed by President Nikos Christodoulides, who will present his vision of Cyprus as a model state that attracts investment and promotes entrepreneurship, while offering a high standard of living to its citizens.
Among the other speakers at this prestigious event are four government ministers, George Papanastasiou (Minister of Energy, Commerce & Industry), Yiannis Panayiotou (Minister of Labour & Social Insurance), Philippos Hadjizacharias (Deputy Minister of Research, Innovation & Digital Policy) and Anna Koukkides-Procopiou (Minister of Justice & Public Order) – as well as Constantinos Herodotou (Governor, Central Bank of Cyprus) and Takis Clerides (President, Economic and Competitiveness Council).
The Congress will also include three panel discussions, on issues related to labour market challenges, the digitalisation of the Cypriot economy and securing a more efficient and faster delivery of justice.
The deliberations of the Congress will be in Greek. Simultaneous English translation will be available.
Presented by: Pancyprian Insurance Ltd, Hellenic Life, ECOMMBX
Gold Sponsors: Capacitor Partners, Cyfield, Harris Kyriakides, KPMG, Kyndryl, Mastercard, Prospectacy, Xenatus Global
Academic Partner: CIM – The Cyprus Business School
Supported by: IMR/University of Nicosia
Organisers: GOLD, ICPAC
Media Sponsors: CBN (Cyprus Business News), ΙN Business, Omega Channel, REPORTER, Super FM
Coordination: IMH
Tel: 22505555 │ Fax: 22679820 | e-mail: events@imhbusiness.com
Website: www.imhbusiness.com