BΟCCF celebrates International Museum Day and European Night of Museums 2023
11:26 - 08 May 2023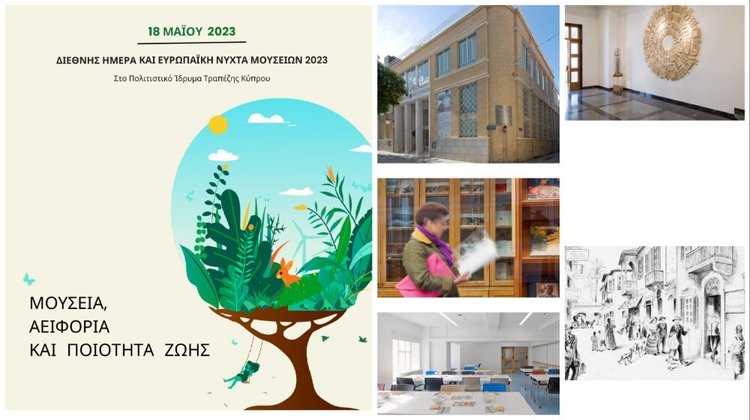 Bank of Cyprus Cultural Foundation (BΟCCF) has invited visitors to join in a series of events celebrating International Museum Day and European Night of Museums 2023 with the theme 'Museums, Sustainability and Well Being'.
According to a relevant announcement, "Museums are key contributors to the well-being and to the sustainable development of our communities. As trusted institutions and important threads in our shared social fabric, they are uniquely placed to create a cascading effect to foster positive change. There are many ways in which museums can contribute to achieve the Sustainable Development Goals: from supporting climate action and fostering inclusivity, to tackling social isolation and improving mental health."
Also, as highlighted in the ICOM Resolution "On sustainability and the implementation of Agenda 2030, Transforming our World" (Kyoto, 2019), all museums have a role to play in shaping and creating sustainable futures, and they can do this through educational programmes, exhibitions, community outreach and research.
Bank of Cyprus Cultural Foundation, aligning with the theme «Museums, Sustainability and Well Being" is participating in the celebration of the International Museum Day (18 May) and European Night of Museums 2023, with the following performances and guided tours.
WEDNESDAY 17 MAY 2023 18:00-19:30
Educational program for children
"Allow me to introduce myself: I'm an Archeologist"
Certified by the Cyprus Ministry of Education, Culture, Sports and Youth
Children will have the chance to look into the branch of archaeology which, through the study of the ancient tangible civilization, provides access to the primary sources required to construct knowledge of the past.
Program Archaeologist: Thea Christoforou
Reservation required 22128175
FRIDAY 19 MAY 2023 20:30-21:30
"ReInHerit a Museum: Immersive performance at ΒΟCCF"
The performance invites the audience to embrace the museum as a place of cultural preservation but also one of creation. It combines a large-scale interactive sound installation with augmented reality elements, a large group of musicians from the Cyprus Symphony Orchestra and the Cyprus Youth Symphony Orchestra, video projection and theatrical lighting, as it envelopes and underlines the Foundation's current temporary and permanent exhibitions. During the performance visitors will navigate the building and museums of the Foundation, shaping their own personal experience of the space and its exhibits, as they interact with the world of the performance, using a smartphone app that will be specifically designed for this event.
Suitable for all ages
SUNDAY 21 MAY 2023 11:00-13:00
Interactive Guided Museum Family Tour with Treasure Hunt
What could be hiding in a museum; How our senses can help us discover hidden treasures in the museum; See, Smell, Listen and Taste thousands of years history through a unique interactive museum tour.
Guide: Andrea Oratiou/Archeologist
Reservation required 22128175
Free Participation for all
Bank of Cyprus Cultural Foundation
86-90 Phaneromenis Str., 1011 Nicosia
Info: 22 128157